Oklahoma City Thunder: Can They Retool Their Offense?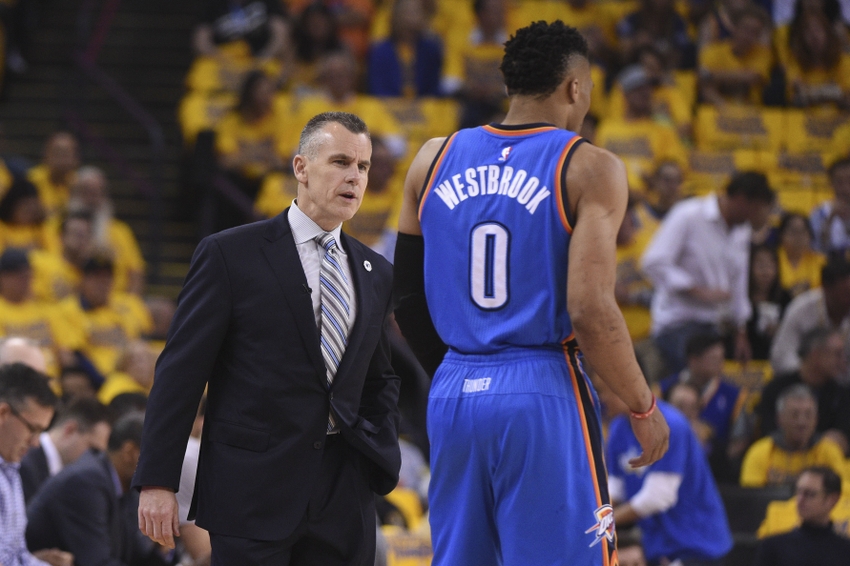 In the wake of their franchise altering offseason, the Oklahoma City Thunder are forced to go back to the drawing board and rebuild their offense, with Russell Westbrook leading the charge.
It's now a brave new world for the Oklahoma City Thunder.
Obviously being on the other side of the coin for the biggest shakeup this offseason is primarily the reason for that, but the Thunder were already making big changes in advance of this year's free agency with the trade of Serge Ibaka on draft night.
With time now to move forward to blaze a new path for the future, the Thunder had a luxury that most teams usually don't have when a superstar player signs elsewhere.
Having Russell Westbrook and more importantly, extending his contract for an additional two years (which goes into effect next season), gives the Thunder some security and a superstar to effectively build a roster around.
However, as the Thunder basically hand over the reins to Westbrook, it's hard to say whether they have done enough to assemble a workable roster with Westbrook's strengths and weaknesses in mind, specifically on the offensive end.
For as dangerous and extraordinary he is, Westbrook does carry some big limitations for a player of his caliber, with the most notable being his struggles from behind the three-point line as Westbrook is a career 30 percent three-point shooter.
Of course, being paired with a one of a kind offensive force like Kevin Durant for many years negates any of Westbrook's shortcomings and would have little impact on the team's overall offensive output (the Thunder ranked as the second best offense in terms of offensive rating across the league, per NBA.com/stats).
But that was the Thunder as we long knew it and trying to see how the Thunder, as we now know it, build an offense around Westbook from scratch is a challenge to figure out.
That challenge lies far beyond trying to fill the irreplaceable void left by Durant.  Replacing Ibaka and Dion Waiters with the likes of Ersan Ilyasova and Victor Oladipo will be new wrinkles for the Thunder to work with next season.
While it's likely moving on from Ibaka to Ilyasova, especially after Ibaka's shooting struggles last season, is an offensive upgrade for the Thunder, going from Waiters to Oladipo is more of a toss up than many may think.
As flawed as Waiters has been over his young career, he was an effective shooter off catch and shoot attempts for the Thunder as he shot an effective field goal percentage of 55.6 percent on all catch and shoot attempts last year.
In comparison, Oladipo had an effective field goal percentage of 50.6 percent on all his catch and shoot attempts with the Orlando Magic last year.
Considering the drastic differences in both teams, it's fair to assume Waiters' effectiveness as a catch and shoot player was certainly helped by having Westbrook and Durant alongside him last season.
With Durant with the Golden State Warriors though, that does little for Oladipo and how he adjusts playing next to Westbrook will definitely be on the minds of Thunder fans once the season starts.
Yet as much as their newcomers will have to adjust to a new team, the same problem exists for many of the holdover players for the Thunder.
Therein lies the problem for the Thunder as they attempt to build something new with their offense and Westbrook taking charge.
We are well aware of the one man wrecking crew that Westbrook has been in the past and will now expected to be from now on for the Thunder.
That alone is already generating plenty of preseason MVP buzz for him and rightfully so, considering the individual success he's had doing so.
Why that worked in the past, though, is Westbrook had the right fits and importantly, the respectable shooters needed for him to reach unparalleled heights.
The Thunder's potential problems on offense don't just fall on the shoulders of Durant leaving, they also lie on the departures of Waiters and to a lesser degree, Ibaka.
Gaining a historically respectable shooter in Ilyasova will help no doubt, but it's tough to tell where they get the shooting help they need from their newcomers outside of him.
That means the Thunder will have to rely on many of their long-time players to improve as shooters like Andre Roberson or Kyle Singler.
Additionally, that likely opens up more playing time opportunities for players who have dealt with erratic playing time like the mercurial Anthony Morrow.
Many eyes will be on the Thunder as they transition from what they were to what they will be.  Where Westbrook leads them remains to be seen, but much of the heavy lifting is on the Thunder to surround him with the right type of players.
This article originally appeared on