OKC Thunder: Winners and Losers from Nuggets Preseason Matchup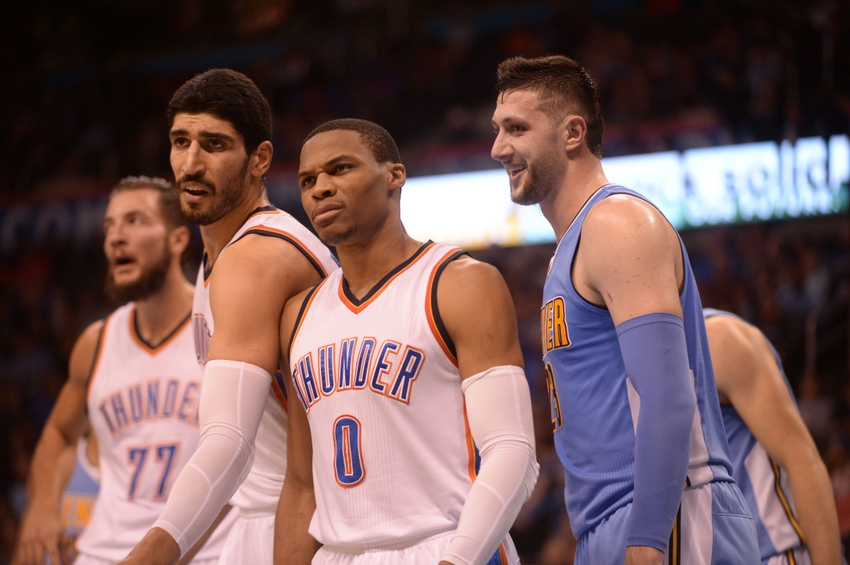 The OKC Thunder did exactly what they needed to in their last preseason game, convincingly defeating the Denver Nuggets 97-87.
There's still holes with the OKC Thunder. However,Tuesday night's win was an indicator that the team is making significant strides in training camp.
During the broadcast, Thunder reporter Nick Gallo reported something along the lines of this: "I talked to Russell Westbrook and he said the team was making significant strides in learning each others tendencies." You could see the obvious growth before Gallo had reported it, but hearing that from Russ is huge.
I'm slowly starting to regret going on-air and saying the TrailBlazers would beat out the Thunder in the division. That's how impressive these back-to-back performances have been.
Even still, there were some losers tonight. BUT there were also winners. Let's get to it.
Winner: Angry Russell Westbrook
You best believe I'm pumped that Russ got his second technical OF THE PRESEASON. That's pure passion.
There's a reason Billy Donovan doesn't get angry at Russ for these outbursts. Every now and than the Thunder tend to take their foot off the gas pedal so they need a little nudge. That's where Angry Russell Westbrook comes in.
So far he's proven every NBA-nerd wrong. They said Angry Russ would shoot 50 times a game. So far the most shots he's taken in a game was 21; he scored 26 and shot 48% from the field. Angry Russ is about winning, and he understands he needs his teammates involvement to succeed this season.
Loser: Mitch McGary
Mitch McGary will never wear a Thunder jersey again. Signed. Sealed. Delivered.
The man with a guaranteed contract rode the bench in all six preseason games. By all accounts, he loved his role. Whenever McGary was in the tv frame he was living it up. And good for him.
McGary was seen joking around with an injured Alex Abrines during a timeout, practicing long, contested threes at halftime and genuinely not giving a single bleep about the game. That was only the Denver game.
He probably knew that he wasn't going to make the team going into camp. To him, just having fun was the best way to handle his situation. More power to ya Mitch. Have fun playing in Miami or Brooklyn in the second half of the season.
Winner: Steven Adams floater
THIS IS REAL PEOPLE.
Love the modesty from Adams, but he's got a real skill with those floaters. By my count he went 5-8 with the shot tonight. The Big Kiwi is going to have that shot all season.
When Adams sets a screen at the top of the key his man has no other option but to hedge. The 23-year old is just too wide and strong for ANY guard not to be caught up in an Adams screen. That hedge by the opposing big man gives Adams time to roll to the basket. If help comes, Adams can stop and make that easy floater every time.
You'll be seeing a lot of that floater this season.
Loser: Domantas Sabonis
Andddddddd the nit-picking begins. Sabonis did not play bad. I just want to see a little more aggression from the rookie.
One play particularly stands out. The Thunder were out in transition with Russ bringing the ball up. Sabonis ran to the wing and was WIDE open; I'm talking if DeAndre Jordan had the ball behind the three-point line.
Instead of passing it to Sabonis, Russ took a contested mid-range jumper. In reality he probably didn't see Domantas because Domantas didn't speak up. The young blood needs to learn he's allowed to shoot the ball. Once he becomes more aggressive, I promise his game will blossom exponentially.
Winner: Billy Donovan Timeouts
Donovan coached an absolute masterpiece tonight. Whenever the Thunder seemed to be losing focus the second-year coach called a TO. Never too early, never too late. And EVERY SINGLE TIME the OKC Thunder came out with an adjustment.
At the start of the third quarter the Thunder came out very flat. Donovan called a timeout at the 10:30 mark after they gave up six straight points. Donovan called an iso-post for Adams, and surprise! Adams scored.
It's obvious that Donovan has become a much better coach over the offseason. This roster has bought into what he's preaching; it's shown on the court.
Winner: OKC Thunder Fans
Did you really think there would be an even/number of winners and losers? Ugh I wish life was that easy.
Seriously though. There were signs of trouble in the beginning of the preseason. But I bring you back to Nick Gallo's observation. This team has SEVEN new players on the roster. The returning players have to rewire their brains to play without two superstars.
It's honestly astounding how quickly the Thunder play improved. They did not show many signs in either the Mavericks or Grizzlies' games to suggest they could play at this high of a level. Maybe the team isn't going to suffer as much as fans (including me) thought.
This article originally appeared on