OKC Thunder vs Toronto Raptors Game Preview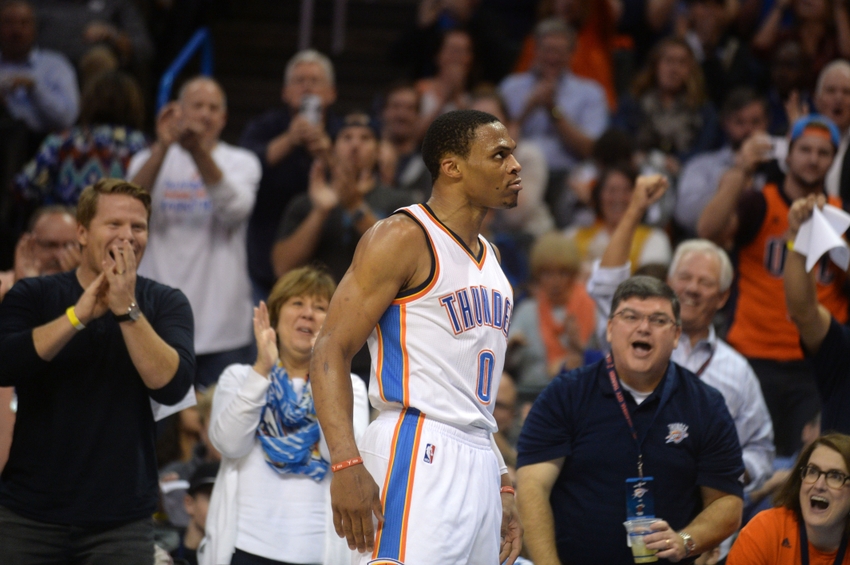 The red-hot Oklahoma City Thunder are right in the middle of their five-game home stand as they prepare to face a tough Toronto Raptors team, led by the herculean efforts of their all-star, Demar Derozan.
Oklahoma City is coming off a convincing win against the Miami Heat on Monday night. In that game, we saw many things that OKC Thunder fans hope can carry over to this Raptors game.
Lets start with the story of the night, Domantas Sabonis. Sabonis recorded his first double-double as a NBA player with 15 points and 10 rebounds. He was also 4-7 from the three point line. Maybe this would have came a few games earlier had it not been for his foul problems. Whatever the case, It was encouraging to see the highly touted rookie finally shine like we all knew he could. It will be unrealistic to expect four threes out of Sabonis in this upcoming game. Lets just hope he stays out of early foul trouble, good things happen.
Want your voice heard? Join the Thunderous Intentions team!
Enes Kanter is a another hot hand coming off of his second straight 20+ point and 10+ rebound performance. It looked as if he had fallen off the face of the planet during the team's trip to California but that changed quickly. Toronto is pretty thin in the front-court so his domination should continue. We all know what kind of force he could be when he is flowing with Russell Westbrook on offense.
Speaking of Russell, It has been more of the same over the first 7 games of the season. Westbrook usually feasts on smaller point guards. Kyle Lowry and Corey Joseph of the Raptors certainly fall into that category of "small", when compared to Russell.
More from Thunderous Intentions
Like every other game this season so far, defense will be the key to winning this one. The Thunder are 4th in the league in defensive rating. It is an area they have focused on all offseason and they still believe they can improve in that area immensely.
Their hands will be full, however, with Demar Derozan coming to town. Derozan is currently the league leader in points-per-game at 33.7. He has led his team to a respectable 4-2 record which is good enough for third in the eastern conference thus far into the season. The Raptors are coming off of a loss to the Sacramento Kings where their third leading scorer for that game ended up being Pascal Siakam. Who is Pascal Siakam you ask. Well I don't really know either.
It will certainly take more of a team effort to beat the current western conference leaders, especially on the road. But with Russell Westbrook at the helm, this Thunder will not let up.
Tip off is at 7:00 CT in Chesapeake Energy Arena.
This article originally appeared on