OKC Thunder: Thought's on Western Scouts Hot Takes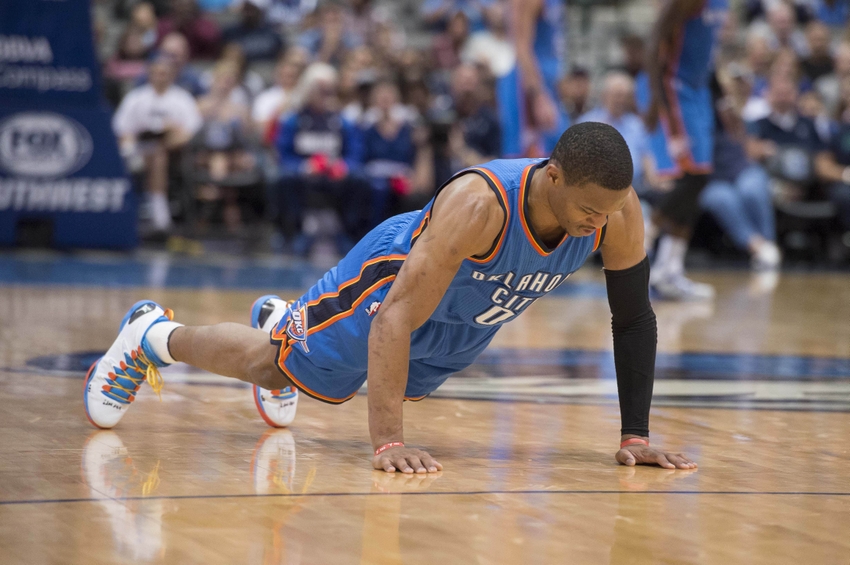 If you didn't see, Sports Illustrated has a new Vertical dedicated strictly to the NBA. The Crossover's first piece? Hot takes on every Western conference team including the OKC Thunder.
As an OKC Thunder fan I was pleasantly surprised with what was said about the team. I expected shade, upon shade, upon shade, upon shade. Instead, there was only a little shade thrown. Let's break down EVERYTHING Western Conference scouts had to say.
"They're no longer contenders without Durant and they'll struggle to make the playoffs. Even if Westbrook is the MVP, it will be hard for them to crack the top four in the West because they'll have a bottom-10 defense. I give them 44 wins."
Honestly, most of this pretty spot on. And than we get to "bottom-10 defense."
Sure the defense hasn't looked great incredible in the preseason, but bottom 10?!?! On a team that's starting elite defenders in Victor Oladipo, Andre Roberson AND Steven Adams? OKC gave up 94 and 87 points in their last two games respectively; the only two games they had Adams and Roberson fully healthy.
I'm also confused by "struggle to make the playoffs" and "hard for them to crack top four." It seems like the scout is trying to cover his tracks with this one. Just pick your hot take! The whole point is to be wrong 80% of the time not be right 100% of the time.
"They will look totally different this season. For years, their whole MO has been two guys doing everything and the rest of the team standing around. This year it's going to be a much more collective approach."
Duh?
"Westbrook won't allow them to fall apart. Sometimes people view him only as an athlete but he is savvy beating guys off the dribble and he understands that putting pressure on the rim can make a lot of good things happen for his team. He's the best rebounding guard in the league on both ends. I can see why people think his emotion gets the best of his sometimes, but his fire and the competitiveness is something so many players, even some stars, lack."
Ahhhh here's a scout that knows what he's talking about. Russ has an awful stigma around his name because he was always compared with the "nice guy" Kevin Durant. If you talk to anyone in Oklahoma City, they will tell you the type of character Russ has; he just is different once he steps on the basketball court.
Russ' fire is only going to help this team. There's going to be a Jordan-esque effect in OKC this season. Westbrook is going to lift the play of his teammates with his tenacity; it's infectious. Tell this man he deserves a pay raise SI.
"Westbrook is my MVP pick. He's on a mission without Durant. If I had to pick one point guard in a vacuum, I'd take Westbrook over Curry, Paul and everyone else. His team will always win because he sets the tone and gives you a clear identity with his aggressiveness."
TWO IN A ROW THIS IS WHAT I LIKE TO SEE.
The 2016-2017 NBA season will be the coming out party for Russell Westbrook. The key part is "He's on a mission without Durant."
We all have witnessed Angry Russell Westbrook. It's not fun for opponents. Now I'd consider him Certifiably Insane Terrifiably Scary Angry Russell Westbrook. He will not accept failure this season. Mark my words.
"Getting Westbrook to sign an extension was the best move any team made this summer besides LeBron and Durant. That saved their whole franchise."
If you call this a hot take than I feel bad for you son.
"Adams' growth in the playoffs is just the start for him: he's going to take big leaps this season and become a foundational piece."
Just read this.
"Pairing Westbrook and Oladipo might not work. You don't see too many great backcourts with two non-shooters these days. But if any backcourt could get by without shooting, it's these guys because their physical tools are off the charts, they're both so physically imposing and they play in sixth gear."
This is so true it hurts. As much fun as it sounds to pair two freak athletes in the backcourt, it might not work. The lack of shooting between the two hurts, especially in this day and age. It doesn't help that Andre Roberson is the 3-man either.
The one thing this duo has going for them is their motors, just like the scout said. Their playing styles are just so similar that chemistry issues could play a big role this season. I honestly am 50/50 on whether or not these two end up working.
"Oladipo is in a great spot to get paid big. At the same time, OKC won't commit to him if the fit isn't right. Look at how quickly they moved on from Waiters."
This is huge. Most fans assume Oladipo is here to be Russ' backcourt partner for the next five season. If they don't work out Sam Presti isn't going to spend big money if the chemistry fit isn't there. And that's one of the best qualities in the OKC GM.
"Trading Ibaka was a big mistake. I didn't like the return package at all. Ilyasova can't guard fours in the West for sustained minutes. No way. Sabonis is getting thrown to the wolves. They've lost so much length and athleticism defensively with Durant and Ibaka gone."
No. No. No. No. No. No. No. Trading Ibaka was the best non-draft move Sam Presti has made in his tenure. Ibaka had one year left on his contract and there was close to no chance that he would resign in OKC.
The worst part of this whole statement is "Sabonis is getting thrown into the wolves." When Domantas was traded to OKC there were no expectations for him to consistently be in the rotation to start the season. He has impressed Billy Donovan so much though that he trusts the rookie in the starting lineup! And it's worked!
Want your voice heard? Join the Thunderous Intentions team!
Donovan has preached about how high Sabonis' basketball IQ is. He's been playing pro basketball since he was 16. He started in the Rio Olympics as a 20-year old. If he wasn't ready to play, Donovan wouldn't play him a la Cameron Payne last season.
I call BS Mr. Scout.
"Kanter has to come off the bench. He can attack certain matchups and pile up points but he's a lost cause defensively."
1000% correct. (yes the extra 0 is on purpose)
"Their options on the wing are very, very weak. Their biggest strength with Durant has become their biggest weakness. Roberson will play heavy minutes even though he's a defensive specialist and he cramps the court. They can also go small with Payne in three-guard lineups to try to run teams off the court. Payne can shoot and he can play off the ball."
This is so sad and so true. The Thunder's starting small forward was a top-3 small forward in the world for the last five years. Now they are stuck pushing a shooting guard to the position because their depth is so terrible at the position.
More from Thunderous Intentions
If Sam Presti makes a trade this season it will be for a small forward. They can't contend for a championship with what they have on the roster.
On the other hand, I love the idea of a three-guard lineup. Usually those lineups suffer on the glass, but Oladipo and Westbrook make up for that with their rebounding abilities. With Payne on the court OKC would have three viable options to bring the ball up the court, helping their transition offense even more.
"The Thunder are absolutely screwed if Westbrook misses any time with injury. They need him to have perfect health. He's the most indispensable player in the NBA."
Kudos to SI for making this the last comment. It perfectly sums up the potential of the OKC Thunder this season.
This article originally appeared on