OKC Thunder: They've Lost Their Identity and One Person Can Save Them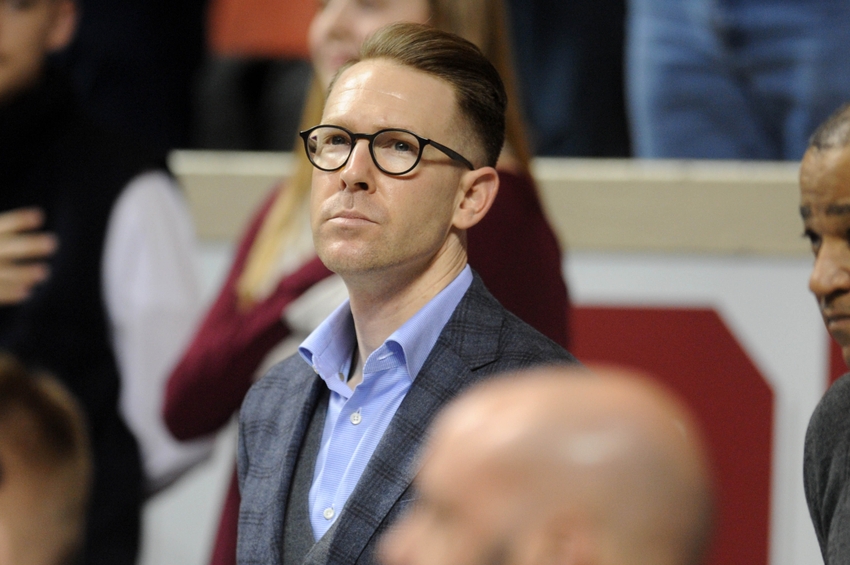 The OKC Thunder have lost their identity in the last four games.
Have you ever seen that SpongeBob episode where SpongeBob loses his name tag and doesn't know who he is? If not, let me quickly recap it for you.
SpongeBob loses his name tag and doesn't know who he is.
The episode is called "Missing Identity." It's about 12 minutes long, and I encourage you all to check it out before you continue reading this column. Don't worry. I'll wait.
That was a pretty funny episode, right? A real rollercoaster of emotions.
In the past four games, the Oklahoma City Thunder have lost their name tag. They know that they are the Thunder. They know they have Russell Westbrook running the show. They know they have lengthy athletes that can play and guard multiple positions. But who are they? What is their identity?
They had an identity in the first seven games. Move the ball, play suffocating defense and run in transition. Then something happened. They woke up one morning, served up the most important meal of the day, and forgot who they were.
Want your voice heard? Join the Thunderous Intentions team!
Over the past four games, they've lost their identity. The ball isn't moving. The players aren't moving. The defense is slow and there are limited transition opportunities. Everything that came so easy in the first seven games has looked more and more difficult in the last four.
It's easy to say that the schedule has gotten tougher. Even though both games were at home, the Los Angeles Clippers and Toronto Raptors are two of the best teams in the league. But losing to Orlando (also at home) and Detroit without their two best players? That can't be excused.
The players should be embarrassed by the effort they gave to start both games, especially the Magic game. On a team led by Westbrook, a relentless player who gives 100% on every offensive play, coming out flat simply shouldn't happen.
Obviously, teams smartened up. They learned that to stop the Thunder offense, all you have to do is pack the paint and force the Thunder "shooters" to beat you. It's on Billy Donovan to adjust to that adjustment by opponents. Use guys like Victor Oladipo, Andre Roberson, and Jeremi Grant as slashers. Run motion and action away from the ball.
For the love of God, have the guy who gives up the ball (typically Westbrook or Oladipo) move after the give it up instead of standing around waiting to get it back.
The biggest concern has to be defensively. The OKC offense isn't going to be good. Westbrook is the only guy who can consistently score and get his own shot. We knew this would be a problem heading into the season, we just hoped that Westbrook could will the offense for 82-games.
More from Thunderous Intentions
But the defense should be much better. With the athletes and mindset of this team, they should be a top five defense. And they were to start the year. Now, they're an average defensive team getting torched by Aaron Baynes and Elfrid Payton.
There is no identity in Oklahoma City. They are Russell Westbrook and four other guys just along for the ride. That was the biggest fear coming into the season.
Through seven games, that fear turned funny. They were led by Russell Westbrook, but they were a team playing with and for each other. They were playing to their strengths and having fun. In the last four games, that fear is now our reality.
It's a long season, and regular season Billy Donovan is a weird dude. He tries different things for no reason and keeps doing the same things that clearly don't work. He can't afford to do those different things this season. He needs to establish who the Thunder are and who they are going to be. He needs to put his shirt on correctly and find his name tag.
Hey Billy and the rest of the gang, take some lessons from Spongebob.
This article originally appeared on