OKC Thunder Send Ersan Ilyasova to Philly for Jerami Grant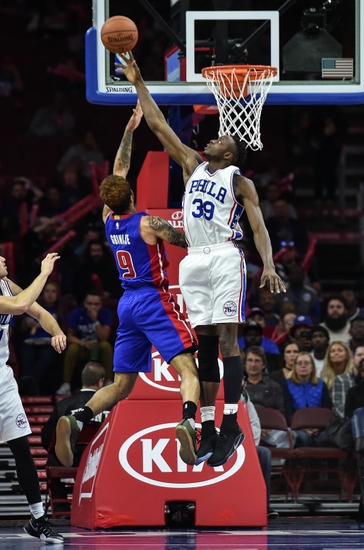 Leave it to Sam Presti to shock the NBA. The OKC Thunder sent Ersan Ilyasova and a protected first-rounder to the 76ers for third-year player Jerami Grant.
Holy moly ravioli. After signing Victor Oladipo and Steven Adams to contract extensions yesterday, the OKC Thunder made another move by trading Ersan Ilyasova to Philadelphia for small forward Jerami Grant.
Losing Ilyasova hurts, but the Thunder had a log jam in the big man rotation. This move frees up more opportunity for Enes Kanter and Steven Adams to play together. Joffrey Lauvergne, who has played well so far this season, should see an increase in minutes.
Want your voice heard? Join the Thunderous Intentions team!
But let's look at Jerami Grant. Grant is yet another long, athletic wing who is going to fit right in to OKC's system. He's young (check), can't shoot (check) and a great defender (check).
Grant averaged almost 10 points and 5 rebounds a game in only 27 minutes of play last season. The exciting number is the 1.6 blocks even at the wing. With Grant in the fold, OKC has a small forward off the bench who will fit right in to the heavy transition style the Thunder want to play.
Imagine Grant, Roberson, Westbrook, Dipo and Adams on the court. No team could come close to matching that athleticism, and every player on the court has the ability to switch every position.
More from Thunderous Intentions
With this trade, the OKC Thunder has $7.1 million in cap space to play with the roster even more. Enes Kanter is always on the trade block (poor guy), and this moves makes Andre Roberson a possible target for other teams moving forward.
One thing is for certain; Sam Presti is not done. The Thunder think they can compete this year, and they are assembling the perfect recipe to stop Golden State.
Always remember Thunder fans
#inPrestiwetrust
This article originally appeared on