OKC Thunder: Preseason Player Grades through Three Games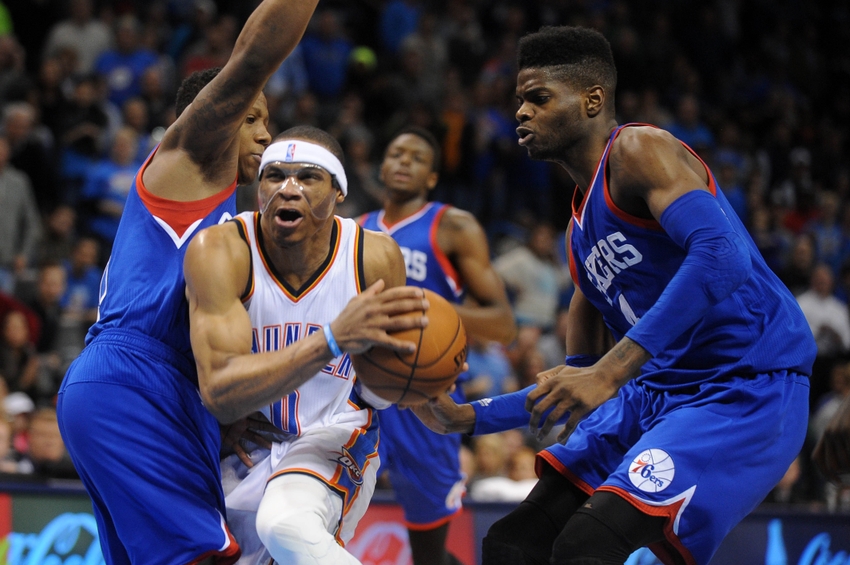 We're at the halfway point of the preseason and the OKC Thunder have had a wide range of performances from their players.
I have no clue what to think of this year's OKC Thunder. At some moments they look primed to contend for a division title.
The other 75% of the time is filled with confusion from both players and coaches.
In total, 16 players have recorded minutes for the Thunder this preseason. Alex Caruso, Mitch McGary and Chris Wright are the lone uninjured players yet to hit the floor.
The grading system is much like everyone's favorite video game: NBA 2K. Players start at a C; based on their performance the grade can move up to an A+ or down to an F. The only exception? Players aren't penalized for a lack of playing time.
With that, I welcome you to the Mid-Preseason Player Grades.
Kaleb
Tarczewski
Center,
Oklahoma City Thunder
D-
Kaleb Tarczewski may hold the title for the worst overall stat line of the NBA preseason; sadly for Tarczewski almost everything was out of his control. The undrafted rookie out of Arizona happened to be subbed in right as Real Madrid went on their mini run at the end of the third quarter. In all Tarczewski only had one minute of play time that resulted in exactly 0 recorded statistics. In that one minute though, the Thunder were outscored by 10 points. The only thing keeping Tarczewski from failing his debut was his lack of ANY statistic; at least he didn't do anything bad either!! Since that fateful first appearance, Tarczewski has been chained and shackled to the bench. Good news for Kaleb (Tarczewski was becoming a mouthful) is he's got three more games to improve his (lack of) stock.
Nick
Collison
Power Forward,
Oklahoma City Thunder
D+
Am I really criticizing Nick Collison? Ugh this doesn't feel right. And that's because it isn't. Darn the 2K metrics. Collison, much like Tarczewski, has had very little on-court action this preseason. In fact, double Kaleb's minutes and you basically have Collison's stat line! The longest tenured Thunder player's lone stat is that the Thunder were -1 with him on the court; that -1 was enough to tip the scale to D-range with Collison's lack of minutes. What the rating system doesn't see is the behind-the-scenes work Collison does for the team. At the age of 35 he is essentially a player-coach. I'll give him a B for that role, but more on that later.
Josh
Huestis
Small Forward,
Oklahoma City Thunder
C
Meh. C is just such a boring grade. But a boring grade is the only way to describe Josh Huestis' play so far. Huestis came into Thunder training camp with numerous positive reports. You can see why. Physically he looks more athletic than everyone else on the court. You can see why the Thunder reached for him two drafts ago. Sadly that freak physique is not translating into positives on the court. Huestis is averaging over 18 minutes a game yet only recording 4 points, 2 rebounds and 0 assists. He's yet to record a steal, but he does have two blocks. This production isn't close enough to the leap they were hoping-and desperately needing-out of Huestis.
Steven
Adams
Center,
Oklahoma City Thunder
C+
Steven Adms is an ankle sprain away from being a little higher on this list. The Big Kiwi had a few missteps in his first nine minutes of preseason action, but overall it was a solid outing before he went down. Two things that impressed me: Adams hit a little floater off a Russ pick-and-roll a la WCF against Golden State. If those two continue what they started last season, ohhhhhhhhhhh Lordy NBA have fun with that. I also liked that Adams willingly has sat out instead of trying to fight through injury. That's maturity (or maybe I'm grasping for positives). Two thing that did not impress me: Russ gave Adams a few looks in the post early anddddddd it wasn't pretty. He failed to draw rim on both plays; I was hoping he would have refined his post skills a little more. Also I would have liked to see a couple more rebounds against a smaller Real Madrid team. Ugh I hate small sample sizes.
Kyle
Singler
Small Forward,
Oklahoma City Thunder
C+
If it was my decision Kyle Singler would not have reached a positive rating. But scoring barrages are a meaningful part of basketball and Singler had one of those Tuesday night, scoring 14 points in a six minute span. However every other part of Singler's game was kinda terrible. He had one stretch (during his scoring streak) where he threw the ball out of bounds than foul a screener to send him to the line. It's stretches like these that keep Singler off the court. Sometimes he appears to turn a new leaf and than he reminds you that he's Kyle Singler. You look at Singler's stats and you might think he played okay; the stats just don't correlate with the play you see on the court.
Semaj
Christon
Point Guard,
Oklahoma City Thunder
B-
Christon has appeared in two of the OKC Thunder's first three preseason games, showing his ability to be an Energizer off the bench. The Cincinnati native (shoutout #513) is trying out for a two-month trial run as the Thunder await Cam Payne to return from injury. In his combined 19 minutes of play Christon has recorded 6 points, 4 assists, 3 rebounds, 3 steals, 5 fouls and 1 turnover. Yeah, he's all over the place.That type of energy is exactly what Billy Donovan should be looking for out of a third-string point guard. Yeah he comes with his flaws (3-9 shooting) but OKC will only be expecting five or so minutes a night out of him. For that role, Christon has had a solid preseason.
Alex
Abrines
Shooting Guard,
Oklahoma CIty Thunder
B-
If you take anything away from Alex Abrines' first three Thunder games, make it this: he isn't afraid of the big moment. And the Thunder desperately need a shooter like that. Too many times Thunder fans have watched Anthony Morrow miss an open shot in crunch times; Abrines did the exact opposite against Real Madrid. While the rest of his benchmates froze up as if it was Game Six, Abrines calmly kept OKC close with three fourth quarter threes. He ended his first Thunder appearance with 12 points on five shots; since then he's combined for 8 points on 3-10 shooting. The best thing we've seen out of Abrines is his for slashing to the paint for offensive rebounds. He recorded an offensive board in all three games so far, showing he is more than just a shooter.
Anthony
Morrow
Shooting Guard/Small Forward,
Oklahoma City Thunder
B-
Anthony Morrow is the same Anthony Morrow we've grown to love. He's going to consistently hit threes in the regular season but never at the right moments. Morrow is 3-6 from behind the line this preseason but his misses came at costly times (surprising!). Interestingly enough, Morrow has looked more aggressive; maybe he realizes the lack of a true small forward on the roster. Morrow provides a guaranteed skill whenever he touches the court, something Kyle Singler and Josh Huestis simply can't claim. Morrow's 39% 3-point percentage last season was hopefully an anomaly for a team that desperately needs shooting; he'll be watching out for Alex Abrines as his main competitor all season.
Ronnie
Price
Point Guard,
Oklahoma City Thunder
B
Ronnie Price has been a pleasant surprise for the OKC Thunder this preseason. For someone expected to be a mentor for Cameron Payne, Price has played with a sense of urgency. Even at 33, the Nichols State University grad is seems to be everywhere on the court. His hard-nosed defense fits right into the mentality that Russell Westbrook and Victor Oladipo are trying to instill in the backcourt. Price has 6 assists in 46 combined minutes; the major red flag is his shooting percentages. Price has gone 2-12 in his first three games including 1-5 from behind the line. That could be early season rust, but its cause for concern for a team already strife for shooters.
Victor
Oladipo
Shooting Guard,
Oklahoma City Thunder
B
Just like I don't know what to make of the Thunder overall, I have no idea what to make of Victor Oladipo's first three games in a Thunder uniform. There's the Real Madrid game where he scored 34 points on 24 shots and 4 turnovers. But then there's the Dallas game where he scored 9 points on 10 shots and had 7 rebounds. Oladipo's problem is he hasn't played a complete game. I have a feeling that he's convinced himself he has to be the second-coming of KD. Instead Oladipo needs to focus on how he can best contribute to the team. The seven rebounds makes me want to jump for joy; if OKC can get 15 rebounds a game from their starting guards they will be at an insane advantage on the glass. Again, a lot of this will come with time. Oladipo's shown spurts that he can be effective; he's got to learn how to be efficient as well.
Russell
Westbrook
Point Guard,
Oklahoma City Thunder
B
Maybe playing without KD is going to be harder than Russ made it out to be. Yeah he's made some incredible highlight plays, but Russ is playing with the same fire as usual. I've always preached that Russ needs to tone down the energy but I'm starting to think I was wrong all along. Westbrook has come out looking to involve his teammates more, which is good, but not at the effect of losing out on attacking Russ. He's going to have to find that perfect combination of ball-hogging and ball-spreading; I don't envy him one bit. Of course Russ is still stuffing the stat sheet, averaging 14 points, 4 rebounds, 5 assists and 2 steals. There's no cause for concern just yet, but we definitely could have seen better from our superstar.
Domantas
Sabonis
Power Forward,
Oklahoma City Thunder
B+
Domantas Sabonis is one bad game against the Mavs away from having an A for the first half of the preseason. The 20-year old averaged 7.5 points, 3.5 rebounds and 3.5 assists in his first two professional games. That may not seem like much but that's because his usage was far less than his compadres. Sabonis seemed to make the right play every time he touched the ball; whether it was a bounce pass to the low block or a kick out to the wing, Sabonis knew where to move the ball. Against Dallas Sabonis' light out shooting finally crashed to Earth when he went 2-8 from the field and 0-5 from three. These growing pains are going to happen for the young Lithuanian so there is no reason for concern. Sadly the 2k rating system isn't so kind.
Enes
Kanter
Center,
Oklahoma City Thunder
B+
If you combined Steven Adams' defense with Enes Kanter's offense you would have the best center in the league. Kanter infamously was leading NBA preseason in scoring per game after the Global Games; that ended after his 11-point outing against Dallas. Factor in Kanter's ineptitude on the defensive end and BAM you have a performance good enough to knock you down a letter grade. The Dallas game took away two truly masterful games in Spain where Kanter obliterated any defender that was thrown at him. He scored 53 points on 21-32 shooting (that's pretty good). But when Domantas Sabonis and Kanter lined up against an NBA frontcourt…well the story wasn't so good. Kanter's skill on offense is not enough to justify playing him unless he's paired up with a defensive-minded big a la Adams. Until he can learn to play defense, Kanter will remain a pariah on this team.
Joffrey
Lauvergne
Power Forward,
Oklahoma City
A-
The more Lauvergne plays for the Thunder, the more likely it seems that Mitch McGary's days are numbered in OKC. Lauvergne had an average debut against Barcelona but absolutely EXPLODED in the Thunder's NBA preseason debut. King Joffrey scored 15 points on 9 shots while throwing in 6 rebounds. Lauvergne does everything that McGary can do, just better. The Frenchman is more athletic, a better shooter and a better defender. Lauvergne came into camp saying his goal was to compete for a starting spot; although Sabonis is in the early lead for the coveted spot, Joffrey is not out of the question after Tuesday night's performance. But even with an impeccable performance, he could not top my top two through three games.
Andre
Roberson
Swiss Army Knife,
Oklahoma City Thunder
A
MVP! MVP! Who would have guessed that Andre Roberson would have the biggest impact on the Thunder in Spain? Roberson looked like Ricky Henderson on the basepaths, stealing everything in site. The 24-year old recorded two steals against both Real Madrid and Barcelona; he helped lead a second-half charge against Barcelona that set the tone for the rest of the game. While the focus has been on Victor Oladipo and Russell Westbrook's defensive potential, Roberson looks to be the X-factor on that end. His length is scary, and NBA small forwards won't be used to the pest that is Roberson. Andre has already risen to the top of my list for Most Improved in OKC. Can he make waves in the national conversation? If the preseason tells us anything, I'd say so.
Ersan
Ilyasova
Power Forward,
Oklahoma City Thunder
A+
Thunder fans, meet your new favorite player. Okay maybe not, but Ersan Ilyasova already has a special place in my heart. I don't even want to tell you his stats because I think you should just go look them up. Just know his worst performance was 6 points and 6 rebounds in only 17 minutes of play. Ilyasova has been the perfect big in Billy Donovan's spread pick-and-roll system. He's able to find holes in the defense for open threes; he's shooting 63% from behind the line so far this preseason. More importantly, Ilyasova has been extremely active on the boards averaging 7 rebounds a game. Everything about Ilyasova's game is exactly what the Thunder needed last year; he's essentially what they wanted Serge Ibaka to be all along. At least we have him now ????
More from Thunderous Intentions
This article originally appeared on