OKC Thunder: Player Grades from Ugly Loss to Indiana Pacers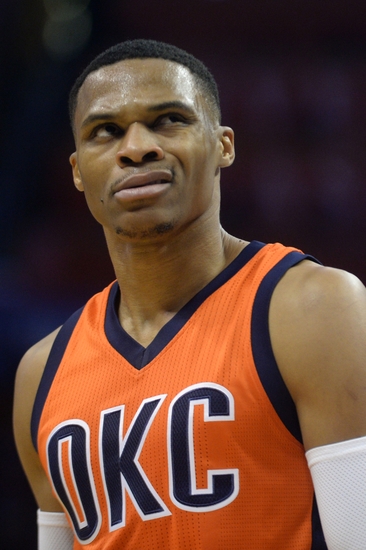 Well that was unexpected. After winning two games against tougher opponents, the OKC Thunder lost to the Paul George-less Indiana Pacers 115-11 Sunday night.
It's so frustrating watching the OKC Thunder sometimes. One game they look like a top four seed, the next game they look like lottery players. Just keep reminding yourself how young they are.
The weird thing about tonight is that there were a lot of positives in a truly ugly game. Victor Oladipo did a fantastic job leading the second-unit; the bench easily had their best performance of the season. Russell Westbrook had another triple-double…oh that honestly isn't a positive. But more on that later.
When you look at the negatives, it starts with the starting unit. Steven Adams continues to look like the $1,000,000 man not the $100,000,000 man and Domantas Sabonis' struggles continued.
Instead of briefly highlighting a couple guys, let's break down each and every player that took the court for the Thunder tonight.
Alex
Abrines
Shooting Guard,
OKC Thunder
B
Abrines continues to show flashes of his potential as an offensive weapon, but he hasn't been able to find the range from deep just yet. I'm not worried though. The Spaniard sharpshooter is leaving virtually every deep attempt shorts; he's used to a shorter three-point percentage in Europe so I'm going to chalk it up as an adjustment period. The 23-year old rookie finished the night with 8 points on 4-9 shooting but he missed all four of his three-point attempts. With Semaj Christon out Abrines was pushed up in the rotation so he got a little more run with the starters. His high IQ worked well with the OKC bigs, especially Domantas Sabonis and Enes Kanter in pick plays. Monta Ellis was consistently attacking Abrines, and admittedly he got the better of his a few times. But Alex never relented, and forced Ellis into taking a couple contested shots when the two were matched up. The arrow is pointing up on this kid, and he seems to improve with each game.
Steven
Adams
Center,
OKC
Thunder
D
What is going on with Steven Adams? For the first time in his career Adams seems almost intimidated on the basketball court. Maybe he feels the pressure of living up to that $100 million contract. Or maybe his hand truly is an issue. Either way, the Thunder have to figure out a solution. The beginning of the season was characterized by a dominant Russell Westbrook/Steven Adams pick & roll but that hasn't worked in 8 games. Adams doesn't look explosive at all on the court, and it shows in his stats. The Big Kiwi finished the night with 8 points and 8 rebounds…average numbers. He also had a steal…good for a big man. And 0 blocks, 5 personal fouls, 4 turnovers and 0 assists…terrible. The 23-year old was shying away from contact on the offensive AND defensive glass; his inactivity was a large part of the Pacers 51 total rebounds. If Myles Tuner didn't go to the free throw line 12 times we could say Adams did a fantastic job in that respect. The Pacers second-year center scored 15 points on 2-8 shooting, but he was able to coerce Adams into fouls early and often.
Jerami
Grant
Small Forward,
OKC Thunder
A
All aboard the Jerami Grant bandwagon!! Now is your last chance to buy stock on the kid because you are just being naive if you don't love this kid. Grant's biggest question mark coming over from Philly was his jumper and he's done everything (minus free throws) to prove the critics wrong. Jerami is now 7-13 from deep in his 11 games for the Thunder, and those 7 makes aren't flukes. Grant does a great job of squaring up to the basket and holding his follow through; all he needed was a little spacing to flourish. On the defensive end, Grant did something Domantas Sabonis couldn't: stop Thaddeus Young. Jerami's +19 was the highest +/- of any Oklahoma CIty player tonight and that was directly because of his effort. The big problem with OKC was they lacked any sort of intensity, but Grant brought that to the table. He went 3-3 from the field, 1-1 from three and 2-2 from the free throw line. Now if he could get more than one rebound and find himself in the assist category Grant would find himself with an A+.
Enes
Kanter
Center,
OKC Thunder
B+
On one hand, Kanter played a marvelous game on both ends of the court. He scored 16 points on 5-9 shooting including his first made three of the year. PLUS he recorded a season-high three blocks, helping shut down Al Jefferson off the bench. But for how great played, why did Billy Donovan opt to role with Joffrey Lauvergne in overtime? Kanter is undeniably the more talented player, and with a starting unit struggling to score all night Kanter's offense would have been much appreciated. But nope. Donovan chose Lauvergne (who played absolutely fabulous and you'll find out why next). For me the most impressive part of Kanter's game was the three assists. The 24-year old had recorded four assists ALL SEASON going into tonight, but he was actively looking to get his teammates involved out of the post. He kicked out to Oladipo and Westbrook for easy mid-range jumpers, shots that open up almost every time Kanter is fed down low. Teams HAVE to double-team him to stop him, and if Kanter can start passing more efficiently the offense would be in a much better place.
Joffrey
Lauvergne
Center,
OKC
Thunder
A-
The Houston game may not have been set up for Joffrey's strengths, this Indiana game was. And Coach Donovan knew that. Lauvergne actually subbed in for Domantas Sabonis before Enes Kanter, marking the first time Lauvergne came off the bench first this season. And WOW did he respond. Lauvergne finished the night with 7 points, 7 rebounds, 2 assists, 1 block and 0 turnovers for one of his best games of the season. Like Jerami Grant, Lauvergne was incredibly active and was a major reason in the Thunder's second-unit outplaying the Pacers. King Joffrey was a large part of the Thunder's collapse in the final seconds of overtime though. The Frenchman allowed Thaddeus Young to get position and grab an offensive rebound to force OKC into fouling at the end of the game instead of giving them one more possession to try and tie. A minor but major bump in a very good game from Joffrey. Still, if Donovan trusted him at the end I have to trust that Joffrey deserves a better grade than Kanter.
Anthony
Morrow
Shooting Guard,
OKC Thunder
C-
Ughhhhhhhhh Anthony!! Morrow came into the game in the third quarter and provided an immediate spark off the bench. He hit a nice contested floater in his first possession on the court….than nothing. In Morrow's seven minutes he accumulated one rebound and a 2-5 shooting line, including three missed threes. That brings Morrow to 0-9 on the season from deep, a number that you don't want to see from your supposed marksmen off the bench. One thing that is refreshing about Morrow's game is that he isn't reliant on the three. He still has the ability to drive to the basket and my hope is that skillset rubs off on Alex Abrines (I think it already has). Morrow was on the court at the right time to finish with a +/- of +9, so no need to point to that as reason why Morrow played well. It was the typical Anthony game: if he isn't shooting it well he isn't impacting the game that much.
Victor
Oladipo
Shooting Guard,
OKC Thunder
B+
I'm really excited with what we have seen out of Oladipo these past three games. After going 11 games without a single 5-assist performance, Oladipo has hit that mark the past three games. Tonight he finished with six assists and four turnovers; although you don't like seeing four turnovers it isn't as bad considering Dipo was playing in a role he hasn't played much this season. For the first time all season the bench actually looked like a real unit with Dipo at the helm. Hopefully the rumors are correct that the Thunder are in the market for a small forward to push Victor to the bench. The Dipo and Westbrook combination can work in crunchtime, but you want those two seperated as much as possible since they are both ball-dominant guards. Victor also had 5 rebounds and 2 steals, continuing his increase in production in non-offensive statistics. Considering he shot over 60% the past two games we won't fault him for his 6-14 mark tonight either. Great game Dipo.
Andre
Roberson
Small Forward,
OKC Thunder
D+
The lowkey MVP strikes again, this time showing the negative side of his impact. Roberson was not his usual self tonight. I don't want to say he was lethargic because Andre doesn't play lazy, but for Andre it was lethargic basketball. He allowed Jeff Teague to drop 30 points tonight on only 16 shots. Realistically your small forward shouldn't guard a point guard but that's what happens when your pg is the defensive liability known as Russell Westbrook. Teague was too quick for Andre who uses his length to push bigger players away from the basket. Roberson did hit two of his four threes tonight, but it wasn't enough to overcome the offensive liability that he is. The Pacers outscored the Thunder by 27 with Roberson on the court, by far the highest of any Oklahoma City player tonight. On the bright side this was Roberson's worst game of the season. If that doesn't show you how consistent Andre is than I can't help you.
Domantas
Sabonis
Power Forward,
OKC Thunder
D-
Oh Domas, tonight was not your night. The athletic, floor-stretching power forward that has haunted Sabonis all season visited Oklahoma City in the form of Thaddeus Young tonight. Young, who averaged 10 points and 6 rebounds going into the game, finished with 20 points and 11 rebounds including 10 points in the first quarter. Domas only played 20 minutes tonight, less than both Enes Kanter and Joffrey Lauvergne; Billy Donovan simply couldn't keep him on the court. The Pacers outscored OKC by 19 points when Sabonis was on the court because they exploited his slow instincts on the defensive end. Now it wasn't all bad for the 20-year old tonight. Sabonis grabbed six rebounds including three on the offensive glass. We haven't seen the elite rebounder that Domas was in college, but if he can find that skill again it would take a huge load off of Russell Westbrook's shoulders. Speaking of…
Russell
Westbrook
Point Guard,
OKC Thunder
D
I refuse to fall for the Russell Westbrook trap. When you go on social media tomorrow, your timeline will be filled with "Russell Westbrook is incredible he already has five triple-doubles this season!!" Or something like that. Don't let those people deceive you. Yes, Russell Westbrook is incredible. But his performance tonight was not incredible. In fact it wasn't even good. Because of Westbrook's lack of effort on the defensive end, Billy was forced to put his small forward on Indiana's point guard. That's right. He doesn't trust his 5x all star to guard a 1x all star. But I digress. On the offensive end Russ took 34 shots to score 30 points tonight. In fact, he took the Thunder's first four shots in overtime; his first pass didn't come until 2 minutes left and it resulted ina turnover. Oh yeah Westbrook had 7 of those tonight. Lok I understand Russ has a huge load on his shoulders. But he puts a lot of that on himself. If he would just trust his guys in the fourth quarter like he does in the first quarter we wouldn't be seeing all these disappointing results in contested fourth quarters.
With the talent of this team it's so hard to remember how young they are. These games are going to happen, but you don't want them to be occurring at the rate which they are now. Oklahoma City plays four games in the next five games and we'll get a glimpse of the mental strength of this team.
More from Thunderous Intentions
This article originally appeared on