OKC Thunder: Player Grades from Last-Second Defeat to Clippers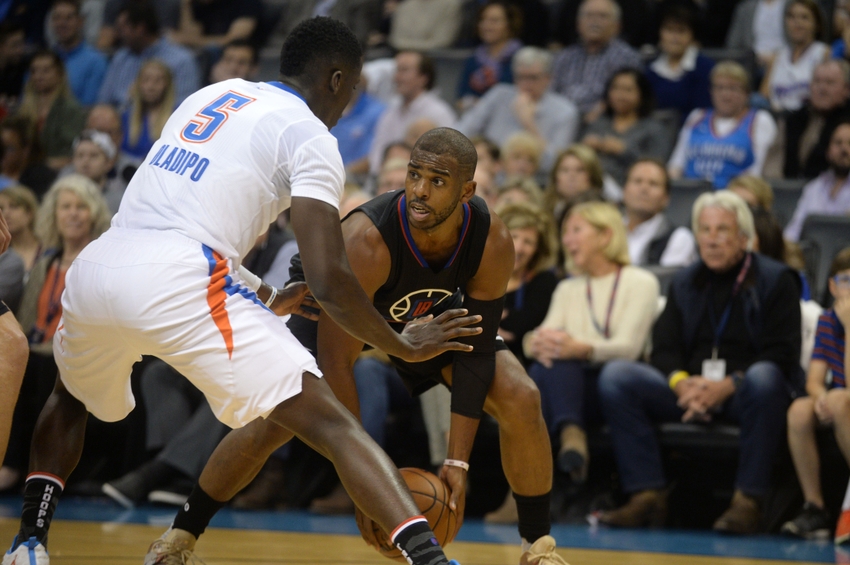 The OKC Thunder dropped their second game in a row to championship contenders, losing to the LA Clippers 110-108.
Mannnnn that one hurts. The OKC Thunder are never going to shoot 16-28 from threes ever again this season. The bench easily played their best game of the season. And the team still lost a nail-biter. But how?
On the defensive end LA followed Toronto's gameplan from Wednesday, packing the paint and forcing OKC to shoot. While the three-pointers were falling, OKC couldn't get anything going inside.
That's a big problem for a team whose offensive strength is supposedly inside the paint.
So they lost. There were still some positives to take away from this game. And a few negatives. Let's take a look at who played well and who underperformed tonight.
Alex
Abrines
Shooting Guard,
OKC Thunder
B-
Tonight was the first night that we saw the "Alex Abrines Effect." When Abrines stepped on the court the Clippers defensive scheme changed dramatically. Even though the Thunder stuck him in the corner most possessions, his presence pulled his defender away from the paint. On defense LA tried to attack the rookie by putting him in constant pick & rolls with Austin RIvers but he did an admirable job defending the play. The Thunder outscored LA by six points with Abrines on the court, the highest +/- of any OKC player tonight. He only scored three points off 1-2 shooting; his lone made field goal was literally the longest two-point shot imaginable. The growth of Alex on the defensive end is incredible; his confidence is growing and its only a matter of time before he lights up scoreboard one quarter.
Steven
Adams
Center,
OKC Thunder
C+
Mediocre is the best way to describe Adams' play tonight. The Big Kiwi couldn't keep DeAndre Jordan off the offensive glass tonight; Jordan had four offensive rebounds to Steven's five total rebounds on the night. Adams did a good job of ensuring that DeAndre didn't end up on Top 10 Plays, but the Clippers offensive gameplan was focused on the perimeter anyways. On offense Jordan completely shut down Adams. Steven couldn't get anything going on his few touches, scoring only six points on his five shots. Adams is by no means a post-up threat like Enes Kanter, but on his few opportunities Jordan forced him into off-balance fadeaways. If Steven truly wants to progress into one of the best centers in the game he has to work on that skillset.
Semaj
Christon
Point Guard,
OKC Thunder
B
I really enjoyed Christon's play tonight. The reason why the bench played so well was because the Thunder's forgotten rookie was able to get them in offensive sets on most possessions. The ball movement was SO crisp from the second-unit, something starters should have taken note from. Christon took eight shots, which is far too many for a backup point guard. His activity is Westbrook-esque but he doesn't have the athleticism or skill to play that style. Semaj was at his best playing off-ball with Russ on the court. His off-ball movement and penetration plays well when he's surrounded by more talented players; he looks to defer at a much higher rate. Ultimately Cameron Payne is going to be a better fit for this team once he returns, but Christon as a third-string point guard is one of the better options in the NBA.
Nick
Collison
Power Forward,
OKC Thunder
C+
What about Nick Collison makes him only available for the Clippers? Look, this isn't a dig. I wish Nick got more minutes, but that's the problem with this loaded OKC frontcourt. Collison has to be the best professional in the league; he comes in, does his job and does his job well. He doesn't require the ball. He's not worried about putting up numbers. In five minutes Nick had an assist, a turnover and two fouls. He came in to relieve Enes Kanter after Blake Griffin made slight work of Kanter on offense. Then he came in to send Deandre Jordan to the line in the fourth quarter. I love it. You know what you are going to get from Collison every time he touches the court. Can't wait until he is an assistant coach for this team next season.
Jerami
Grant
Small Forward,
OKC Thunder
C+
Grant has made a three in three straight games. That's HUGE for a second-unit devoid of scoring, especially considering Grant's inability to shoot from deep in Philly. He's going to get looks in this offense; he just has to keep converting. On the defensive end Grant had a tough time guarding Jamal Crawford, but who doesn't? The honeymoon period for Grant is over though. Yeah he dunked on KD in his second game with the Thunder, but Grant hasn't shown the perfect fit we saw in his first three appearances. Oddly enough, since practicing with the team Grant's play has declined. Maybe he's putting too much pressure on himself. He definitely looks more timid when he steps on the court; Grant needs to take a step back and just play his game.
Enes
Kanter
Power Forward,
OKC Thunder
B+
Kanter had the second-worst three of the night tonight. With 16 seconds left on the shot clock and six minutes to go in the game Kanter shot a contested corner three, only his fourth attempt of the season. It's these type of plays that will kill this young Thunder team this season. Other than that possession Kanter played an awfully goos game. He finished his 21 minutes with 13 points and 11 rebounds, including three on the offensive glass. His physicality down-low brings a great dynamic to this team, especially when paired up with Semaj Christon's style. Christon does a great job of penetrating and finding Kanter down low, something Russell Westbrook could do a little more when he's on the court. Kanter's defense is improving to the point that he deserves more minutes than his 18.5 he's averaging so far.
Victor
Oladipo
Shooting Guard,
OKC Thunder
C
Oladipo has the potential to be one of the better two-way guards in the NBA. Every game he shows flashes of what could be, but the stats don't reflect an all-star caliber player. Victor finished the night with 18 points on 18 shots, including 4-8 from behind the line. For the second game in a row he shot under 25% from two-point range despite shooting 50% from three. That can't happen. Dipo's shown he can be a dangerous spot up shooter but his skillset is geared more towards penetration. When he does drive, he keeps his head down instead of looking for his big men to free up on the block. He finished with only one assist but turned the ball over three times; the offense is much better when he doesn't look for isolation plays against his defender. Speaking of defense..JJ Reddick did a great job of moving off the ball and getting away from Oladipo; his 16 points were no fluke and honestly should have been higher.
Andre
Roberson
Small Forward,
OKC Thunder
A-
If Andre Roberson gets traded this season I will be more upset than when [REDACTED] left for Golden State. Without Roberson the Thunder would have been absolutely annihilated tonight. Chris Paul came into the game with the highest efficiency rating in the league but he was limited by the human octopus tonight. Donovan wisely stuck Andre on Paul for most of the night knowing that Russ couldn't handle the smartest player in the league (more on that in two slides though.) Roberson had his first double-digit scoring performance of the season; he scored 13 on 5-10 shooting. Here's the thing with Roberson from behind the line (he made 3-6 tonight). He literally has to make the first shot or he won't make a shot the rest of the game. Roberson needs to see the ball go in, but once he does he won't miss because he's got the rhythm down. It's so weird but it's so true. That's why he made all three of his attempts in the first half. And than missed the last three in the second half.
Domantas
Sabonis
Power Forward,
OKC Thunder
B-
If Domas isn't an all-star one day I will personally retire from this industry. As long as it isn't injury-related, that's how much I love this kid. Sabonis already made more threes in his professional career than he did in two college seasons; if that doesn't show you how much he practices than I can't help you. Domas hit four of his five attempts from deep tonight, which were his only attempts from the floor all night. Domas can't limit himself to just the three though. He was a top prospect because his ability to score in the post. He needs to put on more muscle before he can be a dominate post presence, but his skills are enough that the Thunder should throw him the ball down low a few times a game. On defense Sabonis is improving (he only had two fouls tonight)! Sabonis only had one rebound all night in 28 minutes of play. He needs to be more physical and show the skills that made him one of the best rebounding prospects coming out of Gonzaga.
Russell
Westbrook
Point Guard,
OKC Thunder
D+
It feels dirty giving a 29-14-9 statline a D+. But Russ is going to have to learn some way and hopefully this grade pushes him. The Thunder are at their worst when Russ goes into total iso-mode. When this happens the rest of the team falls into standing around and watching; even worse, if they get passed the ball they assume they have to make a play on their own. As the point guard, Westbrook has to do a better job of involving everyone on offense. Adams and Sabonis only had 5 shots apiece; that's on Russ. But the real problem I have with Westbrook was his defensive effort tonight. Luc Richard Mbah a Moute was able to score seven points tonight, something that should never happen in an NBA game. Too many times Russ falls asleep while playing off-ball defense, allowing his man to move around and find an open shot. That big Jamal Crawford three in the fourth quarter? Russ let him get open. He talked about how this team will win with defense; if that's the case Russ needs to practice what he is preaching. Oh and I didn't even mention that "last-second but in reality four seconds were left" heave. Cmon dude. Trust your teammates.
So the Thunder dropped two games in a row. They still find themselves at 6-3, which isn't too shabby considering they are integrating six new players into the rotation. Their next game is a visit from Serge Ibaka and the Orlando Magic on Sunday. Game is scheduled for 6 pm central at the Peake.
More from Thunderous Intentions
This article originally appeared on