OKC Thunder: Five Things We Learned in WIN against Clippers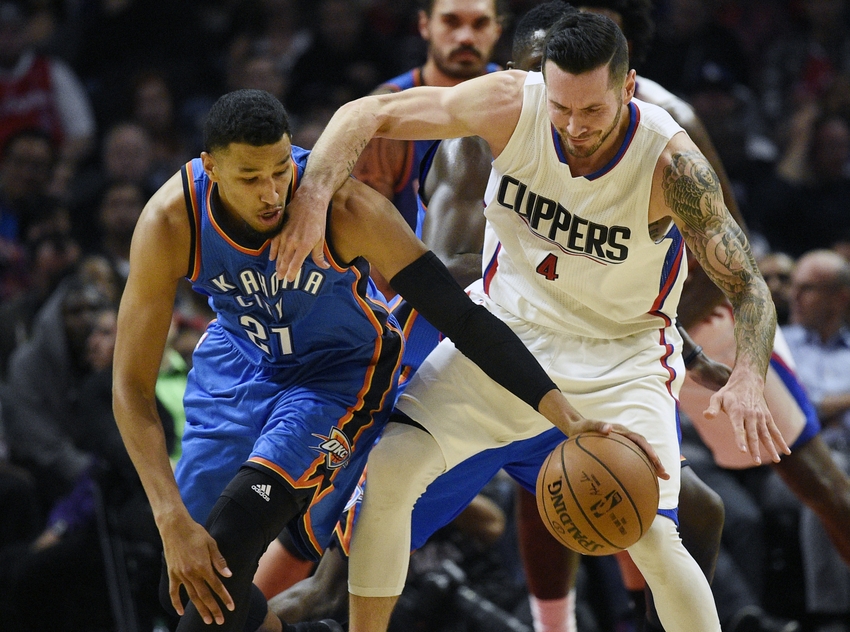 The OKC Thunder turned heads Wednesday night, defeating the LA Clippers 85-83 in a defensive battle.
If you would have told me the Cleveland Cavaliers and OKC Thunder would be the last two undefeated teams in the NBA…well I probably would have told you the Cubs would win the World Series too.
Jerami Grant looked like a perfect fit in the new team identity and Alex Abrines showed up in his first real crunch time opportunity. So what were the five big takeaways from the game? Let's take a look.
5. Jerami Grant is everything the Thunder want in a small forward
Seriously this kid is going to be amazing for OKC. After arriving in Oklahoma City yesterday, Billy Donovan decided to let his newest piece play 17 minutes in his first game. And Grant delivered.
This is the basketball I envision the OKC Thunder playing for the next five years. With Westbrook, Oladipo and Adams locked in athleticism is going to be this teams strength. With Grant, they have a wing who can play both the 3 or the small-ball 4, maximizing a variety of lineups.
His defense is spectacular for a third-year player; he has two blocks in each of his three appearances this season. Doc Rivers tried to expose Grant by playing big-bodied Marreese Speights, but Grant was able to hold his own in the post. And his athleticism cause problems at the offensive end.
Just like we thought, Grant looks like the replacement for Kyle Singler at the backup small forward spot. Singler played four minutes in the first, but once Donovan saw Grant with the squad Singler didn't step on the court.
Now only if we could work on Jerami's shooting…
4. The defense is one of the best in the NBA
It doesn't matter that the Thunder rank 12th in points per game to start the season. When you have as many possessions as Oklahoma City, teams are going to score more points.
More from Thunderous Intentions
What matters is the fact that NBA.com ranks the OKC Thunder as the number one defensive team. They lead the league in opponent's three-point percentage and rank sixth in turnovers forced. The Thunder have the third highest rebounding percentage…basically they are in the top 10 of every major category.
A lot of this has to do with the overall activity from every player. Going into Wednesday's matchup, the Thunder ranked first in total deflections. Steven Adams is averaging two steals a game AS A CENTER; that's very important as the tone-setter underneath the basket.
With the addition of Grant (can you tell I love this kid) the OKC Thunder will have the ability to switch on every player 1-5. San Antonio showed us in the NBA opener that's how you beat a certain team in the Bay Area.
3. Semaj Christon is chipping away at Cam Payne's security
Look, nobody loves Cam Payne as much as me. He's my laptop screensaver. But the more Semaj Christon plays, the more it seems like Payne is expendable for this team.
Much like the Reggie Jackson back in the day, Payne is going to struggle finding the playing time he deserves playing behind Russell Westbrook. Christon has played well, albeit sporadic, so far this season. But when the Thunder begin to look for potential trades Christon's play should be enough to make Sam Presti feel comfortable losing the guard.
The beauty with Christon is that he will only be due $1 million in the last year of his contract (2018-2019). The margin is small, but $2.2 million can go a long way in the grand scheme of roster building.
Before the Thunder make any decisions they will obviously wait for Payne to come back from injury. But if he doesn't perform at a significantly higher rate than Christon, we could be seeing the last of Cameron in OKC.
2. Domantas Sabonis is solid…when he's not guarding an athletic power forward
As poorly as Sabonis has played in the last couple of games, I understand why Donovan wants to keep rolling out the rook. If he can just learn how to use his hands on defense, the foul trouble should go away.
Domas has shown signs every game that he can keep up with more athletic players. At one point he was in isolation with Chris Paul, and Paul wasn't able to shake the 20-year old lose. When Blake Griffin/Julius Randle/insert any player is driving at him Sabonis' footwork is impeccable; staying vertical from the waist up is the next step in his development.
By all accounts, Sabonis is a quick learner. Steven Adams has talked about his quick learning curve, and we've seen some of that already. Domas' defensive footwork has improved tremendously since the first preseason game, and that's a great first step.
1. Russell Westbrook is on a mission
Exhibit A
Exhibit B
Exhibit C
Westbrook was asked about the expectation OKC would fall off some.
"Who said that?"
A lot of people.
"That's where they went wrong."

— Royce Young (@royceyoung) November 3, 2016
If you don't think this Russell Westbrook-led team is winning 50 games this season than I'm gonna ask you to peacefully leave. Good thing this slideshow is over.
This article originally appeared on