OKC Thunder: Five Things We Learned against the Raptors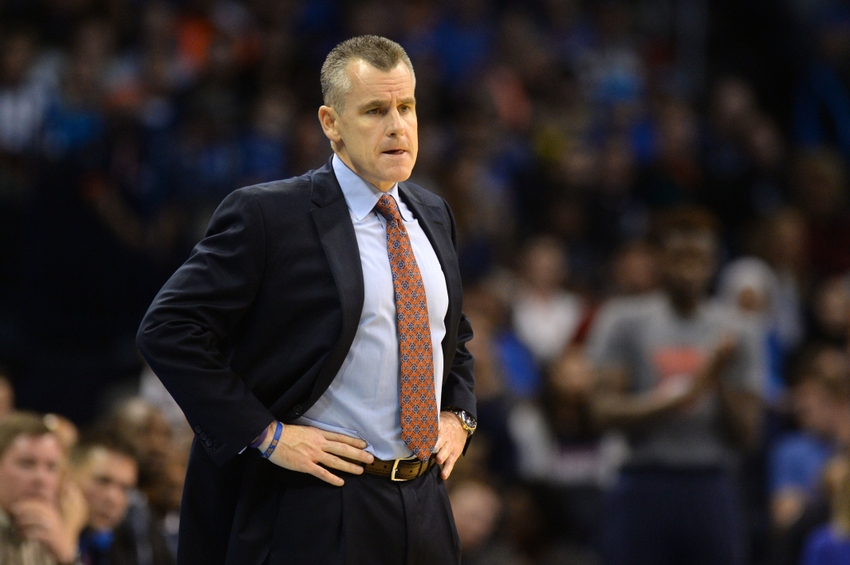 The OKC Thunder proved themselves to be mortal Wednesday night, losing to the Toronto Raptors 112-102.
So maybe this team isn't going to challenge 73 wins. The OKC Thunder lost to a really good Raptors team last night. Even with a 12-0 run to start the game, Toronto made slight work of the Thunder's defense.
As the great musician Big Sean said in his latest masterpiece (if you enjoy petty/savage/single Sean this is for you) "No Interviews": "My mistakes are my biggest professor." The Thunder made some mistakes tonight, but (hopefully) they learned from them3.
Here's the five biggest takeaways from Wednesday's nights matchup.
5. Packing the paint is an easy way to stop OKC
Dwayne Casey made a great game plan against the Thunder. Instead of switching on screens-like most teams have to start the season-Casey either had his big trap the ball-handler or sag off and protect the paint. Despite allowing 102 point, it succeeded.
It forced the Thunder to shoot more; even worse, it confused the living feces out of OKC. The Thunder ended the night with 21 turnovers and allowed Toronto to score 25 points off those extra possessions. The Raptors played OKC's game, pushing the ball up the court every chance they could.
They scored 21 fast break points; Toronto was able to get out in transition and stretch-four Patrick Patterson feasted on the OKC bigs. He scored 13 points including 3 threes; the Raptors outscored OKC by 17 when he was on the court. Raptors athletic center Lucas Nogueira had a career night, scoring 10 points and grabbing 7 boards in his second appearance of the season. He had a +/- of +30!!!
Last night was the perfect display of good defense turning into easy offense. The Raptors guards suffocated Thunder ball-handlers knowing that they would have rim protection at all times. The Thunder shot a season-high 34 threes because they had to; they were open. But because OKC can't shoot, they only hit 35% which isn't enough to win in this day and age.
Presti picked his poison with this roster. We just have to pray it all comes together correctly.
4. Victor Oladipo is turning it around already
I was hard on Oladipo in the early part of the season. And for good reason. But now he's starting  to fulfill the role we all wanted.
Dipo has done a much better job moving off-ball and finding better shots for him and his teammates. Before last night he had three straight games of  56% shooting or better and he's hit 50% from three in his last four.
Last night's game against the Raptors was hard for Victor inside the line. As mentioned in the last slide, Toronto packed the paint and made O
KC's non-shooters beat them from deep. Victor shot 1-7 from two-point range because he was always met by a defender at the rim. I'm not faulting him for his poor percentage.
Want your voice heard? Join the Thunderous Intentions team!
He's getting more active overall and that's a good thing. Two steals, three offensive rebounds and only one turnover. Russ could actually take a note from Dipo on how to play hard and smart.
3. Turnovers.
As much as we want Russell Westbrook to have the ball, the OKC Thunder can't afford to use him every possession with his turnover percentage. The fourth quarter is not a fun time for Russ. Josh Eberley says it best.
This is significant considering in the 4th alone that would rank him 8th in the league for turnovers.

— Josh Eberley ???????? (@JoshEberley) November 10, 2016
This is not good. At all. If the Thunder expect to be a top-five Western Conference team this season they need Russ to play smarter with the ball. As great as it is to see Russ take over games, more times than not his isolation routine results in negative outcomes.
He overdribbles trying to make a play too much. The more they all play together, the better the offense will look. Right now the focus is on the defensive end for this team. As they practice the spread pick & roll more, the more Russ will trust his teammates. He won't have to clear everyone out because he'll know that someone is coming off a screen for a better look.
Trust is the big thing. Russ is at the stage where he trusts his teammates when the Thunder are up 10. But once they get down he turns into astronomical usage mode. Astronomical usage mode won't get the Thunder very far.
2. Steven Adams is the best free throw shooter in the NBA
Okay maybe he's not THAT good. But Adams is now 18-19 on the year. After shooting 58% last season. Thunder fans had spent the last seven games wondering if this uptake was legit.
The Big Kiwi hit 2,3 and 2 respectively in the Thunder's first three games. The form looked good, the trajectory was good, it wasn't a fluke. But it was still too early to definitively tell.
He only shot four free throws in his next four games. Our pulses were racing. WHAT WAS THE ANSWER TO THIS QUESTION WE ALL WERE WONDERING?!?!?! And than Toronto came to town. And Adams hit all eight against a Jonas Valanciunas-less Raptors.
What can't this New Zealander do? At this rate he'll be shooting 40% from three next season.
1. The Thunder can't trade more players than they return
Look we know the weakness of this team is the bench. Everything went downwards when Kyle Singler, Alex Abrines and Enes Kanter entered the game in the first quarter. So why are we putting out all these rumors where the Thunder trade away MORE bench players for a starter?
More from Thunderous Intentions
The starting lineup is FANTASTIC. They all have positive +/- numbers virtually every game and they play well together. What the Thunder need is a few more veterans on the bench. It's nice to have a team for of young players but a bench unit can't be compromised of all 25-or younger's.
1) They can't keep everyone around because young players receive larger contracts in free agency. So why not add a couple veterans will provide a good locker room presence?
2) When the bench suffers they don't have anyone to turn to to calm them down. They don't have a Paul Pierce like LA. They don't have a Mike Dunleavy like Cleveland. You need these guys around to guide the young players on the court.
Enes Kanter is a good chip to dangle, and his contract is big enough where OKC could get two players in return. It just doesn't make sense to take away even more talent from a depleted bench without adding more pieces.
This article originally appeared on