OKC Thunder: Five Things to Watch Tonight Against the Mavericks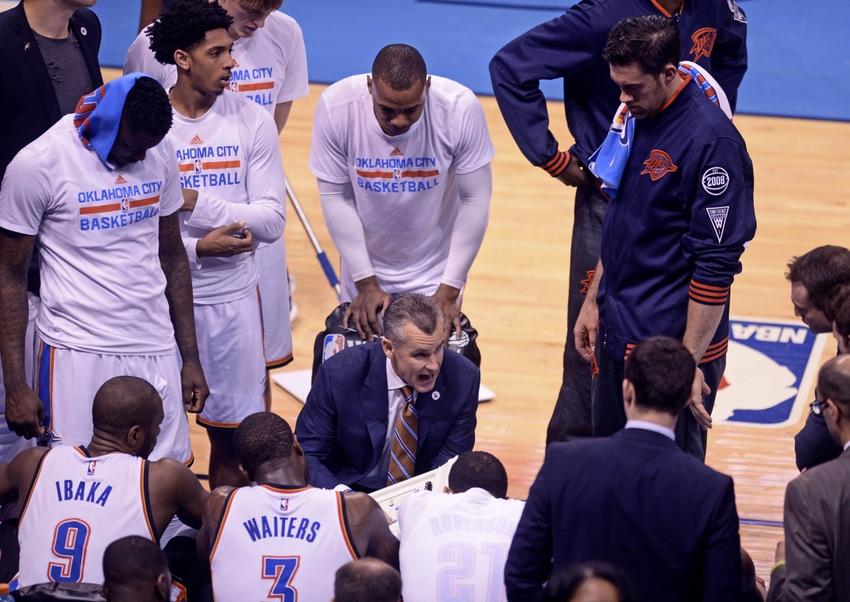 Tuesday marks the first chance for the OKC Thunder to lineup against NBA competition when they take the court against the Dallas Mavericks.
OKC Thunder basketball is back!!!
How was that only five days ago?!?! It's felt like an eternity…
Tonight we get our first chance to see the 2016 Thunder play an NBA foe and it should be a DOOZY. Remember Charlie Villanueva vs. Russell Westbrook Round One? And Round Two? Ugh too bad Villanueva is currently not on an NBA roster.
Even without a potential altercation, Thunder fans should be tuning into Tuesday's action. Billy Donovan has been typical Billy Donovan, tinkering with a plethora of lineup combinations. So what should we be watching for against the Mavericks? I have a few ideas…
5. How will Alex Abrines fare against NBA-level talent?
Abrines has played well in his first two preseason games. He looked comfortable in the offense and he shot the ball well. He's also played for FC Barcelona for the last four years so he had a little advantage.
The Spaniard's biggest question mark is his size; Abrines is 6'6 but string bean skinny. That may work in the Spanish League (no offense) but the NBA is filled with the greatest athletes on the planet.
I think Abrines is good enough to stick.  He showed off his quick vertical with a block on former Memphis forward Joey Dorsey in the game against Barcelona. Tonight's his first opportunity to prove me right.
4. Will Mitch McGary get a chance to prove himself?
McGary has yet to touch the court for the OKC Thunder this preseason. His odds of making the team are slipping by the minute, and this doesn't help:
Sigh.
I wish Mitch didn't put himself in these situations. He's got a lot of talent and there's a dead man walking just asking to be cut. If McGary can get on the court, he better hope it's with Russell Westbrook. McGary's specialty is running in transition; he could put up 10 points and make a late charge for the 15th roster spot.
3. Can Semaj Christon solidify a spot on the roster until Cameron Payne
With the sad news surrounding Cameron Payne, the Thunder are in need of a rental point guard. Semaj Christon has been on the Thunder radar for a few years now and he has a chance to capitalize against Dallas.
The Mavericks lack speed at the position, something Christon will be sure to exploit. Semaj is a poor man's John Wall; he's quick and cut through the lane, but he can't shoot. Christon's stats aren't fantastic from his one season in the Italian League so there's cause for concern.
Christon had six points, three steals and five fouls against Barcelona. Donovan has to like the energy Christon brings; let's see what he can do with the momentum.
2. How will the bench respond after two less than stellar performances?
Everything about the loss to Real Madrid can be blamed on the Thunder bench. Nobody said this was going to be easy. Billy Donovan is playing with four new toys in Abrines, Ersan Ilyasova, Joffrey Lauvergne and Ronnie Price.
Hopefully these warts are over by the end of the preseason. Donovan threw out a lineup with Josh Huestis and Kyle Singler in it, so he's obviously willing to try anything. Ilyasova has been impressive; he fits in perfectly as pick-and-pop guy in Donovan's system.
Now it's up to the players to get as much repetition as possible. Sam Presti picked players with specific roles in mind, the players just have to mesh.
1. Can Russell Westbrook top this?
Yes. Yes he can.
This article originally appeared on