OKC Thunder: Five Things to Watch Against the Timberwolves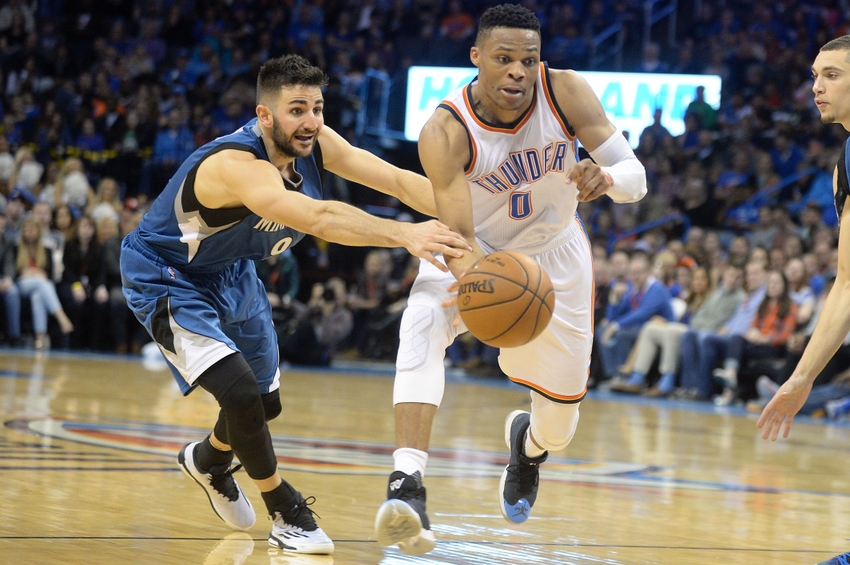 The OKC Thunder play their first preseason game in Chesapeake Bay Arena Sunday night; Billy Donovan has more than a few questions he needs answered.
It hasn't been too fun watching OKC Thunder preseason basketball. I'm over exaggerating, any Thunder basketball is a good time. But obviously this preseason has been different.
Screw the Kevin Durant talk. There is division-title winning talent on this team. Two starters-Steven Adams and Andre Roberson-have both missed at least two games and Enes Kanter was out against Memphis. The Thunder have legitimate reasons for their losses, but they could have looked better in defeat.
Sunday night against Minnesota Timberwolves is going to be the OKC Thunder's biggest test yer. Here's five things to watch for in the Thunder's fourth preseason game.
1. How will the Thunder handle Minnesota athleticism?
This scares me. A lot. The OKC starting lineup came out firing against the slower Memphis group; the Thunder led by 15 at the end of the first quarter. As the game continued Memphis' firepower and defensive intensity increased and the Thunder had no answers.
A large part of that is due to the absence of both Ronnie Price and Cameron Payne (plus Russ in the second half). Still, losing three quarters by 31 points is unacceptable.
Now the Thunder have to deal with a young, hungry team coached by the Defensive General Tom Thibodeau. Minnesota is 3-1 in the preseason, allowing a little over 95 points a game. If Thibodeau utilizes Andre Wiggins, Zach Lavine and the rest of his super-athletes OKC could be in some trouble.
2. Can Kaleb Tarczewski ride the momentum from Thursday's game?
Tarczewski played like a young Steven Adams (even though they are the same age) against Memphis. His post play was impressive against NBA all-stars Marc Gasol and Zach Randolph; he wasn't afraid of the moment.
In 21 minutes Tarczewski scored 5 points and recorded 21 rebounds. Most of his time came in garbage time or with the second unit; Donovan should give the undrafted rookie a chance with the starters.
In his short span with Russ and Co., Westbrook paid particular attention to Tarczewski during dead-ball time. The Thunder superstar obviously sees something in the Arizona rookie; with Adams out he should have another large role in the gameplan tonight.
3. Is Victor Oladipo going continue his shooting slump?
Since Oladipo's outburst against Real Madrid, we haven't seen much from the offensive end out of the new starting shooting guard. He's shot 6-24 from the field after going 14-24 against Real.
Victor's had the rough job of switching between shooting guard and point guard this preseason. He has experience with that role from his Orlando days, but this is a completely new team/system.
Oladipo's been at his best when he penetrates; too many times he's settling for contested jump shots. The Thunder offense is going to flow best when Westbrook and Oladipo use their freak athleticism to get to the rim and dish out to shooters. Hopefully that's Oladipo's focus tonight.
4. Is Alex Abrines ready to play a large role in the OKC offense?
The short answer is yes. But Abrines deserves a longer answer than that.
In four preseason games the Spaniard has shot 60% from threes. And that's with an 0-4 performance. I'd argue that Abrines is already one of the best pure shooters in the league. He'll get killed on the defensive end sometimes, but he has the tools to be a capable defender in the NBA.
One scary offensive statistic is the fact that Abrines has only recorded one assist so far this preseason; that's not great for a power forward let alone a shooting guard. He has playmaking skills, but his first instinct is to shoot. If Abrines can improve his all-around play he'll be seen as yet another late snag in the draft for the OKC Thunder.
5. Will the Thunder get their first win against an NBA team this preseason?
More from Thunderous Intentions
My gut, brain, heart and kidneys tell me no. But this is the NBA preseason and the NBA preseason is absolutely impossible to predict.
The Timberwolves athleticism scares me after seeing what Memphis' second unit did to OKC Thursday night. At the same time, we could potentially see Steven Adams (unlikely), Andre Roberson and Enes Kanter back in the lineup. Needless to say, those three all help in that category.
Ultimately I could care less about the final result. I just want to see whoever Billy Donovan throws on the court play hard and as a team. Instilling a championship foundation is the first step to winning championship. Billy has to push that idea to his players now more than ever.
This article originally appeared on