OKC Thunder: Five Takeaways from Third Straight Home Loss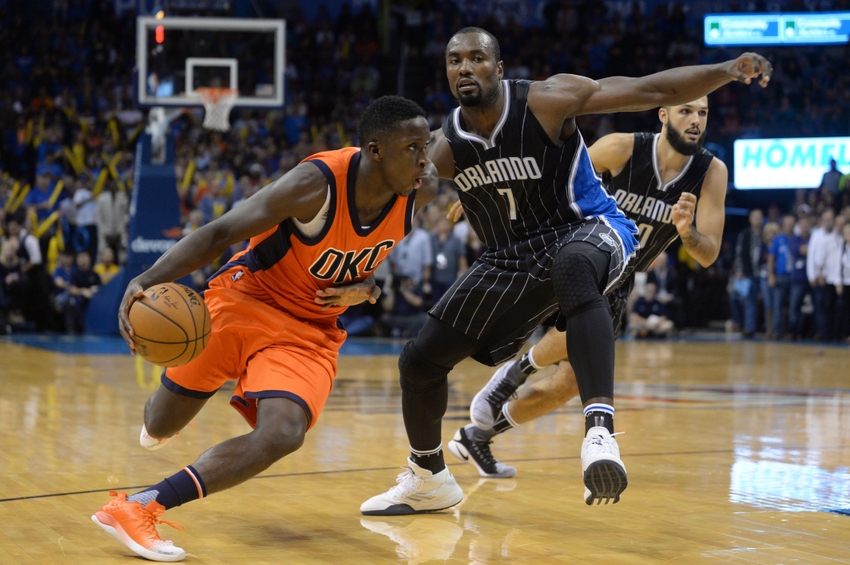 The OKC Thunder ended their five-game homestand with a 119-117 loss to the Orlando Magic. It was not pretty.
That was bad. Like really bad. Like so bad that the OKC Thunder looked like the worst team in the NBA at one point. Seriously.
And stop saying Russ played great. 41-12-16 is a stupid stat line. Congratulations. But there's a reason why the Thunder gave up 119 points and Elfrid Payton scored 23 points. And hit three threes in the fourth quarter. Did you know Payton had never hit three three's in a GAME before tonight? Well he did it in one quarter tonight.
So you're probably thinking I'm angrily typing and thinking irrationally. I'm not. I'm actually happy this happened. This team needed a wake up call and hopefully the first quarter was a nice 20 oz cup of coffee. They played with a greater sense of urgency, especially in the third quarter. But they have to play like that for 48 minutes.
They lost. They played terribly. So what? Now Billy Donovan has a whole lot of ammunition to throw at his players during film. But what exactly does Donovan need to focus in on? Well let's take a look at the five biggest takeaways from tonight's loss.
5. There's no "D" in Russell Westbrook
Do you know how hard it is to throw shade at someone who put up 41 points (14-21 shooting), 12 rebounds, 16 assists and 2 turnovers? Not hard at all.
Russ allowed Elfrid Payton to do whatever he pleased on the offensive end tonight. Payton scored 23 points, dished out 9 dimes and did not commit a turnover in the Magic's surprising win. In fact, Payton was beating Russ so bad in the first half that Billy switched Andre Roberson onto the point guard to start the second half. Unsurprisingly it worked.
And than Russ was switched back onto him in the fourth quarter. Payton proceeded to hit three WIDE OPEN threes in the fourth, the first time he's hit three in an entire game in his career.
This had nothing to do with Russ getting caught up in screens. Or Russ trying to double-team the post. No, Russ was just chilling in the paint waiting for a rebound that would never come.
For a team that preaches defense you can't have your team leader taking plays off. Especially for a guy who is notorious for never taking plays off. The defensive end is just as important as offense, and Russ should be practicing that more than anyone else.
Orlando was averaging 92 points a game going into the night. They scored 119 tonight. The blame has to rest on Russ' shoulders for allowing Payton to break down the defense and get into the paint at will. It's a shame that a truly incredible offensive performance has to be overshadowed. But someone's got to say it.
4. The bench play is getting better
As a unit, the bench is not good. There's too many sporadic players to allow them all to play together. But when they are thrown in with the starters? These guys can play…
When Donovan rolls out the Christon-Abrines-Grant-Lauvergne-Kanter lineup the OKC Thunder become an absolute mess. Christon doesn't do a great job getting the unit into a real offense and teams know that Enes is going to get the ball in the post virtually every possession.
So the answer is playing one or two guys at a time with other starters. Abrines paired with Russ frees up space for Westbrook to drive to the paint. Kanter paired up with Adams allows Enes to play power forward, a much better spot for Kanter's offensive game. We've seen the impact Grant's athleticism has with the Westbrook and the starters. Even Joffrey got it going late in the game tonight!
The solution to this "problem" is that Donovan needs to start staggering minutes more. Instead of running with the starting five for eight minutes he should sub Oladipo/Sabonis (or any pair) out earlier and bring in Abrines and Kanter (or any pair). Than (pick your favorite duo) can come back in and provide more offense with the rest of the bench.
3. Alex Abrines is everything BUT a shooter
So we knew Abrines was a sharpshooter going into the season. But did you know he could do this? (I wish there was a better angle for you lovely people)
If you watched Abrines' highlights from his time with FC Barcelona you would have already known the Spaniard sharpshooter had this ability. I don't want to hear the "sneaky athleticism" thing either; just because he's white doesn't mean it's sneaky.
Abrines has the chance to be a real difference-maker this season. Just compare preseason Abrines to Game 10 Abrines. He's already improved tremendously on defense and his offensive game is already moving away from strictly shooting.
On pick & roll plays Abrines is making reads on where he thinks his teammate is going to move; you don't see that from rookies this early in the season. Granted those reads have been wrong sometimes, but they were the right play if his teammate made the correct read as well.
The 23-year old has shown a little bit of everything on the offensive end. He has a high basketball IQ. He can take his man off the dribble and finish strong at the rim. Now if Abrines can start hitting threes at his preseason rate…the Thunder may have a special weapon on their hands.
2. OKC Thunder needs to figure out their pick & roll gameplan
Last postseason the Thunder's defense was able to cause so many problems because they were able to switch on every screen. This team hasn't lost much of that athleticism yet they haven't maintained that same style of defense.
At times this season the Thunder have switched on all screens. We've seen that with the uber athletic lineup of Westbrook-Oladipo-Roberson-Grant-Adams. It worked to some extent, but there were communication issues (understandably).
After Orlando routinely and successfully attacked Oklahoma City all night, Billy has to make a change in how the team guards the play. Instead of pulling the big away from his man (the screener) Donovan should make him hedge quickly then pull back. The Thunder's guards are athletic enough to recover in time and it allows the big to keep track of his man.
The Magic were able to get the ball inside far too many times tonight; a lot of that had to do with OKC big men being too far from the basket. A simple adjustment on pick & roll defense could do wonders for the defense.
1. OKC is not guaranteed to make the playoffs
Of course I'm not overreacting to the point that I think these guys won't make the playoffs. But there are legitimate concerns now.
If I knew one thing about this team going into tonight it was that they wouldn't take games off. With Russ, there was no chance that anybody could get away with giving less than 110%. Well I was wrong.
More from Thunderous Intentions
The first quarter was an indicator that this team wasn't worried about this game. There was no offensive movement, the defense wasn't communicating; even the crowd wasn't into it. Remember, this is the fifth youngest team in the league so these games are going to happen from time to time.
And that's going to be the problem this season. This team is still learning to play with each other so there will be more of these weird losses. How they bounce back is going to be key on whether or not they make the playoffs. In this league, all 30 teams have a chance to win every night; every time the Thunder take a game off is going to be a loss.
OKC isn't talented enough to win 50 games. They are going to have to play legitimate team basketball if they want to break that barrier. Hopefully tonight was their wake-up call.
This article originally appeared on