OKC Thunder: Five Takeaways from Fifth Straight Win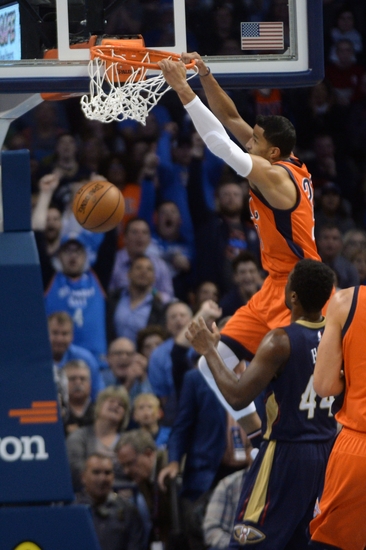 The OKC Thunder are slowly rounding into shape, beating the New Orleans Pelicans 101-92.
Through 21 games last season, the OKC Thunder were 13-8. This season? 13-8. By no means is this team as good as last season's team, but it goes to show you the resilience of all 15 guys on the Thunder roster.
During this five game win streak there has been a couple constants to take note of: Russell Westbrook has had a triple-double in every game and Anthony Morrow has been a consistent part of the rotation.
Russ has played out of his mind in that stretch, but his shooting numbers have been way down. That's a great sign for the Thunder. The players around him, especially Enes Kanter, have stepped up big time.
As the season progresses we need to keep seeing this rise in production from the role players in Oklahoma City. Russ can't do it on his own, but with the help of a few others the Thunder could be dangerous come playoff time.
But we're not here to talk about "what could be." We're here to figure out exactly why OKC won TONIGHT, and more importantly, how they can take that to keep winning basketball games.
5. Anthony Morrow is the Thunder's hero
Okay so maybe I'm overstating things just a little bit. But it's no fluke that when Morrow plays 20 minutes or more the Thunder are 5-0.
When Morrow steps on the court teams finally have a true shooter they have to account for. The 31-year old had a rough shooting night (1-7 and 0-5 from three) but he still finished the night with a +/- of +6. That's because he brings so much more spacing for the rest of his teammates.
Morrow isn't a great defender. He can't really rebound. And he doesn't necessarily create for others when he has the ball. What Morrow does better than anybody else on OKC is provide experience and a calming influence for the young guys.
That's something that stats don't tell you. It doesn't show up on the statsheet when Morrow brings the guys together before free throw attempts. Or even when Morrow is on the bench giving tips to guys when they come on the court. Just by playing Morrow, Billy Donovan has found his official "court coach" and that's going to be huge once we get to the latter part of the season.
4. Three-Point Attempts should Slow Down
Look, I love a good three-pointer. That's about all I was good for in my basketball career (surprise) so I want to root for a team who chucks up a whole bunch of them. But they have to make them to do that.
Tonight the Thunder shot 6-28 from deep including a pretty 0-14 in the first half. If OKC hadn't gone scorless in the last 2:20 of the second quarter they STILL would have put up 50 for the half. They scored a season-high 34 points in the paint during that half; if that's not a sign where the ball should go than IDK what to tell you.
VS.
| | | | | | |
| --- | --- | --- | --- | --- | --- |
| | 1 | 2 | 3 | 4 | T |
| Thunder | 29 | 20 | 29 | 23 | 101 |
| Pelicans | 26 | 15 | 25 | 26 | 92 |
When the Thunder can bring in legit shooters than it's completely acceptable to shoot 25.8 attempts a game. Right now I only want three guys to keep shooting threes at their current rate: Victor Oladipo, Domantas Sabonis and Anthony Morrow.
I'd like to see Andre Roberson start taking it to the rim more. I never want to see Enes Kanter standing behind the line again. Just because the NBA is moving towards shooting more threes doesn't mean the Thunder have to. There strength is in the paint, and that's where they should be focusing all their energy on offense.
3. All Aboard the Enes Kanter Bandwagon
I'm currently buying all Enes Kanter stock. You don't want it? I'll gladly take it. And I hope after reading this you realize how awesome this guy is.
Kanter finished the night with 17 points, 10 rebounds, 2 blocks, a steal and one heck of a fastbreak.
Let's break down exactly what Kanter did on that play. First he plays great defense by stealing the ball from Terrance Jones. Then he leads the fastbreak as a 6'11 245 pound center. THAN HE DOES A QUICK NO LOOK PASS WHILE RUNNING FULL SPEED. This isn't something you see out of sixth men in the NBA.
With a possible Steven Adams ankle injury, there could be an opening in the Thunder starting unit. If OKC is looking to trade him (please no I've flipped on that idea), than it makes sense to showcase Kanter's ability to play with Russell Westbrook and the rest of the starters.
But I think there's a spot in Oklahoma City for Kanter. He's scored double-digit points in 14 of 16 games and the Thunder need that consistent post threat on this team. His improvement on defense (watch him against Anthony Davis in the second half) is a sign that Kanter's ceiling is still as an all-star.
Please play this man with the starting unit more Billy. I know we want to develop Domantas Sabonis, but doesn't it make sense to keep developing the 24-year old Kanter too?
2. The Weird Use of Jerami Grant
It's impossible to figure out where the future of the OKC Thunder is. They have so many young pieces and so many possible styles of play it makes my head hurt. But one thing I'm almost certain of is that they want Jerami Grant to get used to playing with Russell Westbrook and the rest of the starters.
In Grant's first few games with the Thunder he was used as both a small forward with the bench unit and a power forward with the starters. But in the last three games he has played almost primarily with the starters, minus Domantas Sabonis.
Want your voice heard? Join the Thunderous Intentions team!
A Russell Westbrook-Victor Oladipo-Andre Roberson-Jerami Grant-Steven Adams lineup would be athletically devastating for opposing teams. As he continues to develop a jump shot (he's hit 38.5% from deep since coming to OKC) Grant becomes even more intriguing with the starters.
Sabonis is an incredibly gifted player, but his style doesn't make sense with what the Thunder want to play…unless he eventually becomes a small-ball center. But that would mean eventually trading Steven Adams and aghhhhhhh I'm confused again.
I have no clue what Billy Donovan's motives are, but there's a reason why he doesn't play Grant with the bench unit anymore. We need answers Billy. And we need them now.
1. Russell Westbrook is Indescribable
Usually I would use "cyborg" or "not a human being" or something else that is anything but humane. At this point I think it's best to leave the descriptions aside.
Russ recorded his fifth triple-double in a row, which is coincidentally the Thunder's fifth straight win. I honestly didn't want to mention him because there's so much more to discuss with this team, but than I remembered this team would be nowhere without Westbrook.
More from Thunderous Intentions
Without Westbrook, Victor Oladipo would be the Thunder's best perimeter threat. We saw how that worked out in Orlando.
Without Westbrook, Andre Roberson would not be able to shoot 6-8 in a professional basketball game. Westbrook gets this team out in transition better than anyone, and Roberoson has been the biggest benefactor.
The Thunder are 13-8, the same record as they were last year at this time. They are on pace for 50 wins, only 5 less from last year. If he keeps this statline up (which I think he will) and the Thunder keep winning at this rate (which I think they will) there is no doubt who the second-ever unanimous MVP should be.
Russell Westbrook.
This article originally appeared on