OKC Thunder: Five Takeaways from Blowout Brooklyn Win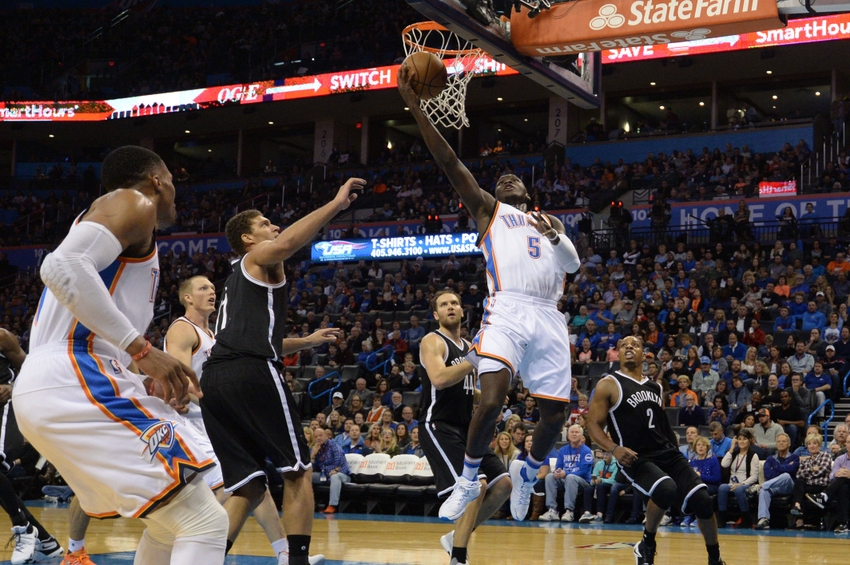 It's official! The OKC Thunder have overcome their early four game losing streak, winning their second in a row with a 124-105 defeat of the Brooklyn Nets.
Okay so maybe the OKC Thunder haven't solved ALL of their problems. The defense was less-than-spectacular in the first quarter (but more on that later).
Russell Westbrook ended the night with his fourth triple-double of the season: 30 points, 11 rebounds and 13 assists. He hit 13 of his 21 shots, and only took one three on the night (but more on that later).
At the end of the day you can't be upset with a 19-point victory. But you can learn from the mistakes that kept the game from being a 30-point victory. Let's go through the five biggest takeaways from tonight's game. As Oklahoma Sports Hall of Famer Russell Westbrook would say, "Why not?"
5. The Thunder are exponentially better when Russ doesn't shoot threes
In the past two games, Russell Westbrook shot a combined five threes; going into tonight's game Westbrook averaged 5.5 attempts per game. It's no fluke that as his attempts from deep decrease the Thunder win.
Russ has never been a good three point shooter. For his career he's shot 30.4% from deep and his 34.3% this season would be a career high. It's just not efficient for him to hoist five a game, especially when they are contested.
Westbrook is beginning to understand this though. He hasn't taken more than five attempts in his past five games; instead those threes are turning into mid-range jumpers, which is a strength of his. Throw out the fact that OKC lost three of those games. Russ' teammates came out with little effort so we can't blame Russ for those losses.
When Russ takes the three out of his mind it opens up the rest of the offensive. Those six threes turn into six extra drives to the basket. He's shot 45% or better in his last four games because his focus is on getting in the teeth of the defense and finding holes to kick to teammates.
Hopefully Westbrook is making a concerted effort to shoot less from deep. Tonight was a heavy indicator that that's the case. He was on fire from mid-range tonight, yet he only attempted one three the whole game. He passed up open threes to get better looks for his teammates. That's huge for the Oklahoma City offense.
4. Shooting centers will give OKC problems
We saw this when Minnesota came to town (granted they still won). We saw this when the Warriors went small against the Thunder. And we especially saw this in the first quarter of tonight's ball game.
The Brook Lopez-led attack resulted in 40 first quarter points for the Nets tonight. Lopez hit 4 of his five three-point attempts in the first quarter, stretching Steven Adams out like a rubber band. The problem isn't that Adams can't defend the three-point line. The problem is that it pulls Adams away from the rim.
With Adams away from the paint Brooklyn was able to capitalize attacking the rim. This forced OKC wing defenders to help on drives. The Nets 8-10 shooting from 3-point range in the first quarter was no fluke because almost every shot was wide-open.
This is where Billy Donovan and his staff played a huge role tonight. Instead of allowing those open threes to continue Donovan forced his defense to run Brooklyn off the line. The Thunder switched on more screens after the first quarter onslaught and they helped off-ball even more.
Want your voice heard? Join the Thunderous Intentions team!
If teams are going to draw the Big Kiwi away from the paint than OKC will need to tighten up their on-ball defense. They can't allow players to beat them off the dribble because Domantas Sabonis isn't going to cause fear as a rim protector. The first quarter defense was horrendous, but a few minor adjustments was able to solve the problem. I worry against a better team that they will need more than just a few minor adjustments.
3. When Victor Oladipo passes, the Thunder win
If you're counting at home, that's two straight season-highs for Dipo in the assist category. And it's no fluke that the Thunder have won both games.
Victor is finally playing like the combo guard we all expected. After trying to force himself into a superstar role his game isn't suited for, Oladipo has increased his play by taking a step back in the offense. He isn't driving with no intention of passing anymore, and it's opening up the Thunder offense like never before.
Nobody, NOBODY can cover the Thunder when they are passing the ball like this. They are too athletic to guard in transition. But even speed can be guarded by the slowest teams if teams aren't passing. When Dipo is actively driving to create for others it is almost impossible to stop.
Teams have to collapse on Victor because he's like a bowling ball driving at the rim. This opens up lanes for cutters (Andre Roberson and Russell Westbrook), shooters (Alex Abrines and Domantas Sabonis) or big men on the block (Steven Adams and Enes Kanter). The weapons are in place for Dipo to average five assists a night, and he's finally realizing that the Thunder offense is better off when he plays that way.
2. The bench plays better (shocker!) with other starters on the court
FINALLY BILLY DONOVAN STAGGERED MINUTES BETWEEN THE STARTERS AND THE SECOND UNIT!! AHHHHHHHHHHHHHH!!
It was really fun watching the new and improved Victor Oladipo play point guard with the second unit. Everyone but Semaj Christon and Kyle Singler (lol) had a positive +/- tonight and that's because they were not all playing together.
Joffrey Lauvergne was the big star from the bench tonight; he looked great playing alongside Russell Westbrook and Steven Adams. His shooting ability stretched out the Brooklyn defense and he capitalized on his opportunities. Lauvergne's 13 points in 14 minutes came on 6-9 shooting.
Alex Abrines came in the first quarter and showed Thunder Nation exactly what he's capable of. He scored eight points in 1:04 seconds on three straight possessions: two threes and the deepest two-pointer of the NBA season (unofficially).
As a whole, the Thunder have a very talented bench. They have a lot of great pieces, but the pieces don't work together well. Billy Donovan is starting to understand this and that's going to be something to watch moving forward.
1. The Thunder genuinely enjoy each other's company
To me, this is the most important factor of success in the NBA. If teammates don't like each other they won't win. Period.
More from Thunderous Intentions
The best part about the relationships in Oklahoma City is that these players are all growing up together. We discussed earlier in the week how young they are; if Sam Presti is somehow able to convince everyone to take paycuts to keep everyone around the league should be afraid.
Think about every NBA champion ever. Every single one of them won because the guys wanted to win for each other. As this brotherhood continues to grow together they will undoubtedly grow close on and off the court. That will (hopefully) propel them to work even harder in establishing an elite chemistry.
All the pieces are there for the OKC Thunder to be successful for year's to come. That starts with the friendships that are forming now.
This article originally appeared on