OKC Thunder: Five Stats to Explain Their .500 Record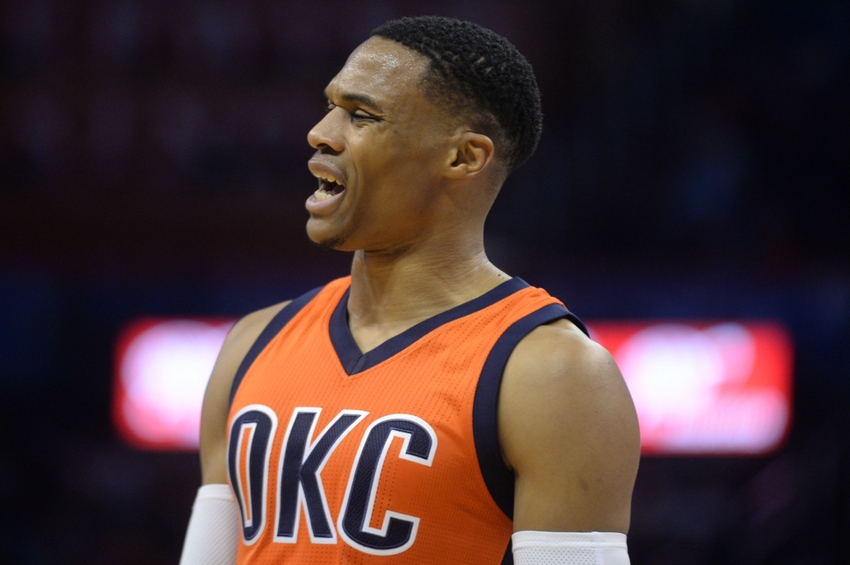 After starting the season 6-1, the OKC Thunder have dropped seven of the last nine games. These last nine games have not been a fluke.
The first seven games of the season gave OKC Thunder fans hope that Kevin Durant wasn't necessary for a 50-win team. But as other teams got more footage on the Thunder, the results started to change. After being atop the Western Conference for some time, now the Thunder sit at 8-8 and tied for sixth in the West.
I was optimistic and didn't want to believe that losing KD would hurt Oklahoma City this much. But the fact of the matter is this:
The roster was built to support Westbrook and Durant. It wasn't intended to function around a Westbrook solo show.

— Royce Young (@royceyoung) November 24, 2016
I'm amazed at those that are completely flabbergasted at OKC having problems after losing a top three player. Like it wasn't going to matter

— Royce Young (@royceyoung) November 24, 2016
But here's the big problem:
Now 16 games into the season, I don't see where the Thunder have gotten better since opening night.

— Royce Young (@royceyoung) November 24, 2016
I hate to just use Royce Young to prove my points, but he's spot on with all of this. PLUS plagiarism is kinda an issue in this industry. But that's besides the point.
The point is there's big problems in Oklahoma City, but these problems can be fixed. Let's take a look at the five statistics that have caused the Thunder's freefall but can easily be corrected by the end of the season.
5. 33.4% Three-Point Percentage on 25.8 Attempts per Game
We knew the Thunder were going to be pretty bad from deep this year. And THAN they traded Ersan Ilyasova.
It's not the actual percentage that angers me with this team. It's the number of attempts they take. Through 16 games, the Thunder have the 22nd best percentage in the league but take more than all but 11 teams.
The thing about the Thunder's attempts are most of them are open:
The problem is they just don't have the talent to make them. Instead of jacking up over 25 attempts a night, the Thunder should start taking a few steps in. The mid-range jumper is becoming obsolete in this day and age, but two points is better than no points. Just look at Demar Derozan this year.
The reason why the Thunder get so many open attempts is because teams are packing the paint and allowing them to beat them from deep. Well if they start setting up 18-feet from the basket, teams will be less willing to give up those shots so more driving lanes will open up for Russ and Dipo.
As much as analytics say threes are better than mid-range jumpers, that simply isn't the case with this team. Cut back on attempts from deep and good things will come.
4. 102.2 Defensive Rating
Throughout the preseason, a defensive identity was preached by Billy Donovan, Russell Westbrook, Sam Presti…even the ballboys got involved (jokes). With the athletes, coaching staff and quotes, it wasn't crazy to think that the Thunder would be a top-five defensive team.
Through six games they were. Oklahoma City ranked fourth in defensive rating with a score of 95.2 AND THAN HELD MIAMI TO 85 POINTS. They had it all. Everyone was playing with high energy, the defensive rotations were smooth and they did a great job of stopping team's in transition.
Honestly, the only thing that has changed in the last nine games is the effort on that end of the floor. There are spurts where Dipo and Co. swarm opposing perimeter players, forcing turnovers and contested shots. But the communication always breaks down between the frontcourt and backcourt.
Teams have been destroying the Thunder on pick & rolls because of this lack of communication. Oklahoma City has given up more possessions to the roller than any other team in the NBA because guards and bigs are not actively figuring out who should help, hedge or switch.
The most important facet of defensive success is communication, and OKC has failed that category to the extreme since starting 6-1.
3. 45.6 Rebounds Per Game
It's reallyyyyyyyyyyyyy hard to critique a team that is sixth in the NBA in rebounding. But than you remember they have a point guard who averages almost 10 rebounds a game. And a backup center who can grab 10 in 20 minutes.
Last season the Thunder were easily the best rebounding team in the league, amassing almost 200 more than the second place Detroit Pistons. They lost Kevin Durant and Serge Ibaka, but the additions of Joffrey Lauvergne and Domantas Sabonis should have alleviated any loss on the boards.
Like everything else this season, the rebounding numbers have dipped these past nine games. In Wednesday night's game against the Kings, the 29th-ranked rebounding team beat OKC on the boards 46-38. Like defense, it's the energy that has killed the Thunder.
Want your voice heard? Join the Thunderous Intentions team!
The Thunder have to be one of the three best rebounding teams if they are going to revert back to their winning ways. They are at their best when they can control the glass and turn it into easy transition opportunities. Again, they need to play with more effort and intensity for this to happen.
2. Russell Westbrook's 41.7% Usage Rating
How many times have you yelled at Russell Westbrook through your television this season? 10 times? 20? Dare I say 100?
For those unfamiliar with usage rating, it is a stat that keeps track of how many possessions end with a player taking a shot, turning the ball over or shooting free throws. So before we take into account all of Russ' drives into assists, Westbrook is directly accountable for the end of 2 of every 5 possessions.
It is important to note that Russ is posting the highest Player Efficiency Rating so far this season. But for all of Russ' heroics, it is coming at the expense of the rest of the team. When guys don't get touches, they pout and don't play as hard on defense (see Serge Ibaka). It also means that the Thunder are reverting back to their heavy-isolation style that plagued them with Durant in the fold; that can't happen with a team with only one all-star.
Billy Donovan needs to do a better job of putting his players in better positions to score. As much as Westbrook can do, it hurts the other four guys growth to be standing around waiting for a pass. They need to use their athleticism by constantly moving off-ball; it would take a whole lot of stress off Russ and I'm sure we would see his PER rise even higher.
1. 21.4 Assists Per Game
This number isn't that bad, until you factor in that half of those are coming from one player. The Thunder rank 18th in the NBA in assists per game; this stat doesn't have a direct correlation to wins but for this team it is key.
Besides Russell Westbrook, the Thunder don't have any perimeter plays who can create shots for themselves. Enes Kanter is a solid post presence, but other than that every other guy relies on the help of someone else to get open.
The low number in assists is directly affected by Russ' high usage rate. I can't stress enough what an increase in off-ball movement would do for this team. Instead of parking shooters like Alex Abrines and Anthony Morrow in the corner, Donovan should have them running off screens for example.
More from Thunderous Intentions
There is a reason why the LA Lakers have gotten exponentially better since Luke Walton took the helm. Coming from the Warriors system, Walton preaches unselfishness and it has resulted in 4 more assists (and a lot more wins) to start the season.
The emphasis cannot be on getting Russell Westbrook the ball. It's much easier to defend a man dribbling on top of the key than a team who swings it around the perimeter.
Friday night the Thunder return to action in their first matchup with the division rival Denver Nuggets. Look for these stats at the end of the game and compare them to the result. You'll be surprised how important they are…
This article originally appeared on