OKC Thunder Drop Fourth Straight Game to Shorthanded Pistons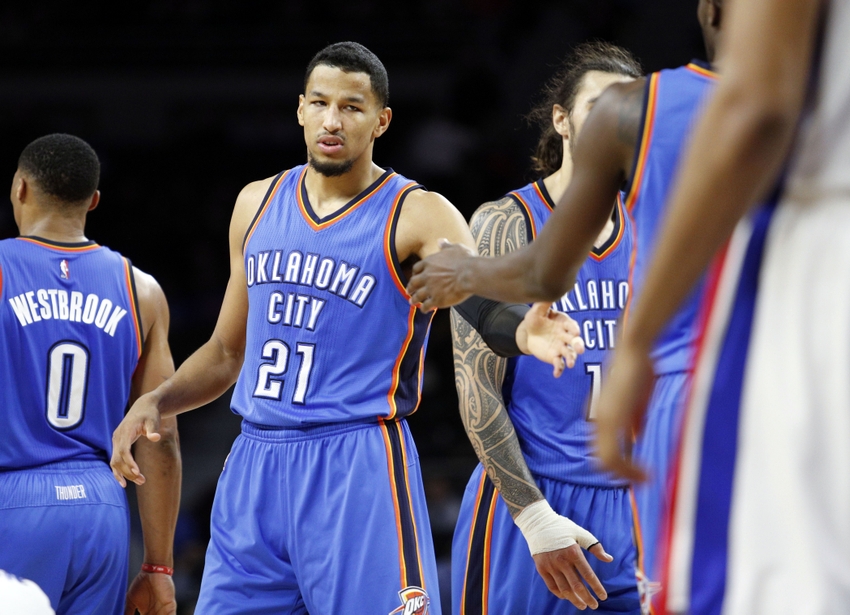 A week ago the OKC Thunder were 6-1. After Monday night's 104-88 demolition from the Detroit Pistons, OKC finds themselves a Rockets loss away from dropping to .500.
I don't even know where to begin. We could talk about the OKC Thunder's inability to make a three. If that's not your cup of tea, we could talk about the lack of ball movement. Oh you want some defense? How about giving up 60 points in the paint to a Detroit team without Andre Drummond.
Terrible.
The Thunder have quickly changed from a team with a set identity to a team with no clue what they are doing. On offense there is absolutely zero flow; Russell Westbrook's eight assists was the same number as the other 11 OKC players combined. Without him on the court, the Thunder have absolutely know clue what they are doing. I blame Billy.
By the eleventh game of the season you expect your team to have some sort of offensive system in place. When the Thunder traded away Ersan Ilyasova for Jerami Grant it was a clear that athleticism was going to be the hallmark of this team. Defense was key, but offense matters too.
With the athletes in Donovan's possession, he should be running a constant motion offense. OKC's deep frontcourt can be constantly cycled in as screeners to free up Victor Oladipo, Andre Roberson and Jerami Grant to replicate transition situations. But no. The Thunder like to stand around.
Want your voice heard? Join the Thunderous Intentions team!
The same goes for the defensive end. After playing fantastic defense to start the season, the last four games have been characterized by lazy rotations, miscommunications on screens and more laziness. You would think Russ wouldn't allow this; sadly as the team leader it seems like the rest of the guys have adopted his defensive tendencies.
I realize this isn't much of a game recap, but there really isn't much to recap. The Thunder were just simply outplayed by a Detroit team playing without Andre Drummond and Reggie Jackson. There are absolutely zero excuses to lose to a team starting Ish Smith and Aron Baynes. Zero. But I'll do my best.
OKC Thunder vs. Detroit Pistons Recap
After starting out flat (shocker!) the Thunder were able to come back from an early 8-1 deficit. Westbrook led the way (shocker!), scoring 25 of his 33 points in the first half.
More from Thunderous Intentions
OKC actually had the game tied up at 19 when Westbrook was subbed out with 2:46 left in the quarter. Detroit outscored the Thunder by 9 until Westbrook was subbed back in; the Thunder never regained momentum.
There were spurts where we thought the Thunder may be on a run. They'd get a few stops on defense but would fail to convert on the offensive end. OR they'd make a few shots but decide defense wasn't a priority.
Scott Van Gundy followed the gameplan established by Toronto, LA and Orlando the previous three games: pack the paint and make OKC shoot. On offense, the Pistons played incredibly unselfish basketball. If Billy Donovan needs film of an offense he should rewatch tonight's game. Remember, Detroit scored 102 points with Ish Smith and Aron Baynes in the starting lineup.
Team win, check the box. 5 guys w dbl figures, 5 guys w 6+ rebounds, 6 guys w 3+ assists. Everybody chopped in. So yeah, a SVG win. https://t.co/CKrwXMUxBT

— 0 Degrees Kelvin (@KelvinDetroit) November 15, 2016
The OKC Thunder are not fun to watch right now. They started the season 6-1 by playing in-your-face defense and turning it into transition opportunities. The thing is this roster should be soooooooooo good at that. What made them shy away? I couldn't tell you. But I really hope something changes by Wednesday or Houston is going to drop 150.
This article originally appeared on