OKC Thunder DESTROYS Miami for Second Straight Win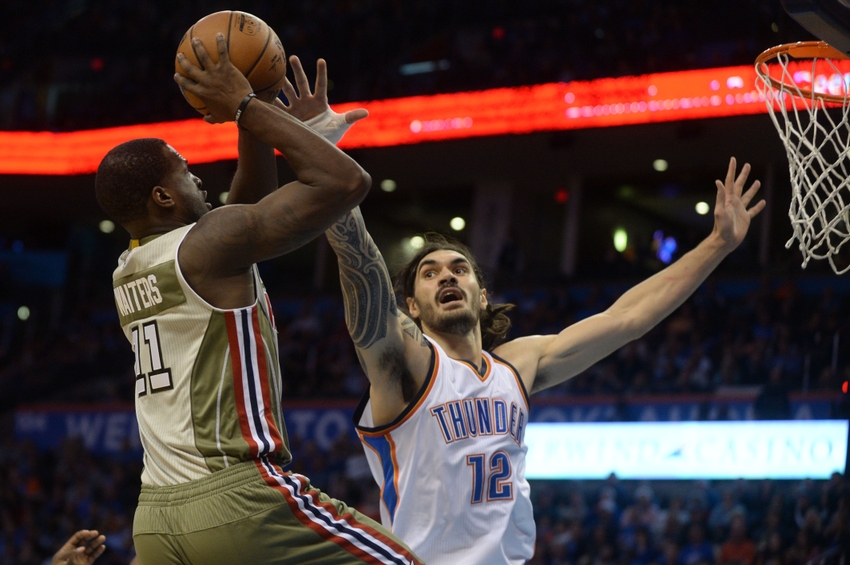 So maybe this OKC Thunder team is legit? The Thunder beat the Miami Heat 97-85 for their second straight blowout win.
Every time I watch the OKC Thunder (minus the Warriors game) I become more and more convinced. Maybe it's the fact that the team has an actual identity for the first time since moving to the Midwest. Seriously.
The Thunder's athleticism stifled Miami on the offensive end, holding the Heat to 85 points including a measly 38 in the second half. The score doesn't indicate how bad of a beating tonight was.
Want your voice heard? Join the Thunderous Intentions team!
Hassan Whiteside was a virtual non-factor even with Steven Adams leaving the game in the first quarter. He ended with 5 points and 12 rebounds after averaging 20 and 14 to start the season.
If Domantas Sabonis continues his exponential rise he'll be on track to win the MVP by season end. When players say that Sabonis is the quickest learner they've ever seen, they aren't lying. Starting power forward Luke Babbitt is a stretch four to the truest form, yet Domas did a fantastic job guarding him on the perimeter.
Sabonis finished his career night with 15 points and 10 rebounds, including a Thunder rookie record four made threes. This kid is the real deal, and his passing ability opens up so much for the rest of the starting unit. Domas in Game One is a completely different player from Domas in Game Seven; it seems like he's already adjusted to the speed of the NBA game.
Russell Westbrook has to be the happiest person in the world right now. Tonight OKC proved that they don't need their superstar to play like a superstar every single night to win. Russ had an off-shooting night, finishing with 14 points on 5-16 shooting. He still had 11 assists, but 5 turnovers in 27 minutes of clock isn't great.
Billy Donovan gets a lot of credit for his coaching, and deservedly so. But it's time to start giving new assistant coach Adrian Griffin some love. Griffin came over from the Orlando Magic after serving under both Scott Skiles and Tom Thibodeau's coaching staffs. He is a defensive savant and his imprints are all over this team.
More from Thunderous Intentions
The defensive rotations have tightened up just as quickly as Sabonis' game has improved. You can see the perimeter players are communicating much better with the bigs on pick & rolls and they always seem to switch at the right time. When Alex Abrines (aka the worst defender on OKC) was called for his second foul, Griffin brought him over for a quick chit-chat. Abrines defense has gotten better since the preseason, and seeing the rag doll have a relationship with Griffin is a good sign for his development.
Thunder teams of the past would have dropped one of these early-season easy games. But like I said earlier, this team feels different. The next two games feature the Toronto Raptors and LA Clippers coming to town. If they can win both of those games, it's time to take this team seriously.
This article originally appeared on