OKC Thunder Continues Losing Streak, Fall To Kings 116-101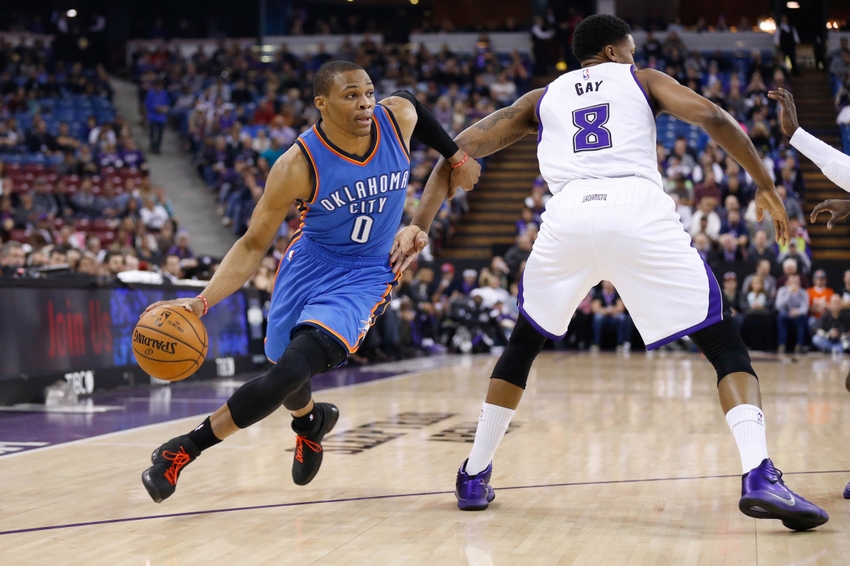 Recent comments saying the OKC Thunder may not make the playoffs seem far-fetched, but after Wednesday night's game that possibility seems greater and greater.
If you stayed up to watch this game, I'm sorry. The OKC Thunder led for a grand total of 1:12 in the first quarter. Other than that precious minute, it was sheer terror to be a Thunder fan.
It seems like the greatest fear from all of us is finally coming true. Russell Westbrook may put up great numbers, but he isn't nearly as gifted as we all suspected. Guys like Steven Adams and Andre Roberson were greatly impacted by Kevin Durant being on the floor; without him their potential isn't nearly as great.
The Thunder were never as good as we all thought.
Sacramento was able to score on the Thunder at will tonight. Demarcus Cousins feasted on any OKC big in his way, especially Steven Adams. If the Thunder doubled him, he could kick out to a myriad of open shooters on the wings. Cousins finished with 36 points on 14-28 shooting, including 3-5 from long range.
It's those three-pointers that killed Oklahoma City tonight. The Kings hit 12-28 from deep, and that number could have been much larger. The crisp defensive rotations that we watched early on in the season have all but withered away and teams are capitalizing on the increase in open looks OKC is giving up.
For the millionth game in a row, the starters were forced to overcome a truly awful performance from the bench. The second-unit shot a combined 8-26 on the night and only had three assists total. There was no ball movement, no communication and no effort from anyone not named Jerami Grant tonight.
More from Thunderous Intentions
At the end of the day, this recent string of "success" can be attributed to poor effort. That was especially the case tonight. A Thunder team ranked third in the Association in rebounding lost the battle of the boards 46-38. The Kings pushed the pace on offense all night and Oklahoma City allowed them to get into whatever set they wanted.
Wednesday night's game marks the ninth game in a row the Thunder have given up 100 points or more, a far cry from the top-five defense we saw at the beginning of the year. OKC does not have the shooting to be an elite offense (hit 7-25 from deep tonight) so they have to play with a greater sense of urgency on defense.
The OKC Thunder have Thanksgiving off, but will turn around and travel to Denver for a Friday matchup against the Nuggets. It will be the first game of the season for the division rivals. Tipoff is scheduled for 8 pm central time.
This article originally appeared on