OKC Thunder Beat Knicks to Push Winning Streak to Three Games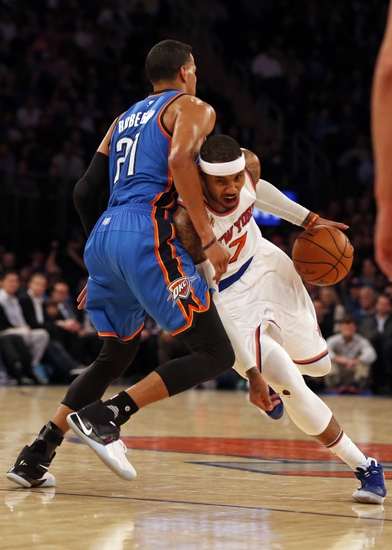 The OKC Thunder went into Madison Square Garden with the intention of sending Knicks fans home unhappy; they did just that.
So we can officially call the OKC Thunder the streakiest team in the NBA. Their season has gone like this: 4 wins, 1 loss, 2 wins, 4 losses, 2 wins, 3 losses, 3 wins. Although streakiness is never a trait you want in your team, it's nice to see that this team can bounce back from a few poor games.
The Knicks came out firing in the first half, opening up a ten point lead with eight minutes to go in the second. And then the Russell Westbrook show happened.
In the last eight minutes of the second quarter, Russ had five points, six rebounds and five assists. By halftime, he was a mere assist away from his eighth
triple-double of the season. Naturally it only took him 1:19 to get that tenth assist in the third quarter.
Want your voice heard? Join the Thunderous Intentions team!
Westbrook finished with 27 points, 18 rebounds and 14 assists tonight. Knowing that Russ only needed 11 rebounds to average the coveted triple-double, it was almost guaranteed that he would get that number. His stats tonight were nice, but Westbrook wasn't the key to tonight's win.
That award goes to Enes Kanter.
Kanter absolutely dominated Knicks backup center Kyle O'Quinn tonight, scoring a season-high 27 points and grabbing 10 rebounds in only 28 minutes of play. The 24-year old played so well that Donovan left him in crunch time to play with the starters, and that decision worked perfectly.
Of all the Thunder bigs, it was Enes who did the best job guarding Kristaps Porzingis. Kanter had three blocks on the night, including one on Carmelo Anthony with 1:23 left to all but seal the game. His overall +/- of +15 was seven points higher than any other player on the roster.
More from Thunderous Intentions
Andre Roberson deserves the runner-up in my fake award. Roberson absolutely shut down Carmelo Anthony tonight; Anthony took 19 field goals and only made four, finishing with 18 points by way of lenient officiating sending him to the line. Andre also hit two from behind the arc, registering his fourth double-digit scoring game of the season.
Overall this was a very good win for the OKC Thunder. 103 points is nothing to be ashamed of considering this was a fast-paced game. Oklahoma City held the Knicks to less than 40% shooting from the field; anytime you do that you should come out the game with a victory.
Couple more items of note
Anthony Morrow continued his hot stretch, scoring 14 points on 5-7 shooting. He hit 3-5 from deep.
Domantas Sabonis was obviously disturbed by Porzingis (and rightfully so). The rookie only played 16 minutes and looked uncomfortable on the court. Kristaps had the best of Sabonis tonight, but no need to worry just yet.
Further proof that Russell Westbrook isn't a human being
We are so blessed to watch him nightly.
The Thunder return to Oklahoma City to host the Washington Wizards on Wednesday. After that, OKC has three nights off to FINALLY get some rest after a grueling schedule to start the season.
This article originally appeared on