Nuggets Grades: The 3 Best Performers in the Win over Chi-Town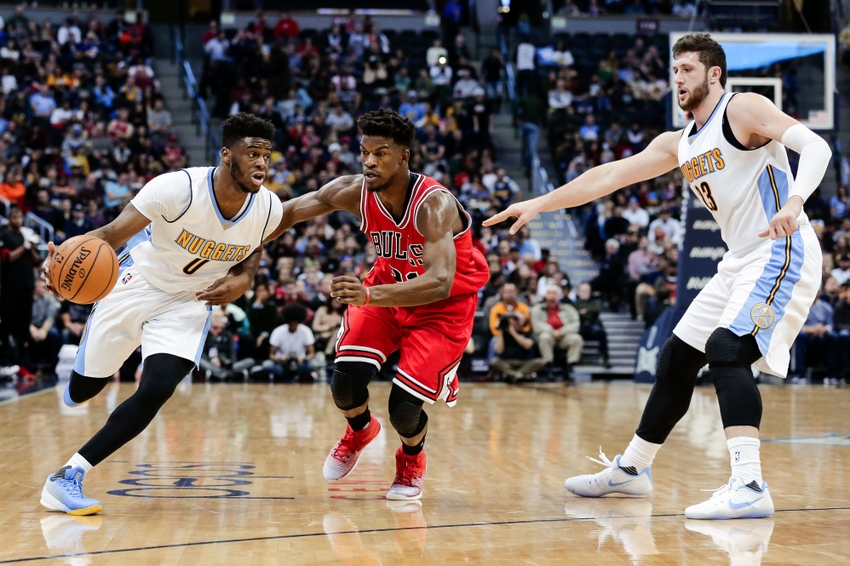 The Denver Nuggets had their hands full tonight as they clawed out a tough victory against an electric Bulls team.
The Denver Nuggets carried their momentum from the Utah win into tonight. Despite the sluggish start, Denver was able to overcome adversity early on and go on several key runs. These keys runs included a 24-0 run in second quarter that propelled the Nuggets to a 41 point second quarter.
There were 3 players the Nuggets needed tonight to beat an intriguing Chicago Bulls team. Without these 3 players, the Nuggets would have lost, but thankfully that did not happen.
Jimmy Butler had a monster performance for the Bulls tonight which was not quite enough to will Chicago to victory. This is actually a good sign for Denver as this shows that they can win even when an opposing star torches the defense.
Nevertheless, it's time to assign player grades to the 3 players that were vital to the winning effort tonight.
Wilson Chandler-B-
Wilson Chandler seemed to be forcing the issue at times tonight. This may be because of the great games he has had recently and him trying to carry that momentum over to tonight.
The good thing is that he eventually turned it around and had a solid game. Once again, Chandler was the second leading scorer putting in 16 points and was a presence on defense getting a steal and a block.
The one statistic that has stuck out for Chandler as of late is his differential. Tonight, Chandler had the highest differential tied with Jokic's of 13.
Even though this isn't the most glamorous statistic, it is still vitally important when painting a picture of how effective player is on the court.
He has suddenly been showing more consistency than Gallinari recently, which will be something to pay attention to going forward.
Jusuf Nurkic-B+
The Bosnian Beast had been quiet in recent games, but tonight he was re-awakened.
Against a Bulls team whose weak point is their front-court, Nurkic took advantage asserting his dominance. He put up a silent but solid double-double grabbing 14 boards and pouring in 14 points.
To go along with that, he shot an effective percentage from the field shooting about 54%. Not to mention he had 2 blocks as well aiding Denver's defensive effort against a high-powered Bulls offense.
The one knock against him tonight that prevents him from getting an A is his inability to draw fouls and get to the free throw line.
Want your voice heard? Join the Nugg Love team!
He did not get to the stripe once tonight which can be concerning for an upcoming big in the NBA, but nevertheless, Nurkic was a huge factor in the win tonight.
Jamal Murray- A
Of course we saved the best for last. We couldn't talk about tonight's game without mentioning our rookie sensation, Jamal Murray.
In what may be his best game as a pro yet, Murray torched Chicago with a shooting percentage of 69% and a 3 point percentage of 75%! Oh and he also proved he can flush it down when he wants with a monster jam on a fast-break at one point.
While the 24 point performance is a great sign of things to come, let us not overlook his rebounding effort. He grabbed 6 rebounds which is impressive for a guard. At times the Bulls would switch their best defender in Butler over to attempt to cool the heated Murray down.
The fact that Murray has been the leading scorer for the Nuggets for the second game in a row now shows that he is developing into a potential star of the future.
With games like this, do not be surprised if there is a Rookie of the Year in the making.
Honorable Mention-Jimmy Butler-A+
Here at NuggLove, we want to give credit where credit is due.
Even though Butler is on the Bulls, we can't overlook his 35 point performance tonight. It's easy to see why future hall of famer Dwayne Wade says the Bulls are Butler's team.
Butler has already proven to be one of the premier perimeter players in the league and he is probably only going to get better.
He certainly made Nuggets fans nervous tonight with his scoring effort, especially down the stretch of this close game.
His 8 rebounds and 5 assist also show how much of a complete player he is and how valuable his presence is for Chicago.
He even led both teams in this category with a differential of 19 to top things off.
This article originally appeared on