Northwest Division Power Rankings: A New Leader?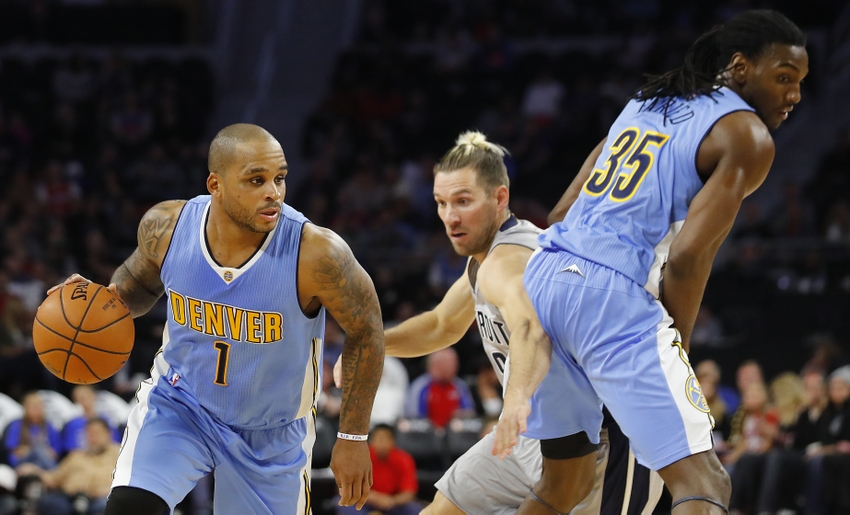 After an exciting three weeks of NBA basketball, the Northwest Division has looked very good so far, but who is on top of the five teams?
After another exciting week in the NBA world, I have almost changed my power rankings completely. There have been blow-outs, close games, even games that went down to a shot at the buzzer within the division this past week.
The Denver Nuggets, who we obviously love, have had a solid start to the season. After a blowout loss, the Nuggets among many of the other Northwest teams are starting to prove their dominance. The NBA is getting more deep each year, but this season, the Northwest is easily the deepest division in basketball. With all the teams competing for a playoff spot, here is how we will rank them after the second week into the NBA season.
Want your voice heard? Join the Nugg Love team!
So who is the new number one team in the Northwest Division? Let's get started.
5. Minnesota Timberwolves.
My, oh my, what has happened to the Wolves? Coming into the season, I was expecting them to be a dark-horse team that could make a lot of noise. Well they're making some noise, just in the exact opposite way than they hoped.
What Kyrie Irving Can Expect Against Spain's Ricky Rubio
Again, it's only the third week of the NBA season, but they HAVE to get started at some point, and soon. According to the standings of the Northwest Division, the Wolves are in dead last at the moment, and this division is going to be deadly to get back into.
Now a question that has to be answered is, can the Wolves find their game? The answer is simple, absolutely. There is too much young potential and fire-power in this lineup that has the potential to go off on any given night to completely give up on them. Oh, but this is a list of how good they are now, and based on their first performances, they should be in this spot.
Their young center in Karl-Anthony Towns is their leading scorer, while their rookie point guard Kris Dunn is the assist leader. Their team stats are pretty average when compared to the other teams in the NBA, including being 19th in points scored per game, while also placing 11th in points allowed per game. Either they need to work on playing better as a team, or it's another season of mediocrity for Minnesota.
The Wolves are 1-4 on the season so far, with their only win coming against the Memphis Grizzlies, who they have played twice so far. For their own sake, let's hope they pick up a win or two this week when they play the Brooklyn Nets, Orlando Magic, and both the Los Angeles Clippers and Lakers.
4. Denver Nuggets.
Here is a team that I cannot truly figure out. One minute the Nuggets are playing like they can beat any team in the league with no problem, while the next they look horrific. This team is the epitome of the word "streaky," seeing as they have been incredibly inconsistent. At times while watching this team, I have thought of the possibility of them becoming the possible best team in the division. That is, until I see a few horrible turnovers and missed shots a few possessions later.
One thing that Denver needs to learn is obvious, they need to play a full four quarters to their potential. Believe me when I say this, but the Nuggets have played like one of the better teams that I have watched so far when they can get clicking. The problem is, they can struggle to get clicking. For example, for the entire season it seemed like Denver was having major trouble while starting a game. They would struggle, but make it up in the second half while playing very good basketball. Kind of reminds you of the Tennessee Volunteers in the early part of their schedule this season doesn't it? Well, Denver changed that notion while hanging up 77 points in the first half of their game against the Celtics, but they had their struggles in the second half of that game.
So the problem isn't that they can't get started, but that they can't play a full four quarters. This can work sometimes, but it's a dangerous strategy to follow when they run into a team who does not struggle in the full game.
Like the Wolves, the Nuggets are not a very statistical team. They are 11th in points per game, but 20th in points allowed per game. Their leading scorer is Danilo Gallinari, and their assist leader is the veteran, Jameer Nelson. One bright spot in their stats is that they lead the league in rebounds per game.
The Nuggets are 3-3 after a brutal start to their schedule, after five of the six games being on the road. They will look to improve their record as they take on the Memphis Grizzlies, Golden State Warriors, Detroit Pistons, and Portland Trail Blazers in the upcoming week.
3. Utah Jazz.
This is a team that I gave serious consideration to put at number two in the division.
Utah has been playing pretty good basketball as of late, and that was without their star small forward, Gordon Hayward. Their newly acquired point guard, George Hill, had truly stepped up and become a leader in the Jazz locker room. In fact, Hill was the Western Conference Player of the Week last week. He had brought the Jazz out of their rough start and put them in a pretty good place for Hayward to make his debut against the Knicks. They won that game, and the Jazz looked like they could have figured something out.
However, as the world can be cruel sometimes, Utah must have the injury bug. Now with Hayward back, Hill has been injured. Their ideal starting lineup has been able to start one game with each other so far. I really hope that Hill's injury does not affect his play very much, as the veteran point guard had been playing out of his mind to open up the season for the Jazz. The injury bug is what kept the Jazz out of the second spot on this list, and when they are all healthy, this is a team to watch out for.
Their assist and scoring leader is George Hill, who I can't mention enough in this article. This is a perfect example of a defense first team, as they are 26th in the league in points scored, but 5th in points allowed.
The Jazz are currently 5-3, as they look to improve their winning ways with games against the Charlotte Hornets, Orlando Magic, and Miami Heat.
2. Portland Trail Blazers.
When it comes down to talent, I still believe that the Blazers are the best team in this division.
Over and Back: Was Kareem vs. Walton the NBA's great lost rivalry?
This being said, they haven't given me much help in proving that statement, as the Thunder have been playing great basketball, especially Russell Westbrook. The Blazers are explosive and have the possibility to light up another team's defense in every game they play. With one of the best back-courts in basketball with Damian Lillard and C.J. McCollum, they can wreak havoc on a vulnerable defense. Lillard in particular has been putting together a pretty impressive campaign so far, as he has put up MVP caliber numbers in the early going.
The sad part about Portland is that they have to revolve around their back-court. If they aren't hitting, then the whole team takes a huge hit, as they feed off of each other. It's no secret that Lillard and McCollum run the show in Portland, but there aren't too many other players that will step in and make some of the plays that those two can make. There's still time for the Blazers, as I'm not sure that Westbrook and the Thunder will be able to keep up this fantastic play.
Their scoring and assists leader is Damian Lillard, who is playing great basketball so far. Unlike the Jazz, this is an offense-first team. They are 6th in the league in points per game, but 25th in points allowed.
The Blazers are 4-3 right now, and look to get revenge in their next game against the Phoenix Suns. The Suns beat them in overtime off of an Eric Bledsoe three at the buzzer in the first contest between them. After Phoenix, Portland takes on the Los Angeles Clippers, Sacramento Kings, and Denver Nuggets.
1. Oklahoma City Thunder.
You probably could have seen this coming, because Westbrook is playing like a man on a mission right now.
Coming into the season, I wondered if the Thunder could be anything like they were last season with the departure of Kevin Durant. I wondered if Westbrook could step in and lead the team, while possibly recreating the MVP caliber stats that he had last season. I wondered if the Victor Oladipo acquisition would work out for OKC, and what kind of impact that he would have.
The answer to all of those thoughts are yes, and I couldn't be more surprised with the Thunder's start. I expected them to be good, but to start the season 6-1? I didn't expect that. Westbrook looks just as good, if not better with Durant in Golden State, even though they had their one loss handed to them by the Warriors. The most beautiful thing about this team is that Westbrook isn't the only player that's playing well. The team as a whole is playing well, all while revolving around the at times one-man show of Westbrook.
Westbrook leads the squad in scoring and assists, as he is arguably the Most Valuable Player so far. Not only are they a pretty good offensive team, they know what they're doing on the defensive side of the ball too. OKC is currently 12th in the league in points per game, while they are 9th in points allowed.
Can the Thunder continue their impressive start? They're 6-1, with games against the Toronto Raptors, Los Angeles Clippers, and Orlando Magic in the upcoming week.
This article originally appeared on