Nikola Vucevic's offense has been slow to come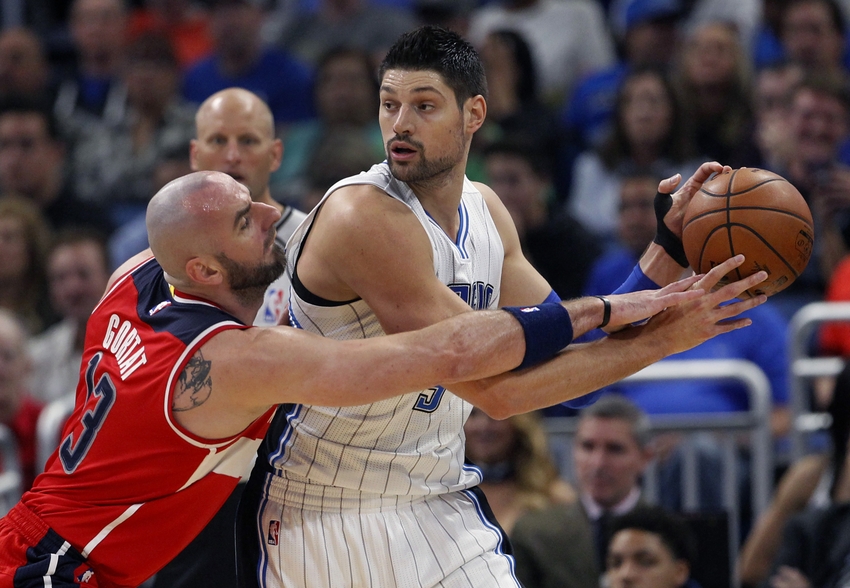 The Orlando Magic have missed one of their biggest offensive weapons this season. Slowly but surely, Nikola Vucevic is adjusting and finding his offense.
Nikola Vucevic knows the Orlando Magic have an offensive problem. Everyone does at this point. The team is at the bottom of nearly every offensive category.
As the Magic have searched for some offense, they have turned to their center. And for much of the season so far, Vucevic has struggled to deliver that reliable jump shooting, post scoring and ball movement he can provide.
Even Vucevic knows it.
"I think we made improvements offensively," Vucevic said before last Wednesday's loss to the Phoenix Suns. "We've got to get comfortable with each other where things become automatic. I think in Milwaukee, we had more plays where we made the right play and found the open guy and made the extra pass. We just have to do that over and over. And then I have to make shots at some point this season. I think that will help a lot as well."
At least Vucevic can laugh at himself a bit about his offensive struggles.
Heading into that game last Wednesday, Vucevic averaged just 10.7 points per game, shooting 41.0 percent from the floor. Those are hardly numbers the Magic are familiar with Vucevic.
For a Magic team that was going to be offensively challenged — and is actually offensively challenged — not having Vucevic playing at his usual 16.0 points-per-game clip has hurt the team. It is no wonder the Magic have the worst offense in the league by almost every metric.
Vucevic's struggles are a big part to that.
But in his last four games, Vucevic has slowly begun to show off the offense that made him such a dangerous weapon for the Magic. Orlando knew eventually he would progress to his mean after his slow start. In the last week, he averaged 16.8 points and 14.0 rebounds per game while shooting 50.0 percent from the floor.
Those numbers are more like it for the Magic's star center.
"He's a good offensive player," Vogel said after Vucevic scored 21 points in that loss to the Suns. "I think this is more of who he is. The way he is struggling early in the year is more of who he is not."
In reality, many players on the Magic have struggled offensively. That is the nature of a team that is struggling on that end.
The team is still working to figure out how to play together and play within the system. The team has been extremely stagnant and resolving the team's offensive issues remains a big task.
Players have said all the right things — talking about moving the ball and not relying on one player for all their scoring. Vucevic is part of that. He is not getting the same shot opportunities as things settle down.
The offense is different. The Magic are using Vucevic very differently. And Vucevic has tried to fit in as much as anyone.
"Solid playmaking, he's defending at a high level," coach Frank Vogel said after the loss to the Washington Wizards last week. "He is one of our more unselfish players right now. He didn't get enough opportunity in the second half. They did a better job bringing more attention to him. He didn't get a lot of field goal attempts, but he was involved in the second half."
Vucevic has done a lot more for the offense than score.
He is averaging 2.4 assists per game — with a career-best 16.3 percent assist rate — and his rebounding is back up — his 22.2 percent total rebound rate is the highest of his career. He has recorded at least 10 rebounds in his last eight games. Vucevic is contributing in other ways.
His offensive role has just changed. And the Magic are trying to figure out how to balance his new role with what worked for him throughout his career.
Orlando Magic Grades: Orlando Magic 95, San Antonio Spurs 83
That is the process that has been slowest to figure out. Vucevic has made the most offensive sacrifices of anyone on this team.
Vucevic averages 4.6 post touches per game this year and 2.6 points in the post per game, according to NBA.com. Both Serge Ibaka and Bismack Biyombo score more in the post than Vucevic this year. Last year, Vucevic averaged 6.9 post touches per game and 4.8 points in the post per game.
Vucevic's offense and touches are coming elsewhere. The Magic are trying to use his mid-range shooting and passing from the perimeter a lot more — and thus his field goal percentage has dropped. And Orlando is spreading shots Vucevic would normally take around to others. Not to mention, Vucevic's minutes are down with other options available on the roster.
And now Vucevic is coming off the bench, further restricting his minutes.
Even with Vucevic doing all these different things offensively now and contributing in other ways, Vucevic's value still comes from his offense. His ability to stretch centers even out to the 3-point line now will give the team space. His passing ability from the post as a center makes him unique.
But the Magic need Vucevic making that mid-range jumper, getting into the post and scoring on the block. They just need him to make shots. That is the very basic thing everyone on the Magic seems to need to do.
"The shots, mostly I think it is overthinking," Vucevic said at one point early this season. "Maybe the shots I'm getting, I'm not shooting them as confidently as I did in the past. It's kind of about getting back into my rhythm, not thinking about stuff, going doing what I know I can out there. I should be fine. I just need that one game where things go my way offensively and I should be back on track."
It appears in the last week or so, Vucevic has gotten himself back on track offensively. Vucevic said perhaps he was a bit hard on himself for missing so many shots early in the season.
He said after the loss to the Wizards, he was playing a little more aggressive. His offense is coming back as he increases his aggressiveness — he has taken at least 15 field goal attempts in five of the past six games.
Having Vucevic playing more aggressive better offense should make the team better.
The Magic need his offense to get back into rhythm. Finally it appears Vucevic has found that rhythm.
"It feels good to see Vuc like that being himself," Evan Fournier said after the loss to the Wizards. "I think the last six or seven plays at the end of the game we had a good connection again. We need more of that. Vuc is very capable of scoring the ball from the outside. So we have to get him in position."
More from Orlando Magic Daily
This article originally appeared on