Nikola Vucevic, Montenegro qualify for Eurobasket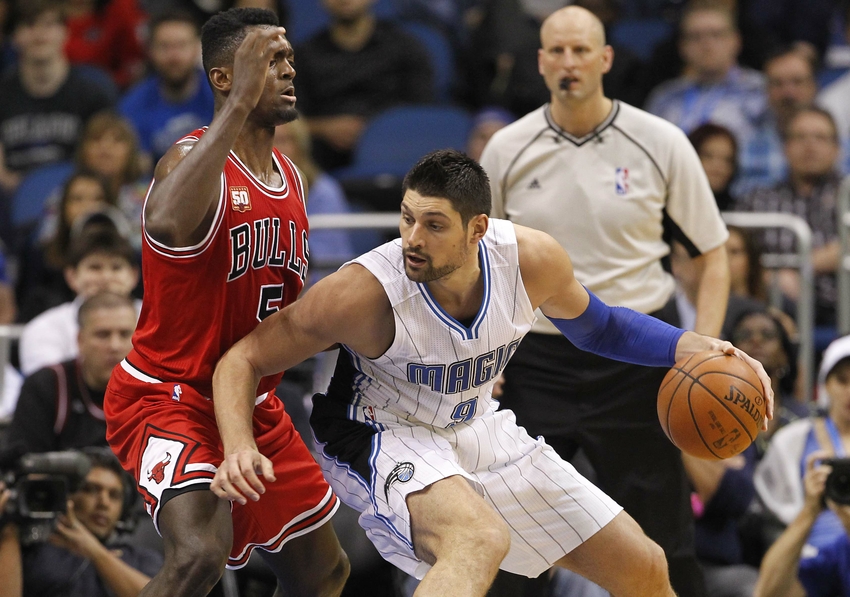 Nikola Vucevic led Montenegro to its first Eurobasket appearance since 2013. He led his team in scoring in the five-game qualifying tournament.
Montenegro knew its fate before the final day of play at Eurobasket qualifying. The game between Montenegro and Georgia ostensibly to decide Group F was pro forma. Monetnegro with a perfect 5-0 record had guaranteed itself at least one of the wild card berths for next summer's continental tournament.
That is a major accomplishment since Montenegro had not qualified for Eurobasket since 2013.
And for Nikola Vucevic it was a major appearance too, after his role became diminished in previous appearances. With Nikola Pekovic out with injury, Vucevic returned to the national team to anchor the low post as the squad's lone NBA player.
Yes, Montenegro lost to Georgia in its final game, losing the group by a mere four points on aggregate. Both Zaza Pachulia's Georgia team and Vucevic's Montenegro will advance to Eurobasket next summer — taking place in Finland, Israel, Turkey and Romania.
Vucevic's tournament for Montenegro was solid if not spectacular playing in a tournament that generally did not have a ton of quality teams. Montenegro did not need him to dominate. They won most of their games rather easily.
Vucevic though still led his team in scoring with 15.7 points per game and 6.8 rebounds per game in 22.5 minutes per game. That would be 25.1 points and 10.4 rebounds per 36 minutes.
He shot 47.5 percent from the floor. But, interestingly, he did show a willingness and an ability to take and make 3-pointers.
Vucevic said he was working on his 3-point shot throughout the summer. And Frank Vogel has suggested he would be open to Vucevic taking 3-pointers this season on occasion.
Vucevic made 6 of 13 3-pointers in the five-game tournament. That is certainly encouraging, although the FIBA line is shorter than the NBA line.
It is hard to say exactly how much to take from this tournament. Vucevic certainly acquitted himself well offensively and produced for his team. Most importantly for him and his team, Montenegro qualified for Eurobasket next season. It was mission accomplished for him and his team in that case.
It is unclear exactly how he played defensively or how much Montenegro asked him to do from looking at his stats.
The only thing that is clear is Vucevic did appear to improve on some of his offensive skills and add to his game. It helped him dominate the series of games for Montenegro and lead the team to the next round.
With that mission accomplished, Vucevic can return to Orlando to begin preparing for training camp.
More from Orlando Magic Daily
This article originally appeared on