Nikola Vucevic finding for his defensive fit with new Orlando Magic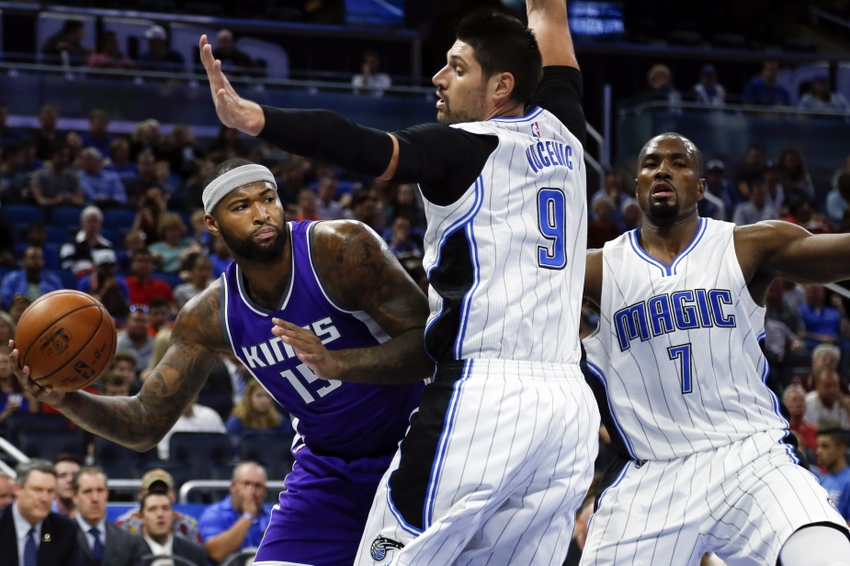 Nikola Vucevic was not known as a defensive player for the Orlando Magic. This year he has turned himself into one of the team's best defenders.
During the preseason, the biggest question mark facing the team centered on Nikola Vucevic and his defense.
Vucevic had made his name in the league as a stellar offensive player, able to take players to the block and to pop out and score. He put up large scoring numbers and flirted with the All-Star team, if only the Orlando Magic could stay in the Playoff race.
The thing that held him back — and maybe the team — was his defense.
Vucevic was not a rim protector at all. He seemed to lack the lateral quickness to defend pick and rolls. It seemed the Magic were always trying to cover for him in some way and schematically could not do so.
The Magic very well may have coveted a player like Serge Ibaka because he is the exact kind of power forward who could cover up Vucevic's defensive shortcomings.
And since they did get that kind of player, the pressure turned to Vucevic to begin to produce defensively.
If any coach could teach Vucevic how to play defense, it is the master of verticality in coach Frank Vogel. If Vogel could not do it, then Vucevic might have reached a ceiling as a one-dimensional player. And his team might not be going anywhere farther than 35 wins.
Something has happened this year, though. Something no one could have seen in the preseason or any season before.
Vucevic has become more than a competent defender. He has become a good one. A very good one.
All this despite all of the defensive baggage from Vucevic's career.
"He's not the most athletic guy," Vogel said during the preseason. "But he works really hard and his anticipation is good. He's a good help defender. He is in the right spots most times. He's making an effort. I'm pleased with that."
Vogel can be more than pleased with Vucevic in the time since. And even in moving him to the bench, it is hard to find fault with Vucevic or his defensive effort.
The numbers speak for themselves.
According to Basketball-Reference, Vucevic is posting a career-best 2.8 defensive box plus-minus, meaning his defensive contributions are 2.8 points per 100 possessions better than the average player. That puts him 15th in the league (Bismack Biyombo is ninth at 3.5).
Vucevic also has 1.2 defensive win shares already this year. That is 11th best in the league.
Those statistics capture only a part of a player's individual defensive impact. But to see Vucevic at the top of these metrics suggests his defense has truly turned a corner.
On a more raw basis, Vucevic is giving up just 50.4 percent field goal shooting at the rim. Last year, he gave up 54.0 percent shooting at the rim.
Opponents are shooting 41.6 percent against Vucevic overall, according to NBA.com/stats. Last year, they shot 46.6 percent.
Those are big improvements.
On top of all that, he has gobbled up rebounds at a career-best rate. He has a 33.8 percent defensive rebound rate and a 21.9 percent total rebound rate.
Vucevic has gone from average at best defensively to above average in a year.
"Everybody has been really so hard on my defense," Vucevic told Josh Robbins of the Orlando Sentinel. "I think there is no player in this league that does everything. So there are areas that I do really well defensively [and] some areas that I need to improve, and I think I did improve on those this year. I never felt like my defense was that big of an issue. It was just all the media making a big deal out of it.
There is some genuine shock from the fan base and observers Vucevic is producing at this level. It has been that surprising.
He has done everything the coaching staff has asked of him on the defensive end. Even as he is shooting lows for his career with the Magic, he still found value for his defense.
He is a player the Magic cannot go without.
The journey for Vucevic to go from where he was even last year to where he is now defensively is quite astonishing. It has helped Vucevic become a more complete player — and made his move to the bench all the more shocking. Vucevic was playing well. Perhaps his best overall basketball in a Magic uniform.
His move to the bench has brought a resurgence of his offensive game. And that has paired with his defensive emergence to give the Magic hope they are set to turn a corner and make a more serious Playoff push.
Vucevic's defense is certainly less obvious than the rim-protecting, thumbs-down, finger-wagging shot blocking from Serge Ibaka and Bismack Biyombo. But Vucevic is proving to be just as effective, even if it is in part to their help.
Orlando Magic reaping the benefits of their depth
"I'm just trying to stick to what coach has asked me to do," Vucevic said during the preseason. "Stick to my strengths. I know I'm not going to go like Biz and Serge and jump over people and block everything. I just try to stay solid and make it as tough for guards to drive at me and finish over me and use my length."
From those early days, Vucevic said he felt more comfortable with the schemes Vogel implements. He said he was trying to be more vocal and trust his teammates more. That trust is more apparent than ever.
Vucevic has emerged as a reliable defensive player.
He is still not without his faults. He still gives up 0.94 points per possession on pick and rolls against the roll man (he was at 0.95 points allowed per possession last year). And Vucevic can get beat by dynamic point guards who are able to isolate him on pick and rolls.
The schemes around him have helped cover those deficiencies up more and more. So too has Vucevic himself. He has done something many Magic fans believed he could not do after four years of gaudy offensive stats, but few defensive results.
Like the rest of this team, Vucevic has found his defensive identity and fit.
More from Orlando Magic Daily
This article originally appeared on