Nik Stauskas Might Just Have Figured It Out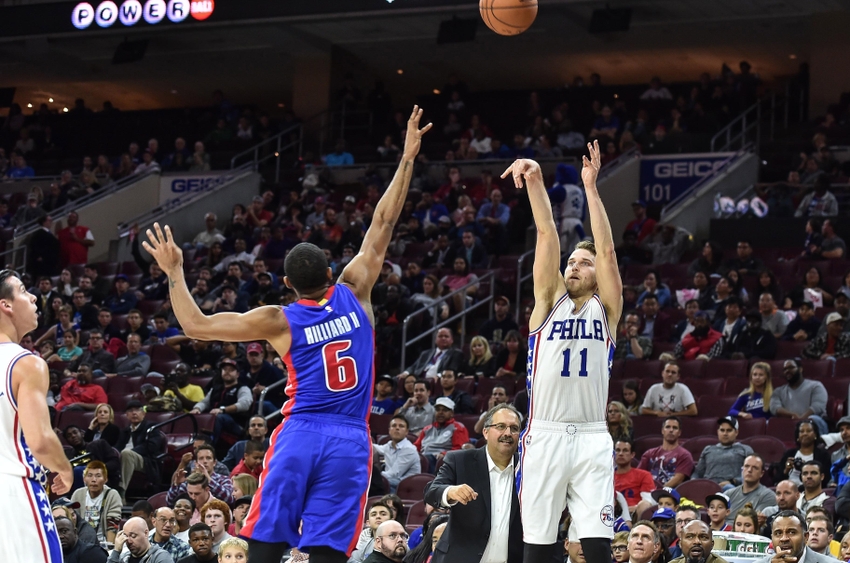 The Philadelphia 76ers were not expected to pick up Nik Stauskas' rookie option. They surprised us by picking it up, and he's surprised them in return with an outstanding start to the 2016-17 season.
After two NBA seasons, Nik Stauskas was looking for all the world like one of the most tragic lottery pick busts in recent memory.
Drafted into a horrid situation by the Sacramento Kings in 2014, he got a shot at a fresh start with the Philadelphia 76ers when he was traded before the 2015-16 season.
With a fresh start in Philly, he seemed completely out of his element, like the NBA game was still just too fast for him to process even with a full season under his belt. While he was a dominant shooter and scorer at the University of Michigan, he was no longer facing Big Ten defenses.
Stauskas' first season with the Philadelphia 76ers was an exercise in frustration. He averaged just 8.5 points in 25 minutes per game, hitting just 38.5 percent of his field goal attempts and 32.6 percent of his threes.
Both of those numbers were in line with his rookie season in Sacramento, pointing to very little development.
Not all college skills translate to the NBA game, but when your single-most transferable skill (perimeter shooting in Stauskas' case) doesn't translate, it doesn't leave you much to work with.
That's what it looked like coming into this season. Much like Stauskas' former Michigan teammate, Mitch McGary, who was waived by the Oklahoma City Thunder, there was speculation that he might not even make the final 15-man roster.
However, the Sixers shocked the world (or at least mildly surprised those of us who have followed Stauskas over the course of his career) and exercised their team option on Oct. 26, keeping him under contract through the end of 2018.
Stauskas rewarded their confidence the same night they picked up the option, scoring 13 points on 5-of-6 shooting in a tight loss at home against the Oklahoma City Thunder.
He followed that up with a mediocre six-game stretch in which he averaged just 5.3 points while shooting 34.4 percent from the floor, and it looked like maybe we were back to Nik Stauskas as usual.
It turns out there is more to this story after all, as Stauskas is suddenly the hottest-shooting guard in the NBA thanks to his most recent seven-game tear, on which he's averaging 13.6 points per game while hitting a staggering 62.3 percent of his field goals and 53.6 percent of his three-pointers.
This ferocious streak has him leading all NBA guards with a 53.8 percent shooting percentage, and is 10th among all shooters with a shooting percentage of 46.
Most astonishingly, in a league with guys like James Harden and Kevin Durant, Mississauga, Ontario's own Nik Stauskas is leading the NBA with a true shooting percentage of 69.2 percent.
Stauskas is playing with unprecedented confidence and aggression, scoring from the perimeter and on slashes into the paint. He's playing like a guy with no worries, no longer concerned about getting waived and having to fight it out in the NBA D-League or in Europe.
While a six-game hot streak doesn't tell us the whole story on Stauskas, there's more than enough reason to think that maybe the former Michigan Wolverine has finally figured it out.
More from Hoops Habit
This article originally appeared on