Nick Young Is Still A Trade Candidate For Los Angeles Lakers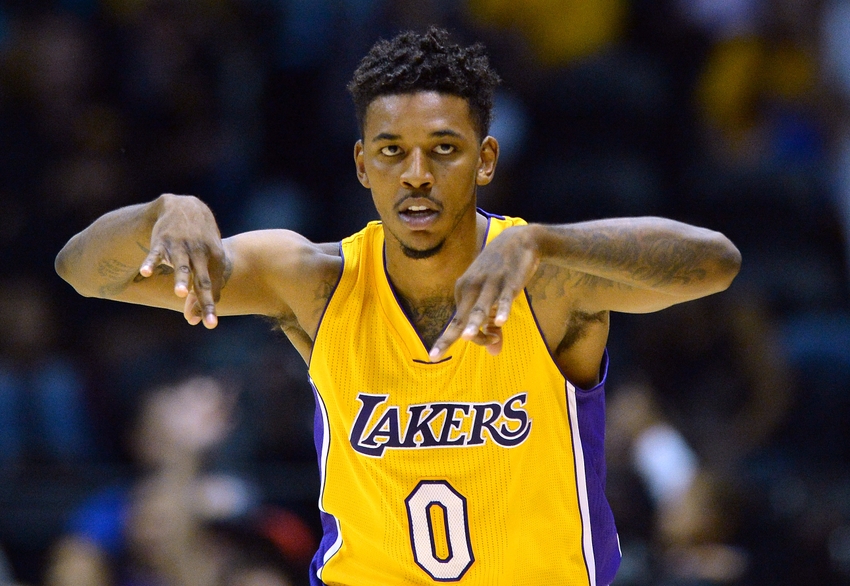 Even with Nick Young enjoying a revival of sorts, don't think the Los Angeles Lakers wouldn't trade him if the right opportunity arose.
Not long ago, the Los Angeles Lakers were desperately trying to find another team willing to take Nick Young off their hands. And then, it got to the point where it seemed inevitable he'd be cut before the 2016-17 campaign even began.
Well that's all changed for the Lake Show's most polarizing player.
After a promising showing during the preseason, Young convinced head coach Luke Walton to keep him around. Since he made the roster, he's quickly asserted himself as one of the Lakers' most exciting playmakers–and that's saying something.
Through 16 contests, Young is averaging 13.9 points, 2.6 rebounds and 1.3 assists per game (via NBA.com). Although he's still more of a scorer than anything else, his efficiency has gone through the roof.
He's connected on 45.5 percent of his shots this season, including 40 percent from beyond the arc. Heck, he's even hit 93.9 percent of his free throws.
Those are all significant improvements over his 2015-16 showing. Only a year ago, he made a pitiful 33.9 percent of his field goals, including only 32.5 percent from long range.
Why Swaggy Could Go
I think it's pretty clear that Young has proven himself as an asset for the Lakers. However, despite that fact, I don't think he's made himself immune to being traded at some point this season.
Realistically, there are a number of reasons Los Angeles could opt to move Young before the 2017 NBA trade deadline.
The first is that he's got some significant trade value, especially after a strong start to the season. Especially for a true contender looking to add a solid scorer, Young could provide a spark off the bench. He's capable of sinking clutch shots (as we saw on Tuesday), and can get hot from deep.
There's no denying he's a streaky shooter, but his value as a scoring wing is also undeniable.
If he stays relatively hot between now and February, someone could fork up a young prospect or a late-first-round pick for his services.
The second reason is that he fills a significant role for a not-so-significant price. Young is costing the Lakers only $5 million this year, which isn't much relative to some of the new contracts signed this offseason.
For $5 million, it's almost impossible to find a quality role player who can provide a spark off the bench.
Don't Get Too Excited/Upset
Now I don't foresee this being a serious option unless the Lakers fall out of the playoff picture. Especially with how efficient the offense has been this season, Los Angeles likely won't want to mess with the chemistry unless the postseason isn't in the cards.
And with the Lakers currently playing some solid basketball, I'm not sure that time will come.
Obviously this is all speculation at this point. If the Lakers keep playing well, Mitch Kupchak likely won't pursue a trade unless one is proposed to him. Walton seems happy with the group he has now, so why make a drastic change?
And yet, this is still the NBA. As we've seen in recent years, teams can turn into sellers with almost no warning. A trade could be in the Lakers' near future, and I believe Young could be the guy to go if that's the case.
We'll see what happens between now and February. For now, though, just remember that Young's resurgence doesn't make him invincible. If anything, it could be increasing the odds of him being dealt.
This article originally appeared on