Next Man Up: Have the Indiana Pacers' Players Taken Advantage of Opportunity With Injuries?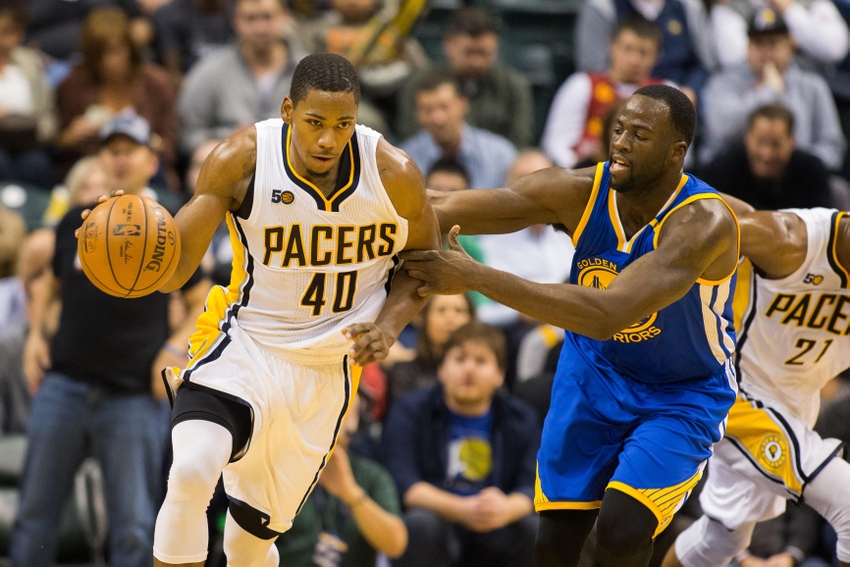 Injuries are a part of the game. Some get down about it, and some use it as an opportunity. There's been plenty of opportunity in Indiana over the last several contests.
Paul George, C.J. Miles, Myles Turner, Kevin Seraphin, and now Jeff Teague? The Indiana Pacers' injury report is seemingly getting longer by the day.
Thankfully, all of these injuries appear to be minor and have day-to-day timetables.
Teague sprained his ankle during Monday's loss to the Golden State Warriors but also said he would have returned to the game if he had to.
Let's take a look at how some players have capitalized from these injuries.
Glenn Robinson III
GRIII has no choice but to play a ton of minutes for the Pacers, but he's delivered. He recorded his first career double-double during Sunday night's win against Oklahoma City Thunder , posting 16 points and 11 rebounds. During Monday night's loss to Golden State, Glenn struggled from the field, like most of the other Pacers'. He shot 3-14 from the field for 8 points.
Through the two games that Glenn Robinson III has started since Paul and C.J. went down, he's averaged 12 points and 8 rebounds a game. GRIII has shot just 32.1% from the field but has hit 40.0% from three
Despite the low shooting percentage, Glenn has played his heart out and has looked like the Glenn Robinson III we saw during the preseason.
Al Jefferson
Big Al has had two games with increased opportunity. Kevin Seraphin missed the game against the Thunder on Saturday, and Myles Turner missed the game against Golden State on Sunday. He's had a tough time contributing. He played 14 foul-plagued minutes in OKC, finishing with just 2 points on 1-5 shooting. Against Golden State, he drew a start. In 20 minutes, he scored 4 points and grabbed 6 rebounds.
Al has just struggled on both ends. There's no way around it. Teams are double-teaming him fast in the post and he hasn't been able to get into a rhythm. He averaged three points and five rebounds through those two games while shooting 33.3% from the field.
Jeff Teague
With Paul George on the sidelines, Jeff Teague has undeniably been the Pacers' top option on offense. He's been fantastic.
More from 8 Points, 9 Seconds
Teague and the rest of the Pacers struggled against Phoenix last Friday, but Jeff bounced back with vengeance against OKC on Sunday. He put the team on his back and scored 30 points to go with 5 rebounds, 6 steals, and 9 assists. In the game against the Warriors, Teague couldn't find much rhythm. None of the Pacers' could.
Teague has scored 20+ points in three of his last four games. In the three games without Paul George, Teague has put up averages of 20.7 points, 4.3 rebounds and 6.3 assists per a game. It's great to see the Kid from Indiana playing well after his rough start to the season.
Monta Ellis
With Paul George out, you would figure Monta Ellis would be much more aggressive on the offensive end. Nope. He's still playing extremely unselfishly and taking under ten shots per game. Unfortunately, when Monta has had to shoot it, it hasn't gone in as much as the Pacers have needed it to. He's connected on just 9 of his 28 field goal attempts (32.1%).
To go along with that shooting percentage, Monta has compiled averages of 8.7 points and 4 assists a game through the three games that Paul George has missed.
The Pacers could definitely have at least Paul George and Myles Turner back for Wednesday's game against Atlanta. The Pacers only posted a 1-3 record without PG so far, but that win in OKC was crucial. Their upcoming schedule is really tough, so every win counts.
This article originally appeared on