New York Knicks: Willy Hernangomez Earning Bigger Role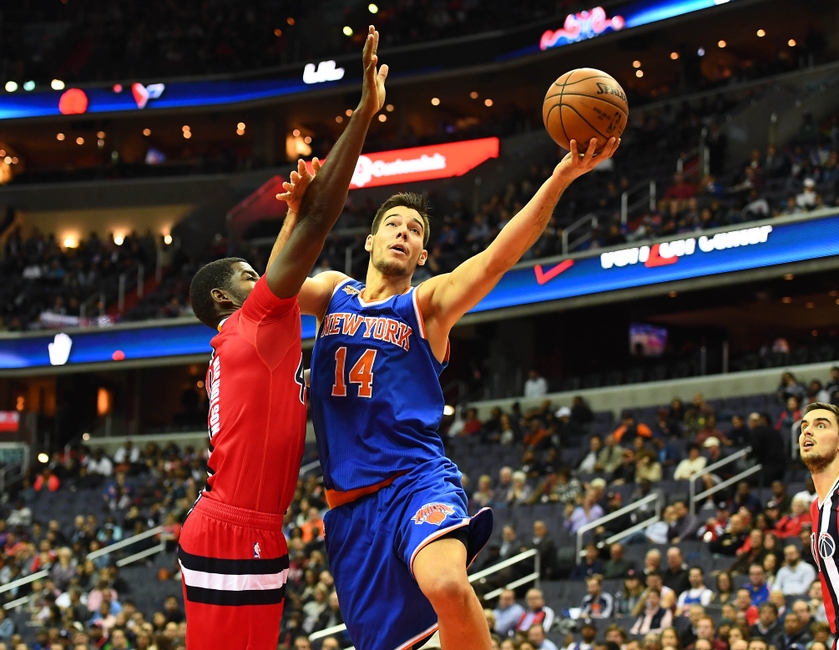 New York Knicks rookie Willy Hernangomez has been turning in intriguing performances in 2016-17. That's earned him a bigger role in the Knicks' rotation.
---
The two-game absence of starting center Joakim Noah has been both a blessing and a curse for the New York Knicks. Playing without a starter is never an easy task, but it's created an opportunity for other players to step in and prove themselves.
No big man has been more impressive over the past two games than Kristaps Porzingis, but close friend Willy Hernangomez hasn't been too far behind.
With Noah out, Hernangomez played 29 and 21 minutes of game action coming off the bench. He played well both times out, which has thus earned him an increase in playing time and an improved role.
According to Ian Begley of ESPN New York, the Knicks plan to use Hernangomez as the backup center once Noah returns to the lineup.
Jeff Hornacek suggested that Willy Hernangomez will be the first big man off of the bench if Joakim Noah returns on Friday, as expected.

— Ian Begley (@IanBegley) November 24, 2016
That's a well-deserved upgrade for Hernangomez.
Team president Phil Jackson acquired Hernangomez on the night of the 2015 NBA Draft. Hernangomez played in Spain's Liga ACB from 2011 to 2016, including a stint with Baloncesto Sevilla from 2013 to 2015.
Hernangomez's teammate and fellow starter along the interior with Sevilla is now his teammate again in New York: Porzingis.
Hernangomez stepped up against the Atlanta Hawks with seven points and eight rebounds in 29 minutes of court time. He then came up with nine points and four rebounds in 21 minutes against the Portland Trail Blazers.
Beyond the numbers, Hernangomez played with great energy and helped stabilize the Knicks' defense.
Thus far in 2016-17, the Knicks are allowing 96.9 points per 100 possessions when Hernangomez has been on the court. That number jumps to 110.3 points allowed per 100 possessions when Hernangomez has been on the bench.
In recent games, Hernangomez has solidified his place as one of the Knicks' more valuable players.
Against the Charlotte Hornets, Hernangomez will have an opportunity to prove himself in a backup role behind Joakim Noah.
This article originally appeared on