New York Knicks Will Go As Far As Kristaps Porzingis Enables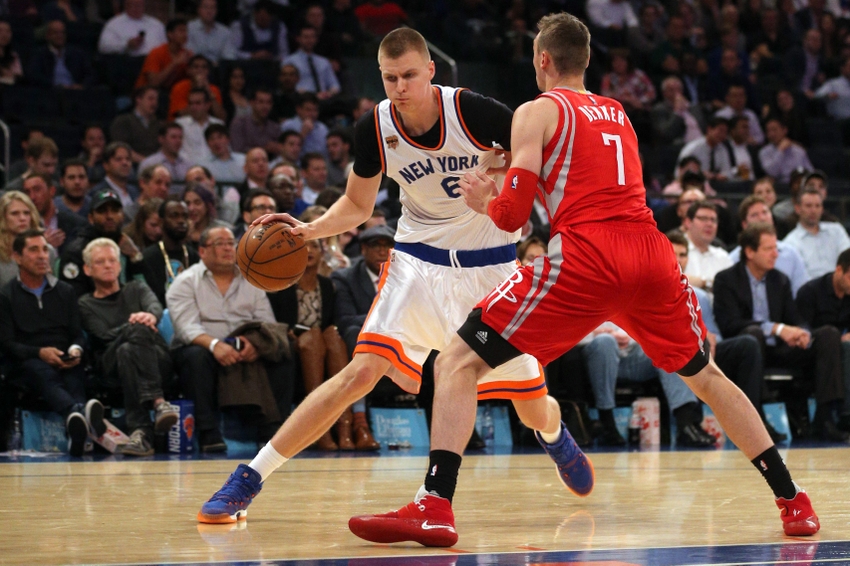 Carmelo Anthony is the franchise player, but his value to the New York Knicks is nearly matched by that of starting power forward Kristaps Porzingis.
---
The New York Knicks won't make it very far if Kristaps Porzingis doesn't take a massive step forward in 2016-17. The early results have been encouraging, but consistency will be the key for both Porzingis and the Knicks.
Carmelo Anthony remains the key to team success, but New York will only go as far as Porzingis enables them to.
New York is currently 6-7 overall and 5-2 at home, which leaves a disappointing mark of 1-5 on the road. Though the obvious picture is painted of New York playing well at home and struggling on the road, there's more to it than that.
The results of the Knicks' games appear to be a product of one player's success or struggles: Porzingis.
Porzingis' level of play has directly coincided with the results New York has achieved as a team. For instance, he's averaging 24.5 points, 7.8 rebounds, 1.3 assists, and 2.5 3-point field goals made on a slash line of .564/.429/.743 during the Knicks' six wins.
During New York's seven losses, he's averaging 16.6 points, 6.6 rebounds, 1.0 assist, and 1.7 3-point field goals made on a slash line of .430/.353/.818.
Furthermore, the Knicks are 5-2 when Porzingis scores at least 20 points and 1-5 when he fails to reach the 20-point plateau. New York is 5-4 when he attempts at least 15 shots and 1-3 when he fails to get 15 field goals up.
Anthony is still the player who will make or break the Knicks' season, but it's becoming clear that Porzingis needs to excel, as well.
The encouraging news for the Knicks is that Porzingis is beginning to turn a corner. Thus far in 2016-17, he's averaging 20.2 points, 7.2 rebounds, 1.2 assists, 1.1 blocks, 0.8 steals, and 2.1 3-point field goals made on a slash line of .495/.391/.772.
For fans of John Hollinger's attempt at an all-encompassing statistic, Porzingis is third amongst power forwards in Player Efficiency Rating.
Porzingis is also No. 16 in the NBA in Offensive Rating and No. 18 in the Association in Offensive Win Shares.
It may not be entirely fair to place such a heavy burden on a player in his second NBA season, but the Knicks need Porzingis to rise to the occasion. He's shown flashes of being reliable in that regard, but he needs to find something that consistently works for him.
Recent performances imply that he's in the process of doing so.
Since scoring three points in 28 minutes against the Houston Rockets, Porzingis has been on an absolute tear. During those nine games, he averaged 22.8 points, 7.4 rebounds, 1.8 offensive boards, 1.3 assists, and 2.3 3-point field goals made on a slash line of .520/.396/.811.
It's no coincidence that the Knicks went 5-4 during that stretch after going 1-3 during the first four outings of the 2016-17 campaign.
Porzingis is the ultimate matchup nightmare as a 7'3″ big man who can play both interior positions, shoot the 3-ball, take his man off the bounce, go to the post, and protect the rim.
He's beginning to put it all together in Year 2.
This article originally appeared on