New York Knicks: Will Back-To-Backs Be An Issue?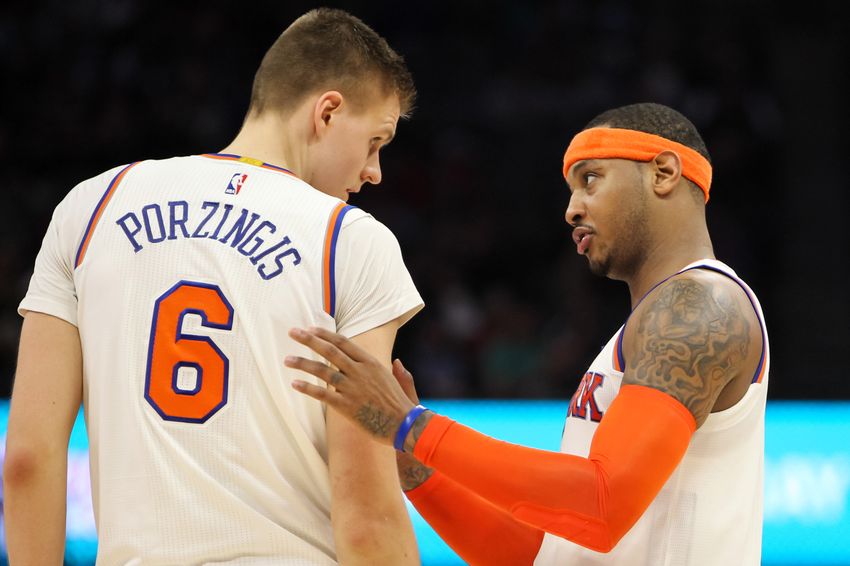 The New York Knicks are 0-5 in the second game of back-to-backs this season. Will this be an ongoing issue during the 2016-17 season?
---
Through the first quarter of the season, the New York Knicks have come out of the gate on a positive note. The Knicks are off to a 14-10 record and have won seven of their last 10 games. In the midst of that span, New York had a four-game winning streak.
While the Knicks are performing well as of late, along with developing chemistry, they have struggled in the second game of back-to-backs.
Half of the team's losses have come in that fashion. New York os 0-5 in the second game of a back-to-back. The Knicks have lost those games by 14.8 points per game.
In a home-and-home with the Charlotte Hornets, the Knicks took their first game at Madison Square Garden. Carmelo Anthony, Kristaps Porzingis, and Derrick Rose were all scoring in bunches.
Anthony posted a double-double (35 points and 14 rebounds) and Porzingis was two rebounds short of recording a double-double of his own.
The following night was much different.
Anthony and Rose struggled with their shot. Joakim Noah was non-existent on the offensive end, as he didn't attempt a shot. Players have bad games here and there, but it was clear that some of the players were exhausted.
Anthony acknowledged that it was a long night physically, but doesn't want to make it an excuse. Per Marc Berman of The New York Post:
"It was kind of a long night physically,'' Anthony said. "I don't want to make that as an excuse, but did fatigue play a factor? Maybe. But we gave ourselves a chance at the end. You could feel it throughout the course of the game. Your shot is short. You could feel it, especially when doing it for a long time. When something is not clicking and aligned. Shots you miss you normally make. You accept that and try to do something else."
Since Noah couldn't find his shot that night, Willy Hernangomez and Kyle O'Quinn received more playing time.
The most difficult loss came at home to the Cleveland Cavaliers on Dec. 7. The Knicks suffered a 32-point loss on their home court. In that game, it looked like some of the players were noticeably tired, as the team arrived in New York in the early morning following their game against Miami.
In the final three weeks of December, the Knicks don't have any back-to-backs remaining on their schedule. While that is beneficial at this moment, things will change once the New Year starts.
As the season goes on, it will get more grueling. New York has nine back-to-backs left in the season and four of those will be in January. In addition, the Knicks will play three of those back-to-backs within a 10-day span (Jan. 6 to Jan.16).
Out of the six teams the Knicks will face during that 10-day span, three of those teams (Indiana Pacers, Toronto Raptors, and Atlanta Hawks) made the postseason last year. It will be a tough stretch of games for New York.
Another thing that is noteworthy is four of those six games during that 10-day span will be on the road. In the first seven games on the road, New York had many dreadful outcomes. The Knicks totaled a 1-6 record, but have won their last four games on the road.
As the season has progressed, the Knicks are starting to develop more chemistry and that's evident based off their recent performances. New York has been letting the opposition get close towards the end of the game, but the most significant thing is a road win.
While the New York Knicks haven't picked up a win in the second game of a back-to-back yet, the Knicks will be looking to build momentum before they go through a battle in January.
This article originally appeared on