New York Knicks vs. Detroit Pistons game preview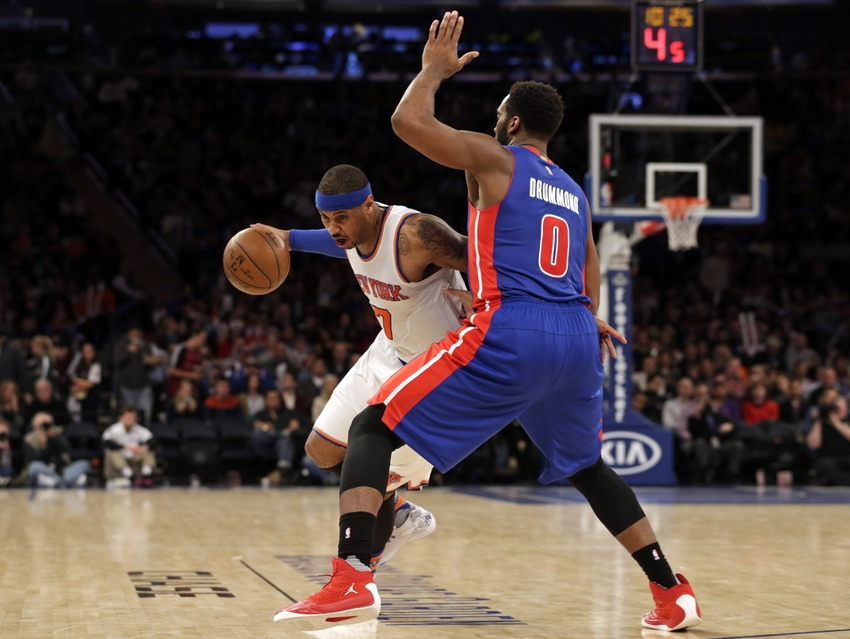 The Detroit Pistons (2-1) will be looking to finish a short, three-game homestand with another victory when they play host to the New York Knicks (1-1) on Tuesday night.
The Detroit Pistons (2-1) are riding high coming into Tuesday's matchup with the new-look New York Knicks (1-1). During their short homestand, they've routed Orlando by 26 and Milwaukee by 15. And now they'll turn their attention to the Knicks at 7:30 p.m. Tuesday night.
The Pistons have been getting it done on defense after getting punked by the Toronto Raptors on opening night. In the past two, they've held both the Magic and Bucks under 40 at the half and under 84 for the game. They'll look to do the same to a Knicks team that is scoring just 99.5 points per game through two contests.
On the season, Detroit is holding opponents to just 91.3 points per game and 40.3 percent shooting from the field. This is because they are keeping teams out of the paint.
According to NBA.com's John Schuhmann, only 51 percent of Detroit's opponent's shot attempts have come from the restricted area. Last season, the Pistons held a league-best mark of 56 percent in that category.
They'll need to keep that up against a Knicks team that's awfully different from last season's 32-50 club. The 2016-2017 Knicks feature a new coach in Jeff Hornacek and three new starters in Derrick Rose, Courtney Lee, and Joakim Noah. Those three have joined Carmelo Anthony and Kristaps Porzingis in the starting five.
Additionally, the Knicks have added Justin Holiday and former Piston Brandon Jennings over the offseason, meaning five guys in their nine-man rotation are newcomers. That's a lot of turnover, and it's been evident in New York's uneven play so far.
ESPN's Marc Stein dished out this little nugget yesterday that highlights the growing pains they've been working through.
Knicks ball movement still a work in progress when Derrick Rose is out there. Kristaps Porzingis has taken ONE shot so far off a D-Rose pass

— Marc Stein (@ESPNSteinLine) October 31, 2016
Detroit should have no trouble taking advantage of the Knicks' defense, which has been horrendous so far. They gave up 117 to Cleveland on opening night and 104 against Memphis on Saturday.
The Pistons come into the game with all five starters averaging double digit points. Additionally, Detroit is making 45.7 percent of their shots from the field. I don't think they'll have any problem in the scoring department.
Or on the glass, for that matter. Andre Drummond is working on back-to-back 20-rebound games as he looks to take home the rebounding title once more. He's the catalyst behind the Pistons' +5.3 rebound per game differential. New York, meanwhile, is -4.0 per game in that department, so expect Drummond to keep feasting in this one.
Detroit, who will be kicking off the front leg of their first back-to-back set of the season, will be looking for their third-straight double-digit home victory in this one. I'm not sure the Knicks will be able to stop them from doing so unless they've picked it up since they last took the court.
This article originally appeared on