New York Knicks: This Bench Is Good! Phil Jackson Deserves Credit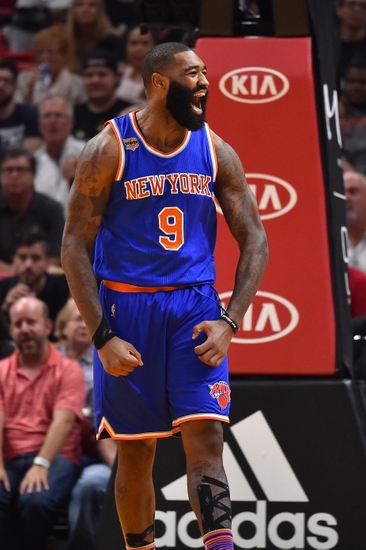 The New York Knicks are 9-3 in their last 12 games—the best record in the Eastern Conference over that span. That's largely due to some unexpected bench production from a second unit that Phil Jackson deserves credit for assembling.
---
The New York Knicks' bench was supposed to be a weakness this season. On paper, the Knicks reserves are an odd bunch. Perhaps fittingly, ever unconventional team president Phil Jackson has assembled a motley crew who were collectively doubted for a variety of perfectly rational reasons.
Brandon Jennings was coming back from a serious achilles injury last season. Kyle O'Quinn and Justin Holiday have struggled to earn consistent rotation minutes at any point in their NBA careers thus far. Willy Hernangomez and Mindaugas Kuzminskas are rookies who are used to a very different European game.
Lance Thomas has one season of good basketball under his belt and was seen by many as a candidate for regression this year. Sasha Vujacic was pretty much retired before Jackson brought him back from the dead last season.
Jackson has added a few layers of controversy to his Hollywood legacy already so far this season, but whatever alchemy The Zen Master envisioned or stumbled upon this summer when he was filling out the Knicks roster has worked better than anyone expected.
Credit where credit's due, this bench is winning the Knicks basketball games.
O'Quinn, darling of Madison Square Garden, is playing the best basketball of his career. His infectious energy and hustle—two things MSG always has and always will revere—has propelled the Knicks' current four-game winning streak.
His recent heroics have only punctuated what has been a superb first quarter of the season for O'Quinn, who is second on the team in Player Efficiency Rating at 19.64—0.27 points less than Kristaps Porzingis and 0.09 points more than Carmelo Anthony.
Jennings, New York's very own basketball chameleon, has been various versions of himself this season. Jennings the defensive irritant has been my favorite, hassling and harassing opposing point guards full court in an attempt to spark a mostly stuttering Knicks defense this season.
There have also been nights of Jennings the facilitator. When the Knicks' offense needs a kickstart, he'll push the pace and move the ball.
The much more recognizable Jennings the scorer has, of course, had his moments, as well.
Holiday and Kuzminskas, Jeff Hornacek's small-ball Swiss army knives, have both stepped up to unleash various units designed to stretch the floor with Kristaps Porzingis playing center and Carmelo Anthony playing power forward. These units have been the most potent offensive groups for the Knicks all season.
That wouldn't be possible without Holiday and Kuzminskas, who are both shooting 37 percent from 3-point range this season.
Lance Thomas has missed 10 games as a result of plantar fasciitis. When healthy, he plays a similar role to Holiday and Kuzminskas.
Thomas is shooting a scorching 46.7 percent on 3-point field goals so far this season, which will undoubtedly earn him a consistent spot in Hornacek's rotation if he can stay healthy.
Willy Hernangomez, the latest in a mouth-watering line of Spanish big men with an ooh-and-ah post game, has shown flashes of a bright future in limited minutes this season. Every couple of games, he produces a post move straight out of a Hakeem Olajuwan mixtape, with footwork and feel beyond his years.
Jackson acquired the 22-year-old at the 2015 NBA Draft, which looks more and more like a steal every game. Second-round picks who contribute in their rookie season, especially big guys, are rare.
The Knicks' rag-tag bench has been great to watch through 21 games. Smiling Lithuanians, skillful Spaniards, near-possessed point guards and bearded New York natives have contributed heavily to the Knicks' recent surge up the Eastern Conference standings.
It's fitting that Phil Jackson, whose philosophy of coaching—and life—centers around selfless play and teamwork, has put together a bench unit whose whole looks to be much more than the sum of its parts appeared at the start of the season.
And to think, we haven't even seen undrafted secret weapon Ron Baker off the bench yet this year!
For now, the Knicks are winning, and an unlikely and entertaining bench group is flourishing together.
This article originally appeared on