New York Knicks: The Improbability Of Drafting Kristaps Porzingis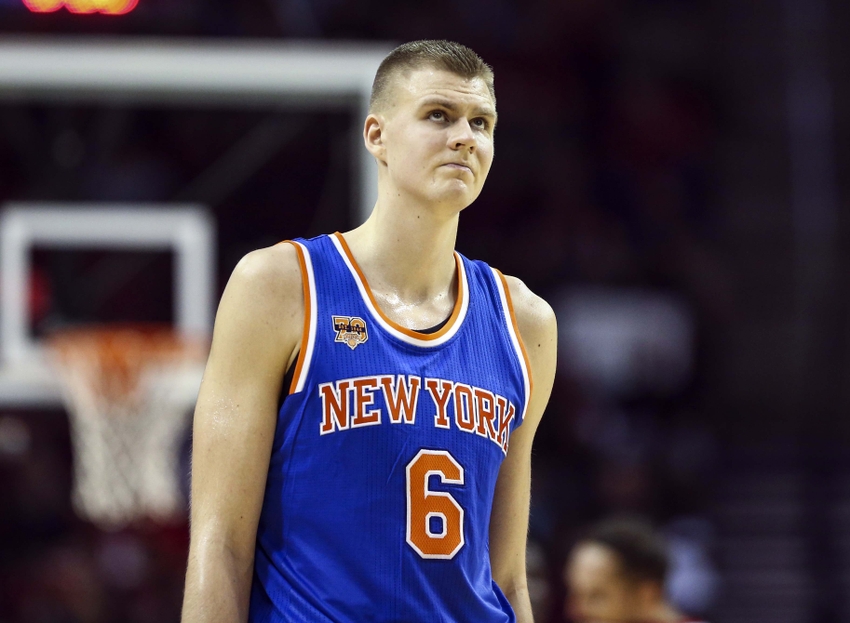 The New York Knicks look like they've hit the superstar jackpot with the 4th pick in the 2015 NBA draft: Kristaps Porzingis. But, given the Knicks draft history, and the uncertainty of middling lottery picks, the Knicks were incredibly lucky to land the Latvian phenom.
---
It's no secret that the New York Knicks have a superstar in the making in Kristaps Porzingis. Opposing coaches, like Washington Wizards head coach Scott Brooks, think so. As do anonymous NBA scouts, who think Porzingis is already a matchup nightmare. Dirk Nowitzki, the best European player of all-time and blueprint for Porzingis' development, can see it too.
Porzingis is having a breakout sophomore season statistically. Per Basketball-Reference.com, he's improved his efficiency, averaging just over 20 points per game with 60 percent true shooting on a relatively high 24 percent usage rate.
His 3-point shooting is up from 33 percent his rookie season to 40 percent this year, which is impressive considering he's taking two more 3-point field goals per game this year, up from 3.4 last year to 5.4 this season.
Finding a superstar to build around is the hardest part of NBA roster construction. A large cluster of starless teams are currently in the dreaded cul-de-sac of mediocrity. That gooey, good-not-great middle of the NBA standings.
There is, of course, achievement and value in being a perennial playoff team. In being the 2005 to 2012 Joe Johnson-led Atlanta Hawks. But sustained regular season success can become intolerably stale when it's annually punctuated by predictable playoff failure.
So team executives and front offices are wary of this NBA no man's land. The way up for most teams, painfully, is a nosedive to the league basement. Where you get your lottery ticket and hope you land the twenty-something-year-old in a room full of twenty-something-year-olds with that rare combination of skill, character and health to be a star.
It usually takes a while. The longer a franchise can stomach scorched earth losing, the better chance they have at a star, but there are still no guarantees. This is the rough reality behind "The Process" the Philadelphia 76ers are still going through.
The Charlotte Hornets had a lottery pick in five consecutive drafts from 2011 to 2015. Although Charlotte has some very good players—Kemba Walker has been out of his mind this season—they haven't struck lucky on a superstar.
Given this reality, it's unbelievable, and maybe a little unfair, that the New York Knicks, of all teams, landed Porzingis with their highest pick since taking Patrick Ewing No. 1 overall in 1985 and their first lottery pick since 2009.
Here's how it happened.
Over the last 30 years, the New York Knicks are the undisputed beacon of bad basketball decisions, especially when it comes to the draft.
The Knicks have traded 13 out of a possible 15 future first-round picks since drafting Ewing, and if the NBA allowed teams to trade consecutive firsts, that number would undoubtedly be higher.
Of the picks they had to keep themselves, eight players picked on draft night never played for the Knicks. They were either traded on draft night, before the season, or never came to the NBA.
A further 16 were drafted but traded at some point in their rookie contract, or in the case of Greg Anthony, picked in the 1995 expansion draft after four seasons in New York.
Only three players drafted in the first-round by the Knicks in the last 30 years—Mark Jackson, Charlie Ward, and David Lee—have signed an extension after their rookie deal. Even so, Jackson and Lee were quickly traded after signing their extensions.
Charlie Ward is the only first-round New York draft pick to spend a significant amount of time with the franchise since Ewing, spending 10 seasons with the Knicks before being—you guessed it—traded.
This astonishing disregard for the importance of player development—this inability to have the patience required to stick by and nurture young talent—has really hurt the Knicks over the years.
The list of players that the Knicks have missed out on by trading future first rounders, pick swaps, draft-day trades, or giving up on players early in rookie contracts is jarring.
The list includes Scottie Pippen, Nene, Trevor Ariza, Channing Frye, LaMarcus Aldridge, Joakim Noah, Wilson Chandler, Danilo Gallinari, Gordon Hayward, Iman Shumpert, Tim Hardaway Jr., and Dario Saric.
There is a famous psychology experiment that perfectly sums up the Knicks' attitude towards roster construction: The Stanford marshmallow experiment. Children are offered a choice between one small reward provided immediately or two small rewards (i.e., a larger later reward) if they waited for a short period.
Funnily enough, researchers found that children who were able to wait longer for the larger later rewards tended to have better life outcomes. The Knicks aren't very good at waiting, and they haven't had very good basketball outcomes as a result.
The Knicks have always opted for instant gratification in the form of hungry lunges at NBA relevance. Impatiently grabbing the one marshmallow—Eddy Curry—instead of waiting for two—Aldridge and Noah.
When the Knicks stumbled into a Top 5 pick in 2015, it would have surprised no one if they had somehow gone marshmallow hunting.
Instead, the Knicks got lucky.
The New York Knicks, despite their best efforts, owned their 1st round pick in 2015. By lucky coincidence, this was a Top 5 pick, after a forgettable 2014-15 season during which they got off to a bad start, traded two important rotation players—Iman Shumpert and J.R Smith—for very little, and lost Carmelo Anthony for half the season to injury.
By further lucky coincidence, the 2015 draft was one of the deepest in years.
They were lucky on the night of the draft as well. Lucky that Phil Jackson didn't trade the pick, lucky that Jackson took a chance on Porzingis over less risky prospects, and lucky that the teams picking ahead of New York didn't take a chance on the skinny Latvian project themselves.
All of which was very possible.
Most of all, the Knicks were lucky because the chances of landing a legitimate franchise cornerstone with a single Top 5 pick are surprisingly low. As is demonstrated by Sam Hinkie's tenure in Philly and the soul destroying kind of losing you have to endure to be in the high lottery year after year after year.
Extreme tanking maximizes your chance at landing a star. Of course it does. But outside of surefire superstars and no-brainer No. 1 picks like Karl-Anthony Towns, Anthony Davis, and Kyrie Irving, building through the draft is fraught with risks and uncertainty.
The Knicks took Porzingis with the fourth pick. The five players taken at that spot in the 2010 to 15 drafts were: Wesley Johnson, Tristan Thompson, Dion Waiters, Cody Zeller and Aaron Gordon. A Top 5 pick should get you talent, but gives you only a small chance at a star.
If you were to redraft the 24 players taken from the No. 2 to No. 5 picks in the draft between 2010 and 2015, Porzingis is probably a Top 3 pick, and maybe even No. 1, depending on how you feel about Joel Embiid's feet and DeMarcus Cousins' character.
A lot went right for the Knicks in the 2015 draft, a night that could define the future of a franchise starving for success.
That future looks brighter in New York than it has in a long, long time.
The New York Knicks path to Kristaps Porzingis is the antithesis of the modern day, analytical, approach to roster construction. This is the front office era of five-year plans, asset management and "the Process". Teams should not, as the Knicks have done, be able to blunder and stumble their way to a potential superstar.
Look at a team like the Boston Celtics who have done everything by the book in the last few seasons to get "the guy". They have a mountain of assets, have made great trades, have had multiple lottery picks, and are an attractive free agency destination with as much tradition and pedigree as any franchise in professional sports.
Yet, Boston still doesn't have a superstar to build around.
New York does. However improbable, Kristaps Porzingis is a Knick, and should be for a long time. To the delight of everyone in the organization, and the envy of many around the league, the Knicks have a young superstar to build around.
The Knicks front offices of the past couldn't deserve it less. But the fans—for enduring the on-court realities of the Eddy Curry, Antonio McDyess, Stephon Marbury, Steve Francis and Andrea Bargnani shaped marshmallows—couldn't deserve it more.
Knicks fans have paid their dues. They've overpaid. Kristaps Porzingis is their reward.
This article originally appeared on