New York Knicks: Scott Brooks Heralds Kristaps Porzingis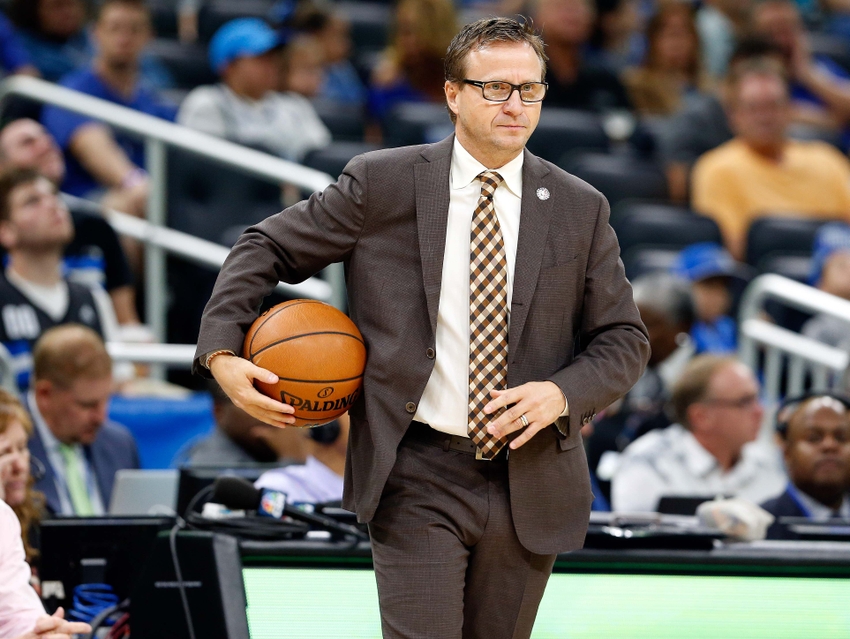 Washington Wizards head coach Scott Brooks had high praise for New York Knicks power forward Kristaps Porzingis—a player who's achieving stardom.
---
Kristaps Porzingis wasn't at his best against the Washington Wizards. Nevertheless, a significant member of the Wizards saw enough to make a powerful determination: Porzingis is going to be special.
Hype isn't always met by reality, but in the case of Porzingis, it appears as though he's on the fast track to stardom.
Porzingis finished with 16 points, seven rebounds, two assists, and four steals during the Knicks' 119-112 loss to the Wizards. He shot 7-of-16 from the field and added another two 3-point field goals to bring his already impressive tally to 26 through 12 games.
According to Al Iannazzone of Newsday, Wizards head coach Scott Brooks believes that it's only a matter of time before Porzingis becomes one of the best players in the NBA.
"He's definitely going to be one of the best players in the league very soon," Brooks said. "He's a great player now and it's pretty remarkable to see him improve so quickly. Definitely on his way to being an All-Star."
Brooks went on to explain what it is that makes Porzingis so special.
"He's unique because the guy is 7-3 and he can put the ball on the floor and he has like point guard moves," Brooks said. "He has a step-back [jumper]. He has a crossover. He does backdoor lobs. He does so many great things on the floor offensively and then defensively he rebounds, he block shots, he crashes the boards offensively.

"He's one of those guys that's going to be a complete basketball player. You're not going to be able to pigeonhole him like 'He plays like this guy.' He does a little bit of everybody in the league."
Brooks knows a thing or two about what it takes to be one of the best players in the NBA.
Despite going undrafted in 1987, Brooks achieved a 10-year playing career in the NBA. He won an NBA championship in 1994 and played alongside the likes of Charles Barkley, Patrick Ewing, Jason Kidd, and Hakeem Olajuwon.
As head coach of the Oklahoma City Thunder, Brooks was instrumental in the development of Kevin Durant, James Harden, Serge Ibaka, Reggie Jackson, and Russell Westbrook.
In Washington, he's attempting to do the same with Bradley Beal, Otto Porter Jr., and three-time All-Star John Wall.
Having played with and coached a number of Hall of Famers and star-caliber players, Brooks has learned to recognize greatness. The fact that he, like many others, believe Porzingis can achieve it is rather significant.
There aren't many authorities on the subject, but those who have watched it up close and personal tend to qualify as such.
Porzingis is currently averaging 20.3 points, 6.8 rebounds, 1.3 assists, 1.2 blocks, 0.8 steal, and 2.2 3-point field goals made in 32.6 minutes per game. He's doing so on an improved slash line of .492/.400/.792.
In just his second year, Porzingis is already making his case for an All-Star Game appearance.
It appears as though Brooks—and Kobe Bryant, Dirk Nowitzki, and so forth—is right about his prediction that Porzingis will become a great player.
This article originally appeared on