New York Knicks Planning Group Protest Of Social Injustices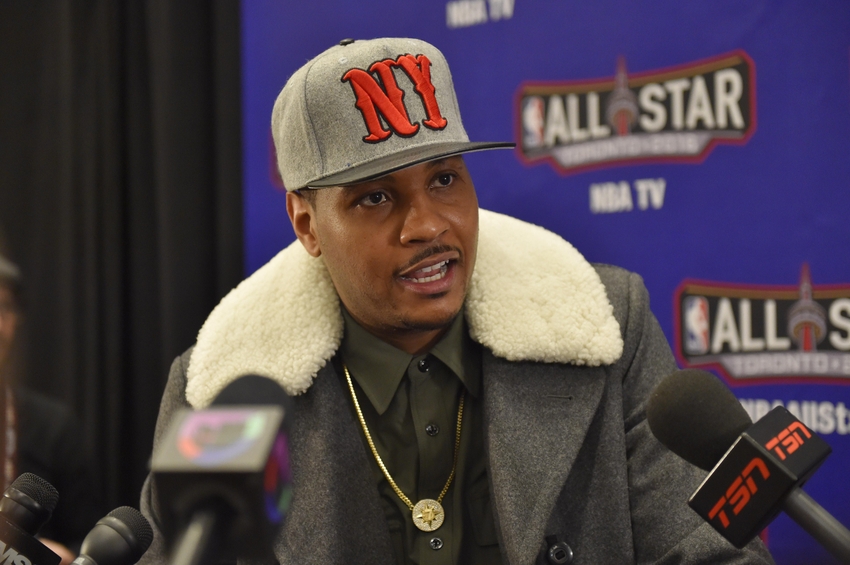 The New York Knicks are planning to execute a unified protest against the social injustices currently plaguing the United States of America.
---
Over the past month, San Francisco 49ers quarterback Colin Kaepernick has become the most polarizing figure in American sports. His protest of systematic racism has become one of the hottest topics across the country.
The New York Knicks could soon join Kaepernick with a team-wide protest of the same issues that continue to plague the United States of America.
The Knicks are a team flush with outspoken individuals who haven't let social injustices go on without making their voices heard. Thus, it's encouraging to know that the front office is prepared to support their players.
According to Ian Begley of ESPN New York, general manager Steve Mills hopes to see the Knicks take part in a unified group protest.
"I've spoken to Carmelo [Anthony] a number of times about this issue, and I think he's an example of guys who have been outspoken about issues and the community coming together. But also rather than (making) symbolic gestures, (he's been) moving forward and trying to have a dialogue and moving forward to make things happen," Mills said Friday at the Knicks' season-opening news conference.

"And so I think we respect our players and their ability and right to express their opinion. But we hope as a group we can get past that part of that and actually come together to make a difference with some of the issues that are out there. So that's the conversation we've had with him and we'll have with the other players as well."
If any NBA team is going to hold a protest in 2016-17, it's most likely to be the Knicks.
Carmelo Anthony has become the foremost authority on social activism amongst modern NBA players. Since making a powerful Instagram post imploring his fellow celebrities and athletes to make a stand against social injustices, he's put his money where his mouth is.
Anthony organized a town meeting amongst police officers and citizens, donated to the Challengers Boys & Girls Club, and made a powerful speech at the 2016 ESPY Awards.
This is nothing new for Anthony, who famously marched for Freddie Gray in Baltimore, Maryland.
Thus, it's hard to imagine Anthony will let the 2016-17 season pass without making his voice heard.
Knicks point guard Brandon Jennings recently joined the movement by voicing his support of Kaepernick. That gives New York two vocal supporters in the fight against the recent instances of police brutality, and the rest of the team is likely to step up, as well.
Keep in mind, both Joakim Noah and Derrick Rose have been active in attempting to eradicate gun violence.
No assumption is wise, but it's easy to imagine every player on the Knicks taking action.
Perhaps the most significant news to emerge from this movement is that the players have the support of the executives. Mills and Phil Jackson will likely incur questions from both the media and the league office if significant action is taken.
Jackson has already voiced that he will support his players in the event of a group protest.
Phil Jackson on potential Anthem protests: "I'll ask for a consultation & we'll talk about it as a team. We want to do something unified."

— Ian Begley (@IanBegley) September 23, 2016
The point about asking for consultation is one that shouldn't be taken lightly.
Unlike the NFL, the NBA has a rule in place that requires players to stand for the national anthem. Thus, it's possible that a group protest could result in New York incurring a significant enough penalty to hurt the Knicks' postseason aspirations.
The players and executives appear to be of the mentality that, no matter what transpires, the team will act as one.
This won't be an easy decision, but the Knicks appear to have all hands on deck. A powerful statement could be on the horizon.
This article originally appeared on