New York Knicks: Phil Jackson Shouldn't Expect A Meeting With LeBron James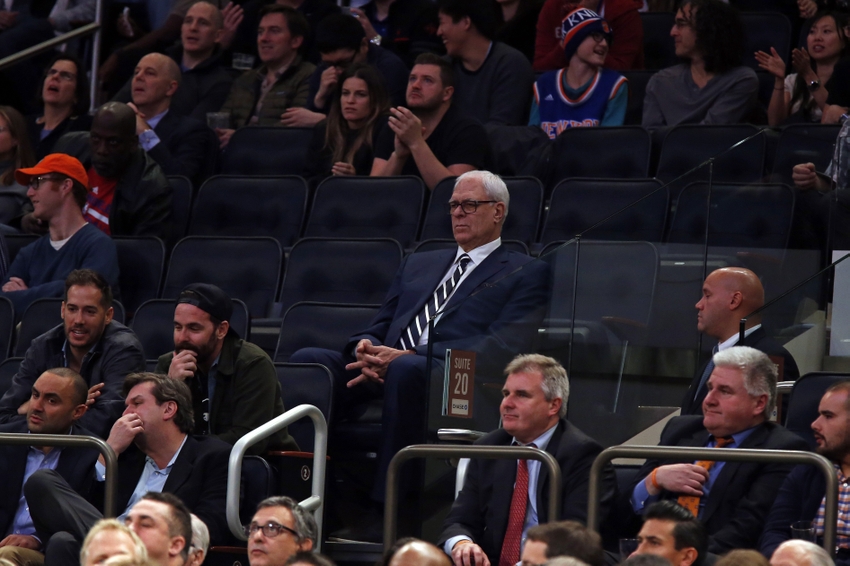 Following the Cleveland Cavaliers' win over the Toronto Raptors, LeBron James revisited New York Knicks team president Phil Jackson's comments.
---
The New York Knicks will battle the Miami Heat on Tuesday night before returning home to take on the Cleveland Cavaliers on Wednesday. A matchup between these two teams is expected to be exciting despite their previous meeting, when Cleveland walked away with a 29-point victory.
New York went 3-6 in their first nine games and suffered a tough loss at home to the Houston Rockets. Also, the Knicks had a poor game against the Washington Wizards recently despite totaling 47 points in the final quarter of that game.
Since then, things have changed for the Knickerbockers.
Along with being on a three-game winning streak, New York has won 7 of their last 10 games. The Knicks have greatly improved since their season opener against the Cavaliers, which means the outcome of this meeting could be different from the season opener.
While the these two teams are expected to put on a show at the world's most famous arena, Madison Square Garden, there is an off-the-court story that gained traction last month.
In a Q&A with Jackie MacMullan of ESPN, Knicks team president Phil Jackson recalled a story from 2014 when the Miami Heat took on the Cleveland Cavaliers. During the recollection, he made what's been perceived as a disparaging comment.
For those who haven't heard, Jackson called James and his business partners a, "Posse."
"They don't do overnights. Teams just don't. So now (coach Erik) Spoelstra has to text Riley and say, 'What do I do in this situation?' And Pat, who has iron-fist rules, answers, 'You are on the plane, you are with this team,'" Jackson said, recalling the situation. "You can't hold up the whole team because you and your mom and your posse want to spend an extra night in Cleveland."
With the two teams meeting on Wednesday, James was inevitably asked if he plans to meet with Jackson when his team comes to the Big Apple.
According to Dave McMenamin of ESPN, a meeting isn't on the agenda.
"No. My only mindset is to get our guys ready and execute the game plan. I got a job to do every night and that's to lead this group, and I'll do that."
Outside of the game, James believed the word "posse" came off as a racial undertone.
"Didn't affect me, just know how much further we still have to go and how far we still have to go as African-Americans, even in the light of today," James said. "For me, I've built my career on and off the floor on the utmost respect, and I've always given the utmost respect to everyone — all my peers, people that's laid the path for me and laid the path for coaches, players, things of that nature.
That's been a hot topic of conversation over the past few weeks.
The Knicks will welcome the defending NBA champions to Madison Square Garden with better momentum than what they had in the season-opener. Out of the 11 victories the Knicks have totaled, nine of those wins have come at home.
New York will be looking to extend their winning record at home, but they face a tough challenge in James and the Cavaliers.
This article originally appeared on