New York Knicks: Phil Jackson Offers Kristaps Porzingis High Praise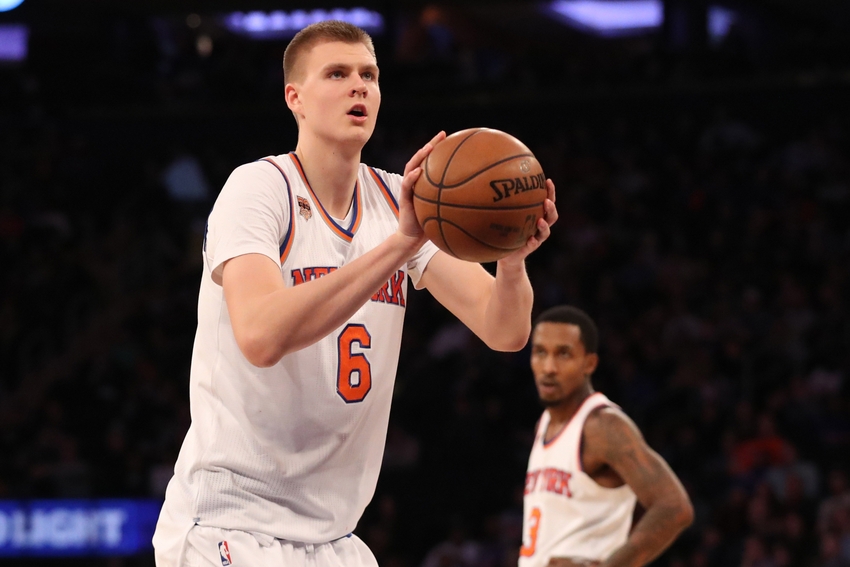 New York Knicks team president Phil Jackson has seen it all during his illustrious NBA career. Yet, he's never seen a player quite like Kristaps Porzingis.
---
Phil Jackson has seen it all as a player, assistant coach, and head coach in the NBA. He played for the 1970 and 1973 NBA champion New York Knicks, coached the six-time champion Chicago Bulls, and led the Los Angeles Lakers to another five titles.
As he prepares to reach 50 years in the NBA, however, there's one thing that Jackson admits he'd never seen before: a player like Kristaps Porzingis.
Jackson played with Hall of Famers Bill Bradley, Dave DeBusschere, Walt Frazier, Jerry Lucas, Earl Monroe, and Willis Reed. He then coached current or future Hall of Famers Kobe Bryant, Pau Gasol, Michael Jordan, Shaquille O'Neal, Scottie Pippen, and Dennis Rodman.
During his recent appearance on CBS Sports Network, however, Jackson confirmed that he's never seen a player quite like Porzingis (h/t Ian Begley of ESPN New York).
"He's a unicorn. He's just a standout guy. You don't see people like this playing basketball with the grace, speed and athleticism that he has. And the ability to shoot the ball as well as he can shoot the ball," Jackson said.
Jackson continued:
"Kristaps turned out to be that unique player, that one that has things you just don't see on the basketball court," Jackson said. "He does things that are unique almost in every game. His size is defining. Defensively, he changes the game a little bit. He's still not a great strength player, post player. Offensively, he shoots 2-pointers, he can run the court; there's a lot of things he's still learning what he can do."
That's as high of praise as a player could possibly receive from an individual who has been in the NBA since 1967.
Porzingis is 7'3″, which automatically puts him in a rare class of NBA players and human beings. The unprecedented complement to his size, however, is his coordination and athleticism.
The fact that Porzingis also has a throwback skill set with modern modifications only strengthens his case for deserving to be called unique.
Porzingis is a capable post player who has bust out Dream Shakes, Dirk Nowitzki knee-up turnarounds, and up-and-under layups. He's still polishing those skills, but there's no question that they're in place.
Porzingis is also a lethal 3-point shooter, intimidating shot-blocker, and crafty ball-handler who can take his man off the bounce.
Porzingis' versatility helped him become the first rookie in NBA history to record at least 1,000 points, 500 rebounds, 100 blocks, and 75 3-point field goals. He's the tallest player in NBA history to make at least 75 3-point field goals in a season, as well.
One could easily argue that the only player to combine Porzingis' size and skill set was Arvydas Sabonis, who didn't debut in the NBA until he was 31 years of age.
Porzingis is only 21 years of age and he's already being described as unique. There's no limit to his potential.
This article originally appeared on