New York Knicks: Phil Jackson Helping Team In Practice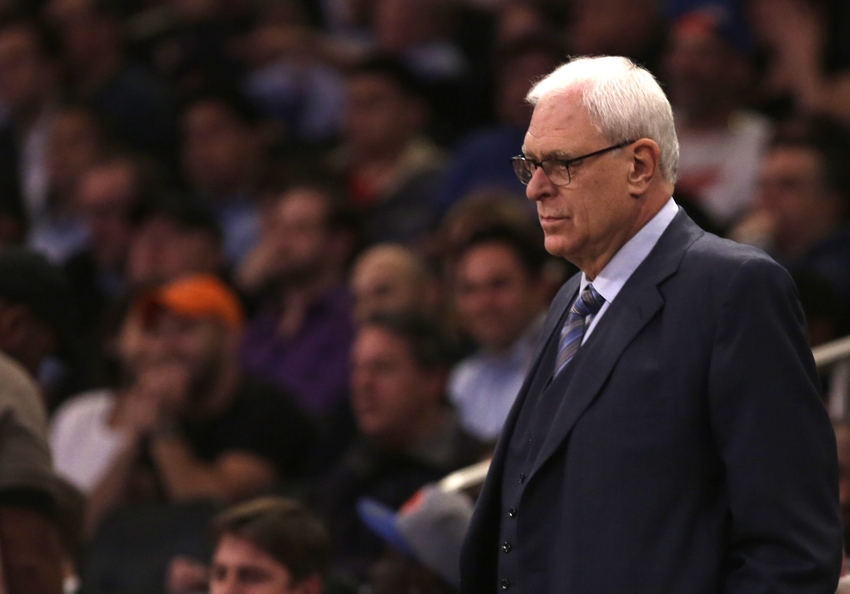 New York Knicks team president Phil Jackson paid a visit to a recent practice. Courtney Lee raved about the 11-time NBA champion's presence.
---
When the New York Knicks hired Phil Jackson as team president in 2014, an unrealistic hope immediately surfaced. Knicks fans couldn't help but ponder life with the 11-time NBA champion taking over as head coach.
Jackson may not be coaching the Knicks in 2016-17, but he's doing the next best thing by helping at practice.
Jackson and protege Derek Fisher were at odds due to the latter wanting to remove The Zen Master's influence from his coaching tenure. In contrast, current head coach Jeff Hornacek isn't letting his ego get in the way of the opportunity to benefit from Jackson's presence.
According to Ian Begley of ESPN New York, starting shooting guard Courtney Lee had nothing but high praise for Jackson following the tutorial The Zen Master gave him on the triangle offense.
"It's dope," Lee said, calling Jackson the "Godfather of the Triangle." "The man's got multiple rings, and that's what we're trying to chase. He's got a lot of knowledge and information, so it's always good to pick his brain because you don't know all the answers. There's always somebody out there who knows more than you, and he's one of those guys."
Even the most jaded of veterans respect what Jackson accomplished as a head coach.
Lee has played for a number of high-quality coaches during his NBA career. He made the NBA Finals with Stan Van Gundy as a rookie and has since gone on to play for a number of recognizable names.
That list includes Rick Adelman, Steve Clifford, Dave Joerger, Kevin McHale, and Doc Rivers.
Thus, perspective is gained by reading the praise that Lee offered for Jackson.
There's no way to rationally downplay 11 NBA championships, and those who are actually in the NBA rarely attempt to do so. Jackson certainly benefited from the presence of all-time players, but he also helped transform talent into something greater.
Lee understands how valuable knowledge gained from Jackson can be.
The Zen Master is enabling Hornacek to coach the Knicks the way he wants to, but his occasional presence at practice can only help New York grow.
This article originally appeared on