New York Knicks: Phil Jackson Evaluates Triangle Offense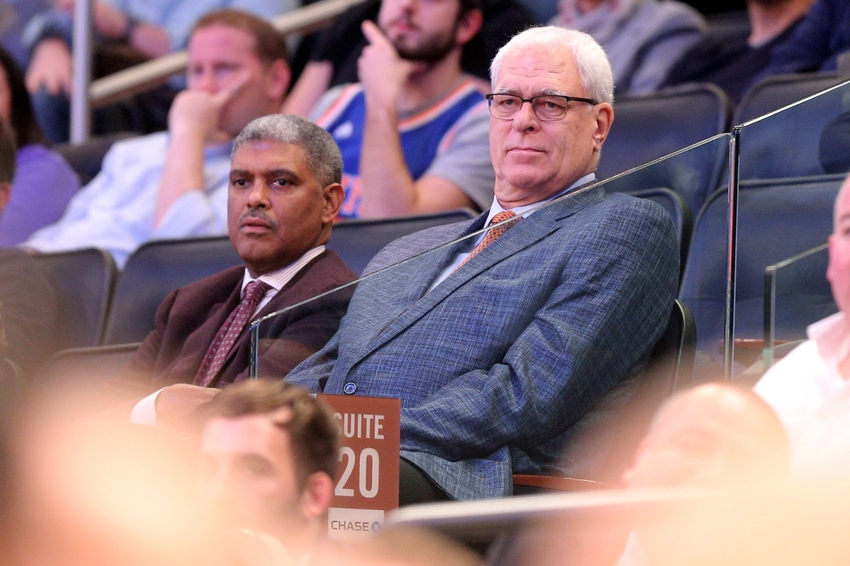 New York Knicks team president Phil Jackson gave his most honest evaluation of the triangle offense yet during his interview on CBS Sports Network.
---
Phil Jackson has won more championships than any other head coach in NBA history. He added another two as a player, which brings his tally up to 13 overall—an incredible number, but one that doesn't guarantee success as an executive.
For all of the success that he experienced with the system as a head coach, Jackson has encountered a steady stream of criticism as team president of the New York Knicks.
Despite the fact that Jackson has won 11 championships since the Knicks won their last one, his basketball prowess has been questioned. The 2014-15 tank job was tough to stomach, although it did land Kristaps Porzingis, and the 2015-16 collapse was unforgivable.
According to Ian Begley of ESPN New York, Jackson gave an in-depth breakdown of why the triangle offense is resisted by players and fans during an appearance on CBS Sports Network.
"I think there are two reasons," Jackson said of the resistance to the offense. "One is it's always a little bit of a pie-in-your-face type of thing to say that this [the triangle offense] has been the reason for winning. The reason for winning, obviously, is good players. And when good players want to play together and they join in a form or a format to play together, then really good things happen."
That's as honest an evaluation as you could ask for.
The triangle offense is a brilliant system that Jackson and Tex Winter utilized to make the game easier for already great players. It also defined roles for the non-stars, but the focus in most circles is what it did for Michael Jordan, Kobe Bryant, and so forth.
Though he may not be the most beloved executive or coach in Knicks history, Isiah Thomas is an all-time player who saw first-hand what the system did for Jordan.
During that episode of NBA Open Court, Thomas outlined how the triangle offense helped counteract The Jordan Rules:
"Once they went to the triangle, Phil [Jackson] was able to move [Michael Jordan] to the top, to the wing, to the post. So you never knew where he was going to be out on the floor, so it made your double teams a lot harder."
Jackson seems to be hopeful that the triangle offense could help Carmelo Anthony and Kristaps Porzingis in similar ways.
Jackson readily admitted that the system wouldn't work without the players there to execute it. That lends some perspective to his mentality as team president, as well as the faith he has in the players he's acquired.
Most notably, it seems as though Jackson believes Anthony can be the Kobe Bryant or Michael Jordan of the Knicks' triangle offense.
The Zen Master publicly confirmed that theory when he outright stated that Anthony can be the Kobe Bryant or Michael Jordan of the Knicks' triangle offense.
When a team doesn't have an offensive system, the success is often short-lived. A system may be restrictive during the regular season, but it's what enables efficient offense when the games truly matter: during the postseason.
Jackson acknowledged that the triangle offense doesn't necessarily fit modern standards for basketball, but still thinks it has a place.
"I think the other thing is, simply, it becomes something to attack," Jackson added. "And I think it's easy to attack it because it doesn't promote basic basketball that's being played now in the NBA, which is an open floor. Keep the lane open, allow the opportunity of guard play, screen roll play … big men rolling the lane, and then 3-point shooting. But there's a place for it. It doesn't matter. It's still basketball and there's still a place for it."
Coach Nick of Basketball Breakdown visually confirmed that it does have a place—not just on the New York Knicks, but on almost every team in the NBA.
That's a fact, not an opinion.
Jackson has always been honest when talking about his team, but this is his most in-depth evaluation of the triangle offense. He acknowledged the flaws it may have, the era gap, and the reasons why players may resist it.
Human seem to inherently dislike being told what they need, which is likely why Jackson hired Jeff Hornacek to implement an offense that checks the boxes of modern execution.
New York Knicks fans may not always agree with what Jackson says, but he raised some excellent points about the system he won 11 championships with.
This article originally appeared on