New York Knicks: Phil Jackson Evaluates Kristaps Porzingis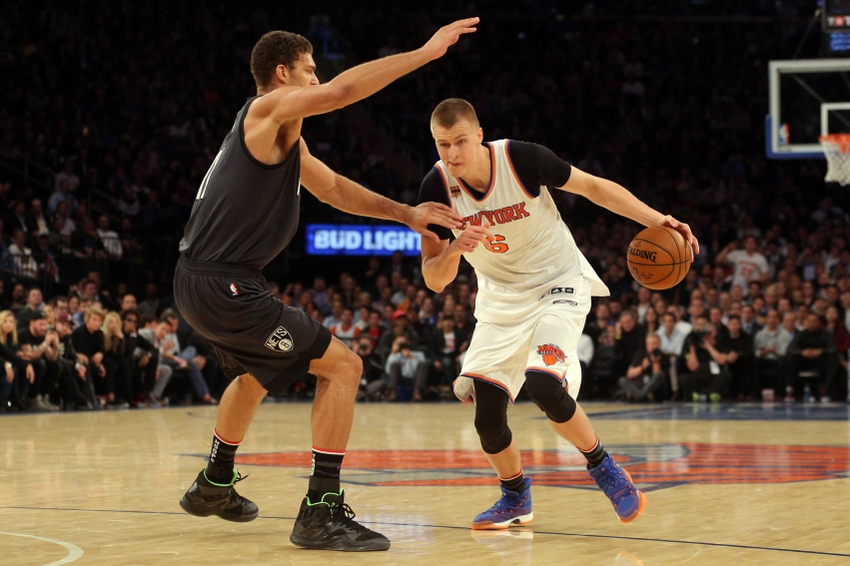 New York Knicks team president Phil Jackson has always been honest with his player evaluations. His take on Kristaps Porzingis remains true to form.
---
The New York Knicks are trusting Kristaps Porzingis to lead the organization into the future. That's a tall task given the weight of expectations that the Knicks face from a relentlessly demanding fan base on a yearly basis.
Porzingis has made tremendous strides as a player, but team president Phil Jackson believes there are flaws that must be addressed.
Porzingis is currently averaging 19.3 points, 6.8 rebounds, 1.7 offensive boards, 1.0 assist, 1.3 blocks, and 2.1 3-point field goals made per game. He's doing so on an efficient slash line of .482/.396/.783.
Per Jackie MacMullen of ESPN's TrueHoop Network, Jackson isn't worried that Porzingis is being lost in the offense, but does feel he needs to embrace how big he is.
Kris is going to shine because he's just that good. What I really want to see him do is develop his game. He's an exceptional shooter and his size is unique. It changes the game in many ways. But he needs to learn how to use his size appropriately in different ways because teams will switch and defend with smaller players. With his back to the basket, he hasn't learned how to do all the positioning and to hold his space. He needs to catch and shoot without bringing the ball down in an area where smaller players can grab it.
If you follow the Daily Knicks Twitter account—and if you don't, you should—then you know we feel the same.
It's worth noting that Jackson's comments preceded the Knicks' 93-77 win over the Dallas Mavericks. During New York's home victory, Porzingis led the charge with 24 points and 11 rebounds on 8-of-16 shooting from the field.
More important than the numbers is the fact that Porzingis appeared to do exactly what Jackson advised him to.
Porzingis went to the post on a rather consistent basis and trusted his size to help him win his matchups. That worked more often than it didn't, as Porzingis scored with efficiency and got to the line for six free throw attempts.
Prior to the Dallas game, Porzingis had gone seven consecutive games without attempting at least six free throws.
Porzingis has the tools to be an elite post player, as his range as a shooter permits him to back his man down from the low block, mid-post, and high post. He proved as much with a beautiful Dirk Nowitzki knee-up jumper out of the post.
Porzingis even remained on his feet to block a shot, which proved he truly is learning the extent of his physical abilities.
Porzingis is a sponge for knowledge who's only getting better.
This article originally appeared on