New York Knicks: Not Signing Jeremy Lin Was A Mistake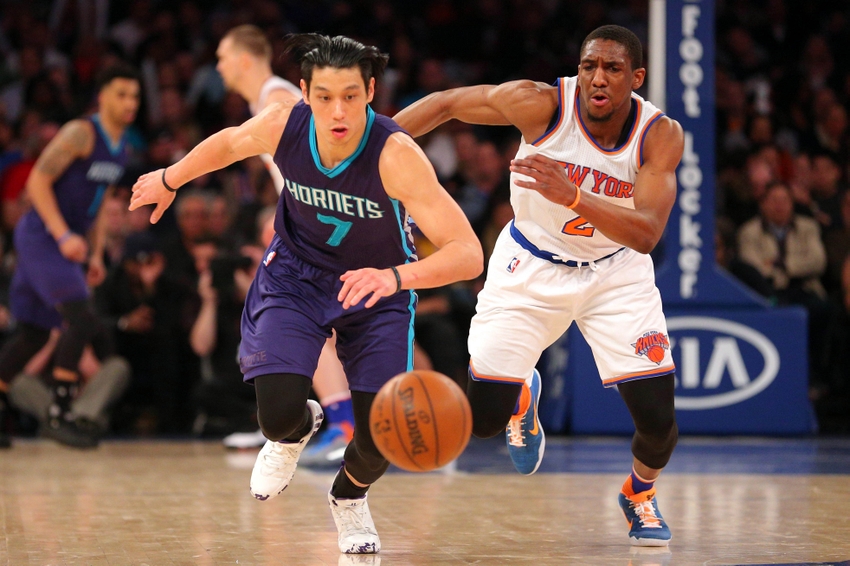 The New York Knicks made a big mistake by not bringing back one of their former point guards, Jeremy Lin.
It was an interesting off-season for the New York Knicks, especially at the point guard position. Last year the Knicks had the duo of Jose Calderon and Langston Galloway being the primary ball handlers on the court. Both weren't exactly effective on the offensive end, averaging 7.6 points per game each. Even though both were decent players for the Knicks, it was clear that New York needed an upgrade at the point guard spot.
So the Knicks went out and got two former starting point guards in Derrick Rose and Brandon Jennings. New York acquired Rose in a trade that sent Robin Lopez, Calderon, and Jerian Grant to Chicago in exchange for Justin Holiday, and a 2017 second round pick.
Jennings, who last played for the Orlando Magic, was signed during the free agency period. The Knicks got Jennings on a steal of a deal at $5 million for one year, but was it right for New York. Sure the point guard market was really bare in 2016, but there were some good options for the Knicks, especially when it came to backups. One of the options was former New York Knick Jeremy Lin.
Lin had some great memories in New York, especially during the "Linsanity" period where he absolutely went off during a key stretch of games for the Knicks. Since then, he's bounced around the league from Houston to Los Angeles to Charlotte.
Last year for the Hornets, Lin averaged 11.7 points per game while playing  26 minutes per game. Playing some minutes alongside Kemba Walker at shooting guard was an adjustment for Lin. He was still efficient from the floor (eFG% of 46 percent) and gave the Hornets scoring off the bench. But with his contract the way it was in Charlotte, it would be very hard for him to go back.
The Knicks could have gone after Lin but they chose not to. Lin ended up with a decent contract with the Brooklyn Nets, signing a three-year, $36 million deal. With the Knicks showing this offseason that they will spend over the tax, it's very reasonable to think that they could have splashed the cash for Lin. But they weren't happy with a part of his game.
According to the New York Post, a source claims the Knicks didn't want Lin because of his defensive concerns. He was a burden on defense back with the Knicks. There was no denying that. But he has made some changes to his game defensively. He's not the same defensive burden he was back in 2011 with the Knicks.
Last season, Lin only allowed an average of 3.8 field goals made when he was guarding a player. That average was lower than Rose, who allowed 4.5 and 3.6 on 2-pointers alone. Lin's defensive field goal percentage of 41.7 percent was better than Rose's as well.
We know about how Brandon Jennings is on defense as well. Although he only played 48 games last season, Jennings was still the same player we have seen his whole career when it comes to defense. The last time Jennings had a positive defensive box plus/minus was  back in 2010. Since then it's all been negative. Rose also falls in the same category. He has only had a positive DBPM once in his career.
Although Lin would have cost much more to bring to New York, he could have helped the Knicks defensively. Even if he was in a backup role, Lin could still be a solid role player for the Knicks– someone that could give you double-digit scoring off the bench and not be a big concern on defense, unlike Jennings or Rose, who Chicago had to hide at times on defense.
The Knicks are going to be one of the most interesting teams to watch in the NBA this season. Phil Jackson has assembled a cast of guys who can make the Knicks a dark horse contender in the East. But they can just as easily go the opposite route and be one of the worst teams in the NBA. A lot of it depends on Rose and the team defense, something Jeremy Lin could have been able to help with.
This article originally appeared on