New York Knicks: New Players Choose Their Jersey Numbers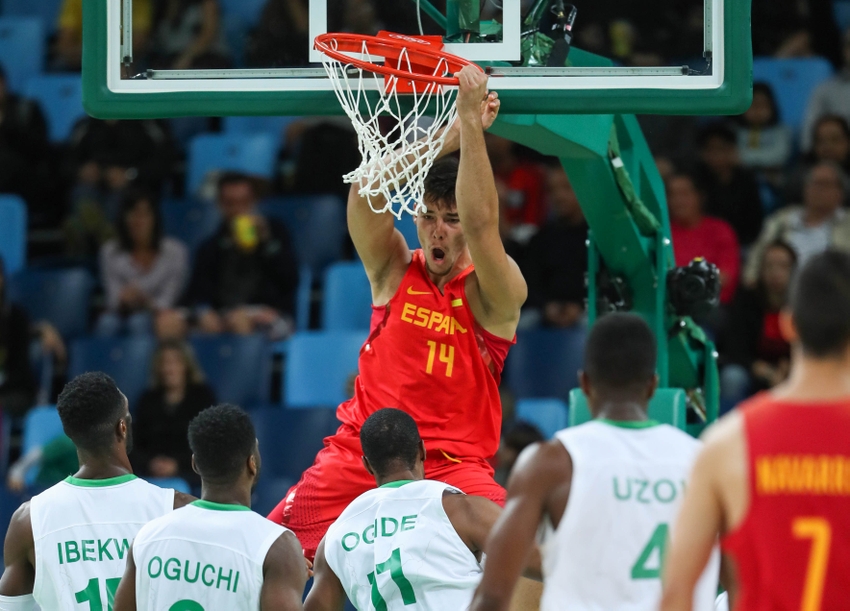 New additions Willy Hernangomez, Justin Holiday, and Mindaugas Kuzminskas have decided which numbers they'll wear with the New York Knicks.
---
The New York Knicks have made swooping changes to the 2016-17 roster. Courtney Lee, Joakim Noah, and Derrick Rose will join Carmelo Anthony and Kristaps Porzingis in the starting lineup, while Brandon Jennings will fill the role of sixth man.
Recognizable as those names clearly are, it's the unsung heroes who will determine the full extent of the Knicks' immediate potential.
Three of the Knicks' most promising offseason additions were Willy Hernangomez, Justin Holiday, and Mindaugas Kuzminskas. Hernangomez and Kuzminskas showed out at the Olympics, while Holiday turned heads with the Chicago Bulls in 2015-16.
Though training camp has yet to arrive, important news has emerged about that recently signed trio: they've selected their respective jersey numbers.
If you want to purchase one of these three players' jerseys, you now know how it'll look.
The No. 14 jersey was most famously worn by the late great Anthony Mason from 1991 to 1996. Knicks legend Cazzie Russell wore No. 14 during his first two seasons in New York before switching back to his college number, No. 33, in 1968-69.
Hernangomez will have big shoes to fill.
Holiday's No. 8 jersey was most recently worn by Robin Lopez in 2015-16. NBA pioneer Nathaniel Clifton made the number famous in New York in the 1950s and it's since been worn by Walt Bellamy, Latrell Sprewell, Danilo Gallinari, and J.R. Smith.
If Holiday can play at the same level of any of those five players, he'll do the number justice.
As for Kuzminskas, his No. 91 uniform has never been worn by a Knicks player. Metta World Peace, then Ron Artest, wore it elsewhere, but the highest Knicks jerseys ever worn were No. 77 by Andrea Bargnani and No. 85 by Baron Davis.
Kuzminskas will have the chance to bring notoriety back to the No. 91 jersey in 2016-17.
Which jersey will you be purchasing? Hit the comments section and let us know!
This article originally appeared on