New York Knicks: NBA 2K17 Reveals Footage Of NYK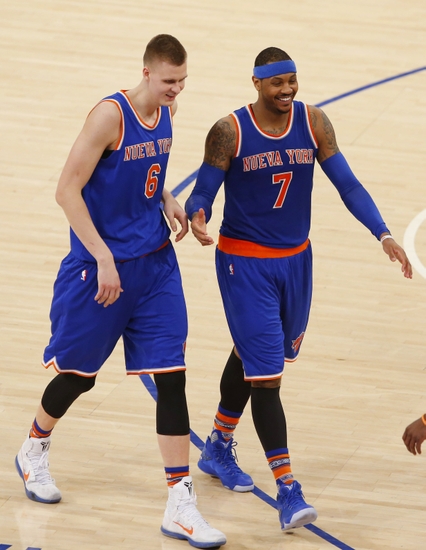 NBA 2K17 released exclusive footage of the New York Knicks in the upcoming video game. Check out what the 2016-17 Knickerbockers will look like!
---
As the New York Knicks prepare for another season, the folks over at 2K Sports are releasing another extraordinary video game. NBA 2K17 promises to be one of the biggest releases in company history.
With the game officially available for purchase, 2K teamed up with the Knicks to give fans a look at what they can expect to see.
The Knicks of 2016-17 bare little resemblance to the team that called Madison Square Garden home in 2015-16. There were a number of high-profile moves that effectively reshaped Knicks basketball for years to come.
Though training camp doesn't begin until September 27, you can get an early look at the Knicks in the video provided below.
One can only hope the Knicks will make shots like that in 2016-17.
Carmelo Anthony leads a high-profile starting lineup that now features Courtney Lee, Joakim Noah, Kristaps Porzingis, and Derrick Rose. The second unit includes career starter Brandon Jennings and 3-and-D hybrid forward Lance Thomas.
In terms of pure talent, the Knicks should be on of the more enjoyable teams to play with in NBA 2K17.
Beyond the gaming world, the Knicks are a healthy season away from restoring the faith of the fans. Anthony has enough help to make New York a winner again, including the steadily improving Porzingis.
If Jennings, Lee, Noah, Rose, and Thomas remain healthy, the Knicks should make noise in the Eastern Conference.
What this trailer displays, however, is the undeniable uncertainty beyond the first seven players on the roster. Justin Holiday has more potential than proven ability and the players beyond him share that same distinction
If the top seven players can rise to the occasion, however, this will be a rewarding season for Knicks fans.
This article originally appeared on