New York Knicks Must Attack The Paint To Improve Efficiency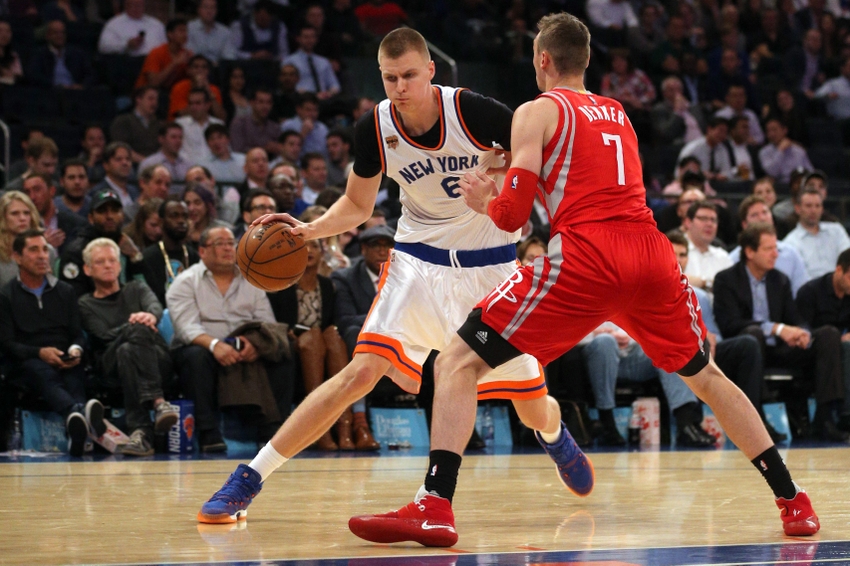 The New York Knicks' offense has shown signs of improvement, but its efficiency suffers from poor shot selection and minimal free throw attempts.
---
Last week, I questioned who would step in to facilitate the offense if Derrick Rose could not, or would not. Turns out the answer was a combination of Derrick Rose himself and Brandon Jennings.
Rose has been looking to pass, as his assist percentage is up from 15.8 percent through four games to 24.9 percent through seven. Jennings has upped his from 29.0 percent to a team-best 33.2 percent.
Jennings has done so by setting up bench contributors like Lance Thomas and Willy Hernangomez, as well as starters Kristaps Porzingis, Carmelo Anthony, and Courtney Lee in the 8-to-10 minutes he plays per game with the team's top three scorers other than Rose.
Per NBAWowy, Jennings and Rose have also shared the floor for 36 minutes and have been explosive offensively (131.1 ORTG, 53.3 eFG%) while predictably disastrous on defense (153.1 DRTG, allowing 68.2 eFG%).
This improved ball movement resulted in an uptick in shooting efficiency.
The Knicks' team assist percentage is up from 53.5% to 55.1%, and their eFG% is now 11th best in the league. Teams that assist on a high percentage of field goals tend to produce more efficient shooting. The Top 5 teams in eFG% thus far all boast assist percentages over 60%.
Last season, only one of the top five eFG% teams was under 59%. That team had Kevin Durant, one of the most efficient high-volume scorers in NBA history bolstering its numbers.
The Knicks, while still a nightmare defensively, have jumped to 14th in ORTG with 106.8 points per 100 possessions. They can continue to improve offensively by drawing more shooting fouls and simply making more free throws.
Free Throw Struggles
Currently 21st in free throw attempts per game, 20th in free throw attempt rate, and 24th in free throw percentage, the Knicks can certainly stand to improve at both getting to the line and making their free throws once they get there.
While the Knicks are a near Top 10 team in terms of eFG%, they're about average in terms of True Shooting Percentage, which takes free throws into account. By failing to generate many points at the stripe, the Knicks hurt their TS% and thus their overall offensive efficiency.
So who needs to draw more shooting fouls?
Carmelo Anthony has already settled into his 30-plus-year-old standard of between 5.0 and 6.0 free throw attempts each game. He doesn't venture into the paint as much as he used to.
Porzingis has upped his attempts from 3.3 per game last season to 5.0 this season, which is solid but could stand to improve. Derrick Rose, the last piece of the team's three-headed offensive juggernaut, is currently posting a career-low 2.3 free throw attempts per game.
Maybe the referees have no love for Rose, but he cannot continue to attempt as many free throws as Brandon Jennings in upwards of 10 more minutes than Jennings. Still, this is not just a Derrick Rose issue
It's a team issue.
Most shooting fouls occur under 8 or so feet from the hoop, and the Knicks' minimal shot attempts in that general area might explain the lack of free throws. 43.3 percent of the Knicks' field goal attempts come from 0-to-9 feet, just 20th in the league, and a league-low 11.9 percent come from 3-to-9 feet.
They shoot 57.2% from this distance, good for 7th highest in the league thus far. The Knicks have been favoring inefficient midrange attempts while neglecting the paint, where they excel.
In Love With Long Jumpers
The Knicks rely heavily on jumpers in the midrange-to-long 2 area, and rank 5th in the league with 29.8% of field goals attempted between 10 feet to just inside the arc. They convert just 39.9 percent of their attempts in this range, but since this is a generally inefficient area league-wide, that mark is actually ever so slightly above average.
Relying heavily on the midrange and long 2s is only detrimental to a team if it doesn't produce efficient scoring.
It has for Carmelo Anthony. He's shooting 52.7% on twos from 10 feet and out, including a blistering 59.3% on long twos. Courtney Lee, too, albeit with much smaller volume than the Knicks' three main scorers.
It hasn't for Rose and Porzingis.
Porzingis is shooting 26.3 percent in this range, while Rose is at just 29.0 percent. They both attempt plenty of shots in this area, but fail to connect on a high percentage.
Most of Porzingis' attempts thus far have been contested and within the 10-to-15 foot range, where he's 3-of-15. He basically catches the ball outside of the paint but inside the 3-point line, attempts to get closer to the hoop and fails, and settles for a contested midrange jumper.
Rose has settled for a significant number of jumpers, too, although he's actually shooting worse when open than he is with a defender nearby.
Paint Dominance
This is a nonissue for Kristaps Porzingis. He's been lethal within 9 feet, where he's used 39.3 percent of his total attempts to shoot 64.9 percent.
He dominates in the paint and attempts the majority of his shots there or behind the arc, so his poor midrange shooting hasn't tanked his efficiency and is likely to improve regardless.
Rose has also been effective from 0-to-9 feet, shooting 53.6% mostly due to his work around the rim. He already attempts 65.7% of his shots from inside 10 feet, but his horrid shooting from everywhere else inside the arc suggests that he should continue to hammer the paint when looking to score.
Rose obviously must be at least somewhat of a threat to shoot when open or he'll become too easy to defend, but he shouldn't actively seek two-point jumpers.
Bringing It All Together
We've established that the Knicks have struggled to both draw shooting fouls and convert free throws when fouled, and have some shot distribution issues. Are they related? Maybe, although it seems easy to conclude that they would draw more fouls if they attempted more shots in the paint.
The midrange/long 2 nonsense needs to stop. These often-contested shots are almost always products of poor offensive execution. Yes, Carmelo Anthony has been lights out shooting them, but it won't last.
He'll settle back down into his 40-to-45 percent range soon enough.
The New York Knicks' offense is definitely a work in progress in terms of ball movement and shot selection, but it has given us glimpses of brilliance. As this team learns how to play together, essentially on the fly, they should be able to create more shots within the paint.
That will hopefully lead to more shooting fouls and improve offensive efficiency with or without the referee's aid.
This article originally appeared on