New York Knicks: Mindaugas Kuzminskas Attends Voluntary Practice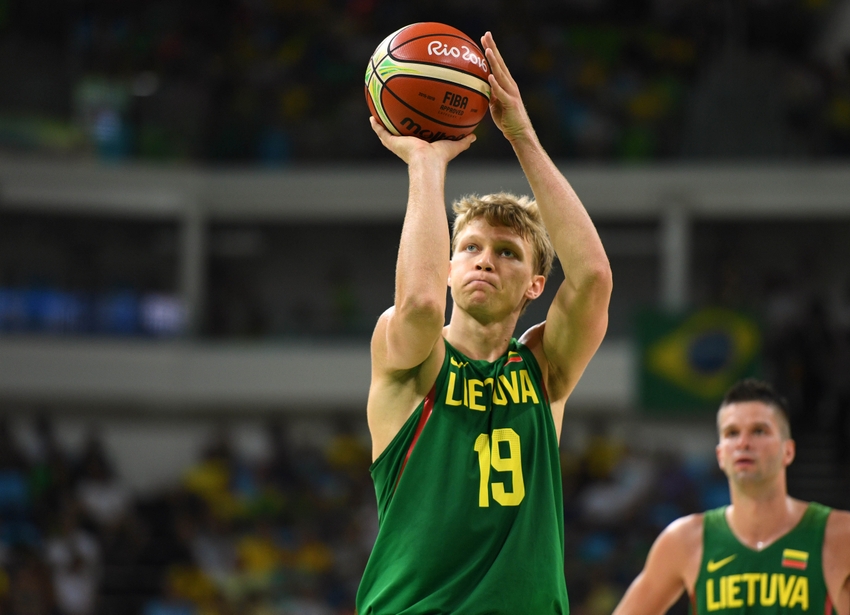 Recently acquired New York Knicks small forward Mindaugas Kuzminskas recently attended a voluntary workout with the team.
---
Mindaugas Kuzminskas ranks amongst the most intriguing additions of the Phil Jackson era. The New York Knicks needed depth, scoured the globe, and appear to have found it in the Lithuanian sensation.
From Spain's Liga ACB to the Olympics to New York City, Kuzminskas' work ethic is shining through on every stage.
Kuzminskas, who will turn 27 on October 19, is entering his 10th season as a professional basketball player. He was a four-time All-Star in the Lithuanian Basketball League, was the 2013 LKL Finals MVP, and was a standout performer for Unicaja Malaga in Liga ACB.
Now in New York, Kuzminskas proved just how committed he is to the Knicks.
It's always a positive when a player attends a voluntary training session.
Kuzminskas could've taken this opportunity to play in the NBA lightly. He's already established himself on the European front, where he can make solid money and play for any number of contending teams overseas.
Instead, Kuzminskas is accepting the responsibility of playing for an NBA team.
Kuzminskas was nothing short of sensational at the 2016 Summer Olympics in Rio de Janeiro, Brazil. He erupted for 23 points in 27 minutes against Argentina and followed up with 17 points in 27 minutes against Spain.
Kuzminskas also had eight points in 21 minutes against Brazil and eight points in 15 minutes against Nigeria.
Kuzminskas last measured at 6'9.5″ and 225 pounds with a 6'11" wingspan and a near 33″ vertical. He's a fluid athlete who runs the floor well, can play above the rim, and has legitimate range from beyond the arc.
Kuzminskas may not see much playing time early in 2016-17, but he signed a two-year deal worth $5.9 million during the summer of 2016.
Jackson, Jeff Hornacek, and the Knicks appear to have significant long-term plans for Kuzminskas.
This article originally appeared on