New York Knicks: Miami Heat An Early Must-Win Game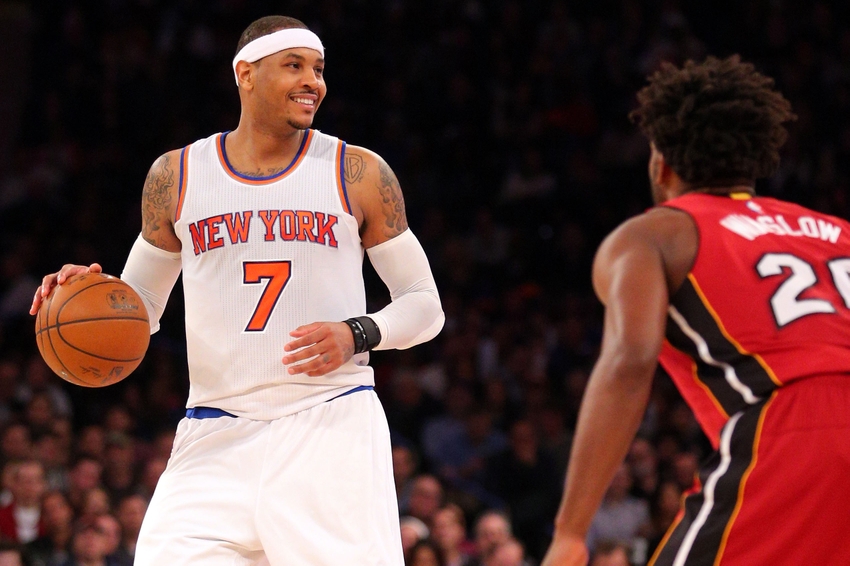 It's hard to call a December game must-win territory, but the New York Knicks need to defeat the Miami Heat on Tuesday, December 6.
---
The New York Knicks are preparing to embark upon a five-game road trip. Six of New York's next seven games will be played away from Madison Square Garden, including five consecutive outings against Western Conference foes.
No matter what happens the rest of the way, the Knicks need to take advantage of this golden opportunity to start a tough stretch with a win over a banged up opponent.
New York will travel to play the Miami Heat in head coach Jeff Hornacek's first game as a member of this bitter rivalry. The Knicks have a chance to win back-to-back road games for the first time this season and the Heat have an opportunity to stall their rival's momentum.
According to Ira Winderman of The South Florida Sun Sentinel, four Heat players have been ruled out for Tuesday's game and another two are questionable
With four players ruled out and another two potentially active and ailing, the Knicks cannot afford to lose this game.
Even with those five players—Bosh is the obvious exception—the Heat are a team that relies more on depth than star power. Goran Dragic and Hassan Whiteside are criminally underrated, but the players surrounding them are relatively unpredictable.
The Knicks, meanwhile, are a team consisting of established veterans and resurgent stars who are beginning to find their niche in Hornacek's offense.
Derrick Rose and Dragic will be an interesting matchup, and Whiteside could give Joakim Noah fits. Beyond that duo, as well as the potential wash of Justin Holiday and Tyler Johnson, the Knicks have clear positional advantages at the 3 and the 4.
Simply put: Carmelo Anthony and Kristaps Porzingis should dominate Wayne Ellington, Rodney McGruder, and Josh McRoberts.
Games aren't won on paper, however, and that's what makes this outings so important. The Knicks are the clear favorites to win this game, but New York is currently 2-6 away from Madison Square Garden.
With six of the next seven games being played on the road, however, New York simply cannot afford to lose this game.
Given the Knicks' road struggles, getting a second consecutive win away from home would be invaluable to the team's confidence approaching a five-game road trip.
This article originally appeared on