New York Knicks: Kyle O'Quinn Their Rock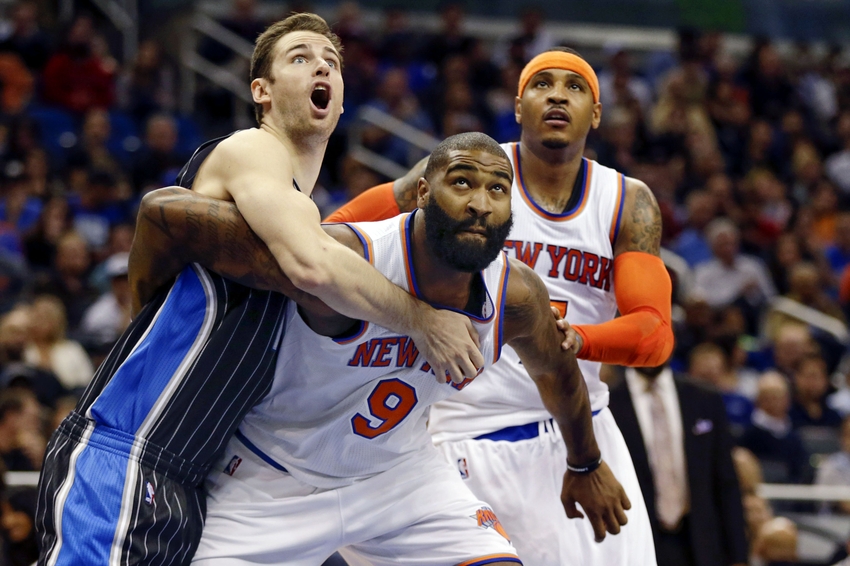 Despite flying under the radar for much of his career, Kyle O'Quinn is quietly becoming indispensable for the New York Knicks.
Despite some early season struggles, the New York Knicks currently boast a 12-10 record, and are in the thick of the playoff action.
However, they still don't look like the "Superteam" that point guard Derrick Rose claimed they could be before the season began.
The growing friction between star player Carmelo Anthony and the organization is another situation that needs to be monitored.
However, what the Knicks do now have, which they have lacked in recent years, is a group of dependable veterans who show up for them on most nights.
Brandon Jennings and Courtney Lee are two such players. However another guy who deserves just as much credit for their current standing is Kyle O'Quinn.
An addition from the Orlando Magic in the summer of 2015, O'Quinn has grown steadily with this team.
In fact, it's getting to the stage now where the Knicks should seriously consider starting this guy full time.
The basic numbers may not support that view wholeheartedly, but if you look beyond those and compare them to his teammates, it's clear he should be getting more minutes.
This starts with his Player Efficiency Rating, which right now is 20.1–by far a career high and also well above the league average of 15.
Even more impressive, however, is how that is the highest mark on this Knicks team. This is crazy to consider when you think of the other, bigger names on this team.
O'Quinn has achieved this by being efficient with his time on the court and making an impact on the defensive end.
*whispers* I have mostly positive stuff to say about Kyle O'Quinn over the last few games.

— Kyle S. Maggio (@MaggioNBA) November 27, 2016
His defensive plus/minus of 2.7 is the best it's been in three years, although it still lags behind Noah's impressive 3.2 rating in that category.
Offensively his plus/minus currently sits at 0.7, the first time in his career that O'Quinn has posted a positive number in this category.
It's also higher than Noah's 0.2, although neither is in the team to score points.
Any extra attacking options a team can conjure up are nice however, and O'Quinn is also averaging more points per game (5.7) than Noah (4.3).
This is despite Noah playing seven extra minutes per game so far (21.7 compared to the 14.7 of O'Quinn).
The temptation then would be to leave O'Quinn where he is. He's been effective with his limited court time (career-high 57.7 percent effective field goal percentage) and anchoring the second unit well.
But if he was given a starting role, the numbers would suggest he would build upon this bright start to the season.
The recent hammering at the hands of the Cleveland Cavaliers is a good microcosm of why O'Quinn should be used more.
The Knicks were pummeled 126-94 and their body language in the second half suggested they wanted to be anywhere but on the court.
Understandable given that the game was effectively done, yet O'Quinn kept plugging away.
So much so in fact, that he finished with more points, rebounds and assists (10, seven and three) than Noah (five, six and two).
Noah is past his prime as an elite defender, but he was brought in to be an emotional leader for this team.
Kyle O'Quinn has 37 rebounds & 8 blocks in limited minutes over last 4 games – against opposing centers: Towns (twice), Cousins, Whiteside.

— Tommy Beer (@TommyBeer) December 7, 2016
Part of that requirement is rallying the troops to try and chase a lost cause and at least remain competitive even when the game is beyond them.
O'Quinn posted a plus/minus of plus-4 for that game. Noah? He finished up with minus-29.
It's also telling that O'Quinn played more minutes in that game (20) than Noah did (15). This is likely a result of the starters being benched as the game slipped away.
But it also shows that when called upon, and no matter how bad the deficit, O'Quinn shows up and gives all he can for the cause.
The Knicks are currently allowing 107.2 points to be scored on them each game, the 25th-worst mark in the league.
They are 26th in three-pointers percentage against them each night (36.6 percent). Would inserting O'Quinn into the starting lineup alleviate all of those problems?
No, but with the team being one of the worst defensive units in the league, it's got to be worth a look, hasn't it?
It's unlikely given that Noah only signed a four-year, $72 million deal this summer.
He will make more this season ($17 million) than O'Quinn will for the entirety of his contract in New York (signed a four-year, $16 million deal in 2015).
Sadly, money talks in the NBA and for this reason, a role reversal between the two bigs, while definitely worth trying out, seems unlikely.
The Knicks also currently have the seventh-best bench in the league (7.7 rating) and O'Quinn has surely played his part in that.
But it would be nice to see O'Quinn join a contending team to see how much he could help them for the postseason run.
It's unlikely to happen however, especially with O'Quinn being on such a cheap contract. That does make him extremely movable though, if a trade scenario was to emerge.
As a member of the New York Knicks, Kyle O'Quinn continues to get better. These improvements are small, and are not flashy next to some of the other players on that team.
But his play is equally important, because he has provided New York with a stability and consistency that has been sorely missed.
His play demands more minutes and a bigger role on this team and it would be in the best interests of the Knicks if they gave both to him.
This article originally appeared on