New York Knicks: Kristaps Porzingis Talks Getting Dunked On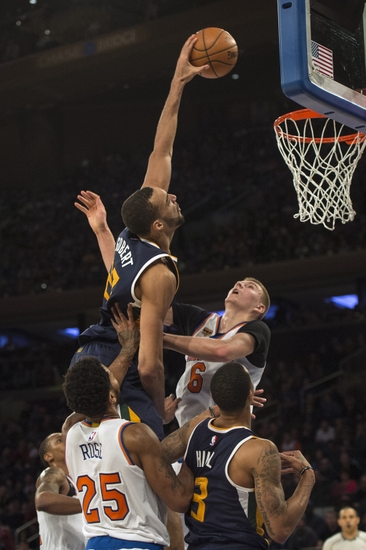 Utah Jazz center Rudy Gobert put Kristaps Porzingis on a poster with a monster dunk. Porzingis is eager to get Gobert back the next time they meet.
---
New York Knicks phenom Kristaps Porzingis got a taste of his own medicine on Sunday, November 6. After Porzingis made waves with his posterizing putback dunks in 2015-16, Jazz center Rudy Gobert made a highlight of his own at KP6's expense.
In the final minutes of the Knicks' 114-109 loss to the Jazz at Madison Square Garden, Gobert took a bounce pass from George Hill and slammed it home on Porzingis.
Getting dunked on is generally a product of competing defensively, which is why it's nothing to lose faith over. Nevertheless, it's something that no players want to have happen to them, and it's why Porzingis has found new motivation.
Though his focus is set on winning, the competitor within Porzingis is eager to get Gobert back for putting him on a poster. Per Marc Berman of The New York Post:
With a smile, Porzingis said, "I don't remember'' the play. He then added good-naturedly: "I had a chance later on [for retaliation]. Of course I always want to get somebody back. I'll be happy if we win the game in Utah. That's the most important thing, but I'll get him back, too.''
That's the perfect response.
Gobert is one of the few players in NBA history who can rival Porzingis from a purely physical perspective. Utah's $102 million man stands at 7'2″ with an otherworldly 7'8.5″ wingspan and an unfathomable 9'7″ standing reach.
By comparison, Porzingis is 7'3″ with a recently measured near 7'3.75″ wingspan.
Porzingis acknowledged as much by stating, "Now I know how people feel against my size, the long arms," per Berman. It was a reality check for a player who's in the process of learning how to use his size to his advantage.
Perhaps having someone else do to him what he's done to so many others will provide perspective and enable him to better understand his physical capabilities.
New York and Utah will meet again on Wednesday, March 22 in Salt Lake City. Porzingis will be seeking his revenge.
This article originally appeared on